24th January 2013
Royal Visit
The Prince of Wales and Duchess of Cornwall tour Historic Carving and Conservation Departments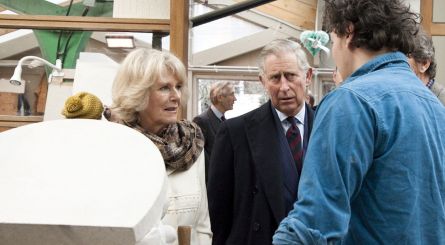 A frisson of excitement ran through the School today as Prince Charles and the Duchess of Cornwall made a tour of the Historic Carving and Conservation studios. Visibly impressed with the works they saw, the Royal couple talked animatedly with the students and stayed for a quarter of an hour longer than the 45 minutes scheduled for the visit.
The Royal party carefully wended through the drawing studio en route to the stone carving workshops. Letter carving tutor James Salisbury said, "They were fascinated by the work and seemed genuinely to enjoy the visit. There's a real buzz around the studios".
The cold did not affect the couple's enthusiasm for what they saw. Senior stone carving lecturer Nina Bilbey said: "The question they kept asking over and again was, 'How do you start to chisel into a block of stone…where on earth do you begin?' This gave the students the chance to talk a little about the technical processes involved in carving figures and architectural ornament – the drawing, modelling, transfer of three-dimensional form and the actual carving."
The couple moved on to visit the woodcarving studios, chatting with the final year and postgraduate students. Examining two new coats of arms being carved for the Worshipful Company of Fishmongers, the Duchess of Cornwall was "impressed by the sheer length of time a single work could take", said 3rd year student Takako Jin. The Duchess also spent several minutes chatting with Michael Watson, who explained the process of carving a satyr fashioned as a wall bracket, which he up-scaled from an 18th century candlestick in the V&A Museum. "She wanted to know everything about my piece – where the design came from, what tools I used and where it should be installed", he said.
The final part of the visit was spent in the conservation department, where the couple lingered in the final year studios. "They asked really astute questions", said Lewis Robins-Grace, who explained how they wanted to know exactly how the imprint of the bubble wrap that had stained the marble memorial from Westminster on which she was working would be removed.
Commenting on the logistical issues of a Royal party visiting a compact and busy art school, Principal Tony Carter was happy that the visit went smoothly: "The Prince of Wales made his own decisions about who to speak to and how long to stay. Because of this the tour seemed to choreograph itself".
As the Royal party left the School via the Kennington Park Road exit, the traffic was stopped by police to allow safe passage – perhaps for the first time in the School's 134-year history.
To watch the BBC London News coverage ofthe Royal visit, go to: http://www.bbc.co.uk/i/b01q3srr/?t=20m13s