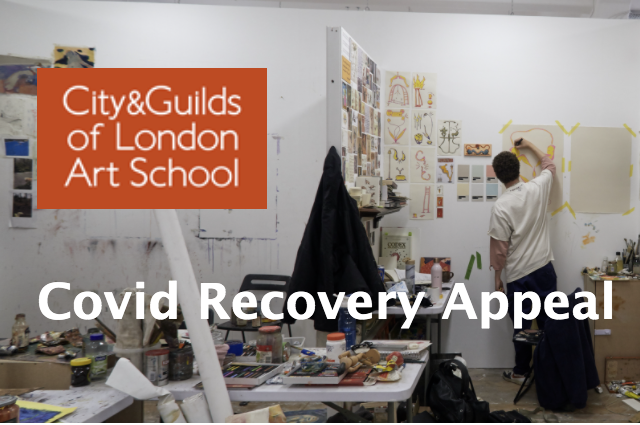 Friends of City & Guilds of London Art School,

We need your support as we emerge from one of the most challenging periods in living memory.

We know that you recognise the need for and importance of our work.  As the only Art School in Europe offering a BA and MA in Carving, the only institution teaching our Conservation specialisms at BA and MA level, and one of the few places where Fine Art BA and MA are taught with a focus on material enquiry and historical methods, with dedicated studio space and 1 to 1 teaching by experts, we are clearly an exception to the rule. We believe a very necessary exception, our ongoing determination and commitment ensuring that valuable intangible cultural assets will not be lost for the future.

The pandemic left us with the need for an additional £250,000 to reach the end of the 2020/21 financial year without a deficit.

We are very grateful to those of you who have been able to generously donate earlier this year. We still need your support to continue our work overcoming the challenges posed by the pandemic, particularly to students and to support them to progress with their studies

And we are now turning to our whole community to help us secure the funds needed, so we are able to move ahead with a future to look forward to.

The Art School's response to the global health crisis over the past 20 months has more than proven what a dedicated and resilient team we have, and how flexible and creative a small institution and community can be. Moving teaching online last spring, successfully delivering the remainder of the 2019/20 academic year off site for all students, achieving a return to the studios for the full Autumn term, switching back to remote learning from January to March this year,  reopening for an extended Summer Term until August,  and putting on three graduate shows to ensure 2020 and 2021 graduates had the chance to exhibit in real life, clearly has been a formidable challenge.

We could not have imagined 20 months ago that it would be possible to organise our courses in such radically different ways to support creativity and teach specialist skills, and it has been a revelation. However, the teaching and staff teams have achieved more than to simply cope with an unprecedented situation. We have seen how the provision we put in place has enabled students to thrive and exceed their own expectations during such a time of crisis.

"At a time of such uncertainty and unrest the Art School has dealt with everything with incredible integrity and diligence ensuring the wellbeing of all who attend and work on campus." Joanna Grogan, BA Historic Carving: Woodcarving & Gilding.
"I'm extremely grateful to the way the school has handled the pandemic, doing their utmost to continue to deliver our course and actually giving us back the studio time we would have missed had we stuck to the original course schedule." Lucia Ferguson, MA Fine Art
"The fact that the art school is planning a full physical grad show [for the class of 2020] in these COVID times, speaks volumes about the level of care that it gives to its students." Andrew Szczech, MA Fine Art – previously BA Fine Art

Along with so many other organisations, the Covid-19 pandemic has impacted the Art School at all levels. 2020 saw some income lost but 2021 has been even more challenging through a combination of increased costs and a reduction in student numbers. There have been many useful lessons learned over this period that are feeding into new strategic planning. To be able to realise plans that will stabilise our financial position we do need help now. As a small, independent charity, with no direct public funding or significant reserves to draw upon, the Art School has always been a lean organisation operating on a tight margin. This, compounded by the fact that the Art School has not been eligible for any of the government rescue packages, has led to the particular challenge we are finding ourselves in and is why we are seeking your support at this time.

Thank you for giving our appeal your attention. We will be grateful for your contribution; at any level you feel able to offer.

How to donate 
If you would like to discuss your donation, please do not hesitate to contact Hannah Travers, Head of Development & External Relations on h.travers@cityandguildsartschool.ac.uk or 020 7091 1689.

We wouldn't be where we are without our community of friends and supporters, and there has never been a time when it has mattered more. We look forward to seeing you again, when we can hopefully join together in celebrating all that has been achieved against unprecedented odds.

With best wishes,
Our Response to the Covid-19 Pandemic 
The Covid-19 Pandemic has impacted every aspect of Art School activity since March 2020. Trustees, Senior Management Team, and staff have reacted and reconfigured our activities at four distinct points to provide the best possible offer to students.March 2020 – Lock down
We successfully put measures in place to continue teaching and progressing students during the lockdown. All undergraduate students were able to successfully complete their year in the Summer Term and graduate from their courses, while MA students who would normally have worked through the summer break returned for an additional term in the studios during Autumn 2020.
September 2020 – Back in the studios and workshops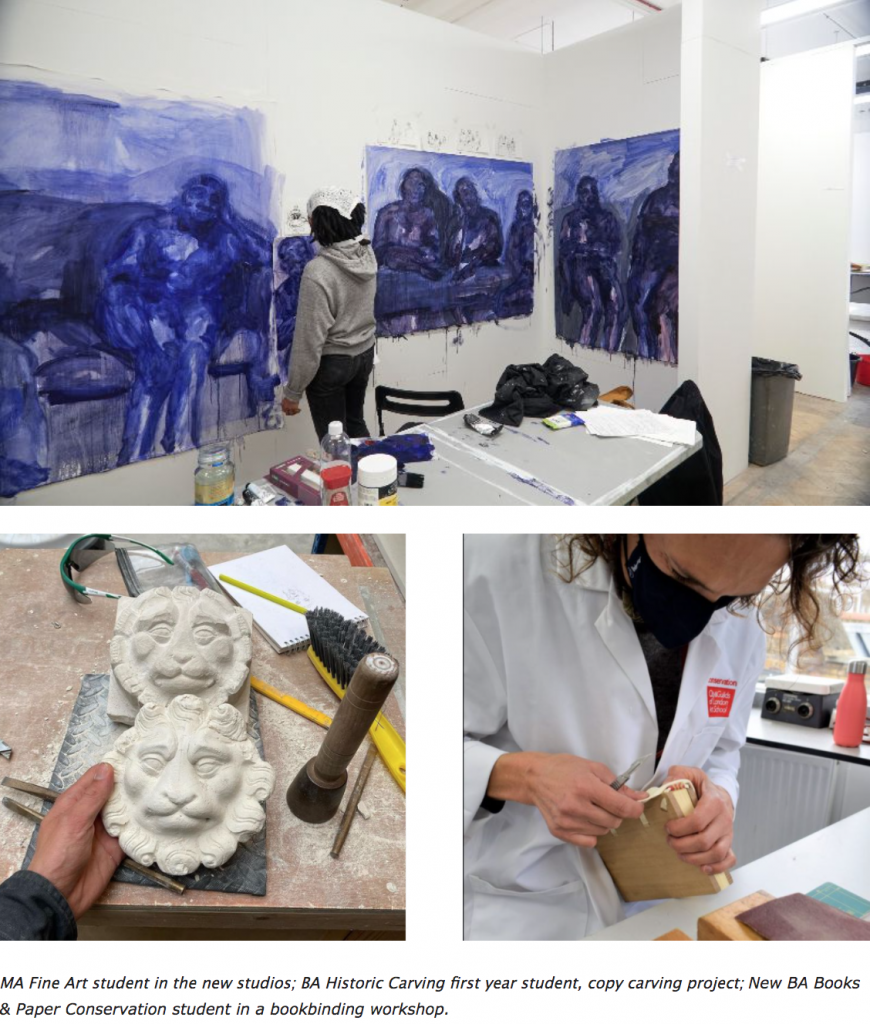 In early September we welcomed new and returning students back to the Art School in stages for the Autumn Term and new academic year 2020/21. We were able to offer our students, the intensive studio-based learning experience that we are known for, and which is crucial for a depth of study in our specialist subjects. Meeting ongoing social distancing and safety rules which required adaptations to our facilities, extended opening hours and additional teaching, along with continued online delivery of certain curriculum elements such as Art Histories, enabled us to maximise on time in our studios, workshops and labs for all of our students. We were also pleased to be able to launch our new Books & Paper Conservation course with a full intake and with a new suite of bespoke studios created over the Summer months.

We launched a new Graduate Showcase website to celebrate and promote our students' achievements during this time, that has proved to also be very helpful with our current recruitment activities. For our BA and MA Fine Art graduates of 2020 we have hired an external exhibition venue, Bargehouse, on London's Southbank for a joint exhibition in July 2021. Our Carving graduates of 2020 will show alongside their peers this Summer in our Degree Shows now planned for August (BA) and October (MA).

Meanwhile we have worked hard to successfully maintain the levels of bursaries for students through external donors that continue to support well over a third of the student body to study with us.

January 2021 – Lockdown
Following a very successful Autumn term back at the Art School, we were unfortunately, and at very short notice, unable to reopen for the Spring term in January due to new government lockdown regulations. In order to best support our students at the time, and to keep them safe, teaching moved back online for the term. On 8th March we were pleased to be able to open the studios for students to access.
Extended Summer Term April 2021 – The return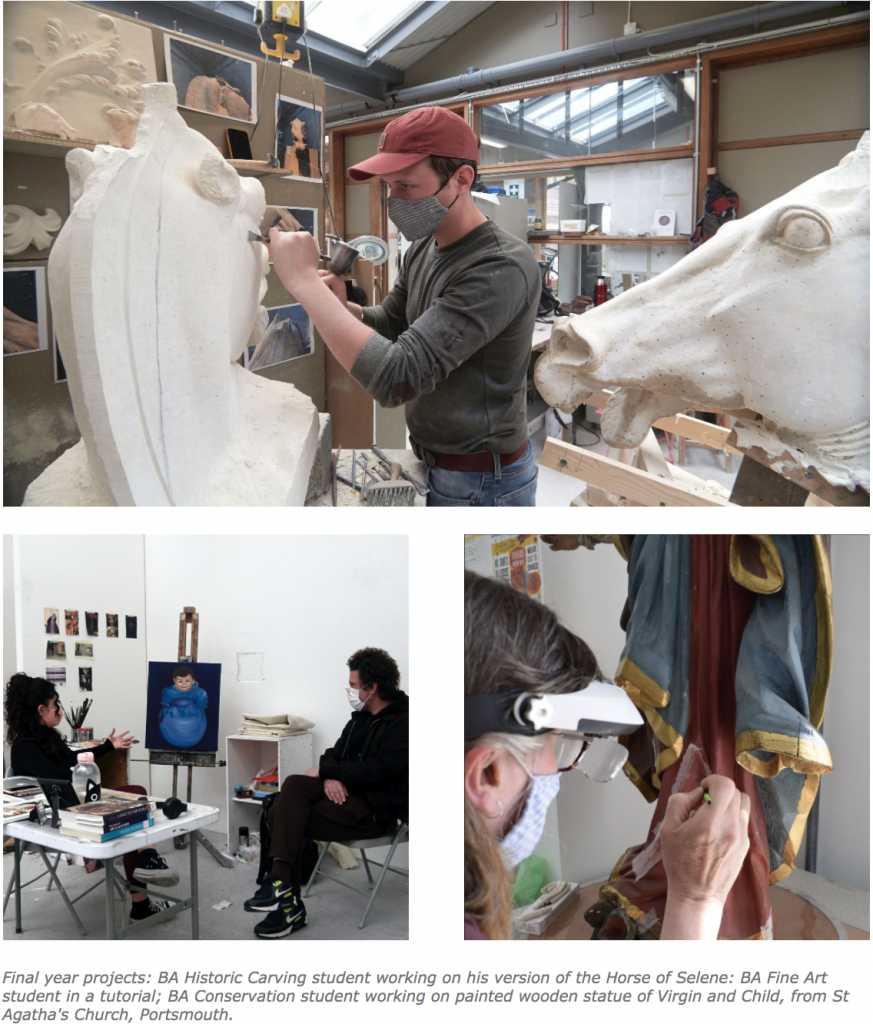 The 12th April saw the welcome beginning of the Summer Term with the full schedule of tutorials, teaching and workshops resuming on campus, with the necessary Covid-19 testing and safety measures in place. As all of our courses have a strong practice-based focus the decision was taken in the spring term to extend the academic year from June through to August to provide students with additional access to studios and workshops as well as specialist practical teaching essential to complete their year of study and achieve all their learning outcomes. Whilst we do not know the exact additional cost at this stage, we deem this to be essential to provide students with the best possible experience under these very challenging circumstances, and to remain true to our mission and ethos as a centre of excellence. We believe that maintaining delivery of the highest quality education is key to our future.
Summary
As illustrated, tutors have worked creatively to devise ways to deliver practical teaching online. We have learned that it is possible to share some of what is unique about the Art School remotely, this will feed into our planning for outreach work and income generating short course offers for the future, contributing to widening participation, the stabilising of our financial position alongside essential fundraising for the immediate future.
How to donate