We have a few places left on our acclaimed courses including Foundation Diploma in Art & Design, contemporary Fine Art, Conservation and Carving for 2019/20. Anyone interested in finding out more can follow the links below for course information and email us at admissions@cityandguildsartschool.ac.uk to enquire and apply.
Where is the best place to study Foundation in Art & Design in London?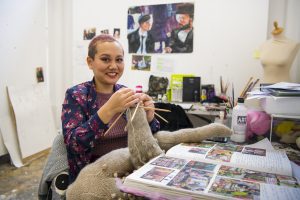 Our one-year Foundation course is a real contender! It's full time and by that we mean we encourage you to study at the Art School for five, full days each week. Whether that's discussing your ideas one-to-one with a tutor, taking part in a hands-on workshop in our specialist facilities, engaging with a small-group tutorial, attending lectures and off site visits or spending time developing your practice in your dedicated studio space, you are able to fully explore a wide variety of specialisms and discover the potential path your practice may take.
Find out more and make an enquiry.
Where in London can you study Fine Art with spacious studios and tuition from professional artists?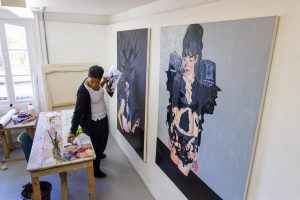 Our beautiful Georgian and Victorian buildings offer our undergraduate and postgraduate Fine Art students their own light and spacious studios to base their practice throughout the year. With a high tutor to student ratio we offer generous amounts of contact time with our expert tutors – all practising artists. Our specialist facilities include an historic intaglio printmaking room, drawing studio, a wood workshop, a glass workshop, a foundry, all staffed by highly-skilled artist technicians to facilitate the development of your practice.
Find out more about our BA (Hons) Fine Art and MA Fine Art (full time or part time) and make an enquiry.
Where can you study Carving to BA and MA level?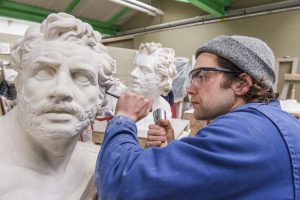 We run the only BA (Hons) and MA courses in carving in the UK. Based in our newly extended, purpose-built wood and stone carving workshops, our carving students are taught the historic craft skills and knowledge needed for a successful and rewarding career in the architectural heritage or art sectors. Tutors are all established carvers, gilders and sculptors who combine working on some of the country's most prestigious projects with teaching at the Art School. Through our extensive links to industry and heritage networks, you have the opportunity to take part in exceptional live projects and commissions, supporting your career development and making this a highly challenging and rewarding course, equipping you for professional life as a carver.
Find out more about our BA (Hons) Historic Carving: Woodcarving & Gilding, BA (Hons) Historic Carving: Architectural Stone and PgDip/MA Carving (full time or part time) and make an enquiry.
What course prepares you for a heritage sector career in conserving and restoring cultural artefacts?
As a training centre of excellence in conservation, we offer you the scientific and historic-craft skills, expert knowledge and vocational experience needed to pursue a fulfilling career in the conservation of cultural artefacts. Taught in our specialist labs and studios by some of the industry's leading experts, you gain professional practice through live projects commissioned by leading, national heritage institutions and private collections. An incredibly high proportion of graduates go on to secure work in their chosen fields and develop a rewarding career in the heritage sector.
Find out more about our BA (Hons) Conservation Studies and MA Conservation (full time or part time) and make an enquiry.
Is there an Art histories MA that combines practical research?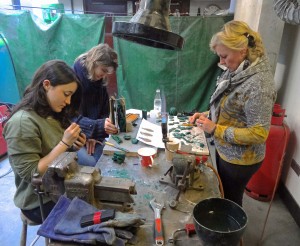 Our new MA Art & Material Histories, investigates Art Histories through the lens of materials and has a distinctive focus on the links between material, critical and historical enquiry. You engage in learning through taught lectures, group and individual tutorials, hands-on workshops, and study visits and consider and scrutinise the use of materials in a range of historical and contemporary artworks and material objects. A significant part of the course focuses on research, and you have an opportunity to evolve your own working strategies, including primary research such as testing material properties, interviewing artists and craft specialists, curating displays of work and directly analysing material artefacts, alongside other research approaches.
Find out more about MA Art & Material Histories and make an enquiry.