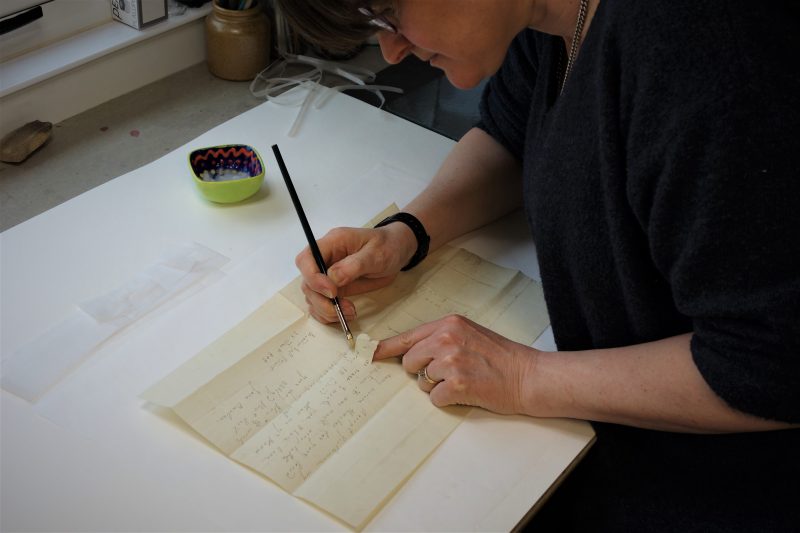 Victoria Stevens ACR is a library and archive conservator accredited by the Institute of Conservation (Icon). She has worked in written heritage conservation for over 25 years, mainly in the central library and college collections of the University of Oxford but also in local government, museum, educational and religious libraries and archives across the country. She now manages her own UK-wide conservation practice and preservation consultancy from her studio in Reading, UK.
As well as conserving physical collections, Victoria advises and lectures on environmental management, storage and exhibition of archive material, with experience drawn from working with a very wide range of archives, library and museum collections. She is an assessor for The National Archives Archives Revealed scheme, an assessor for the Collection Audit scheme offered by Association of Independent Museums and a museum accreditation mentor for Arts Council England. With a strong interest in industrial heritage and records, she currently mentors the Hovercraft Museum, Lee-on-Solent and the collection at Crofton Beam Engines, Wiltshire.
Victoria is particularly involved in engagement, interpretation and outreach: through her bolt-on business, Take 5 Engagement CIC, she offers a programme of highly tactile sensory workshops which aim to enable everyone to understand and enjoy the material qualities of archives and their conservation. Based on using all five senses, this is a particularly positive approach for people who may not connect with written heritage through solely visual methods but through a combination of interaction methods and access points.
Victoria is proud to be a strong advocate for the conservation profession, and currently serves not only as an Icon accreditation assessor but also as a committee member of both the Archive and Records Association's Section for Archives and Museums and the Preservation and Conservation Group. She also sits on the Fabric Advisory Committee of Hereford Cathedral.
EDUCATION
2020 – present, Studying for an MA by Research within the English Department of Christ Church Canterbury University on gentry library history through a specific Kentish case study.
1999 – 2001, HND Book Arts (Book binding), University of the Arts London College of Printing, London.
1989 – 1990, Joint BA (Hons) History and Archaeology, University of Leicester, Leicester.
EMPLOYMENT
2017 – present, Director-conservator, Victoria Stevens ACR Library and Archive Conservation and Preservation Ltd., Reading, UK.
2002 – 2017, Conservator, Oxford Conservation Consortium, Oxford, UK.
1999 – 2002, Assistant conservator, Bodleian Library, Oxford, UK.
1995 – 1996, Book binding apprentice, Francis Brown (Book Binding), Dorset, UK.
SELECTED PROJECTS
Conservator, conservation of a significant C17th paper manuscript, Norfolk Museums, 2021.
Conservator, conservation of an C18th textile bound 'Vinegar' Bible and Books of Common Prayer in collaboration with Sarah Howard ACR, an accredited textile conservator, 2020 – 21.
Conservator, assessment of a large library collection for the National Trust, 2021.
Conservator, conservation of a damaged C18th Guru Granth Sahib manuscript in collaboration with Pothi Seva, 2021.
SELECTED PUBLICATIONS
Stevens, V (2021), ed. Conservation Today, the bi-monthly publication for the Archives and Records Association's Section for Preservation and Conservation, https://www.archives.org.uk/images/Conservation_CTC/2021_PCG_ConservationToday_July_August_FINAL.pdf
Stevens, V (2020), Bodily Decay, Arrested: The Conservation of a 1619 copy of Remmelin's Catoptrum Microcosmicum, The Quarterly, the Journal of The British Association of Paper Historians, No. 115, pp 1 – 10.
Stevens, V (2020), I will Survive: a story of archival longevity against the odds, told in two parts: part 1; Through Fire and Flood – the Salters' Company Distribution Books, Archives for London Newsletter, No. 7, pp 6 – 10.
Stevens, V (2020), I will Survive: a story of archival longevity against the odds, told in two parts: part 2; Dispatches from Fleet Street: the conservation of the Perkins Bacon Delivery Books, Archives for London Newsletter, No. 8, pp 5- 11.
Stevens, V (2019), Reflecting the life and times of the Wordsworths: the recent conservation of two manuscripts in the Wordsworth Trust collections, ARC Magazine, The Archives and Records Association, No. 358, pp 30 – 34.
SELECTED PRESENTATIONS
'The Tide (Line) is High, the Tape is Holding On: gels workshop', Archives and Records Association annual conference, Online, August 2021.
'Conserving a 'Baskettful of Errors': a collaborative project to stabilise a textile bound 1717 'Vinegar' Bible', Institute of Conservation (ICON) Textile Group Spring Forum, Online, April 2021.
'One, Two, Three, Four, Five: sensory engagement for written heritage', South East Museums' Development's COG (Cultural Outreach Group) Network training session on inclusive practice, Online, February 2021. https://southeastmuseums.org/resource-library/inclusive-practice-for-everyone-10-february-2021-2/
'Appetite for Destruction: Intentional and unintentional damage in written heritage', American Institute of Conservation Annual Meeting, Online, August 2020.