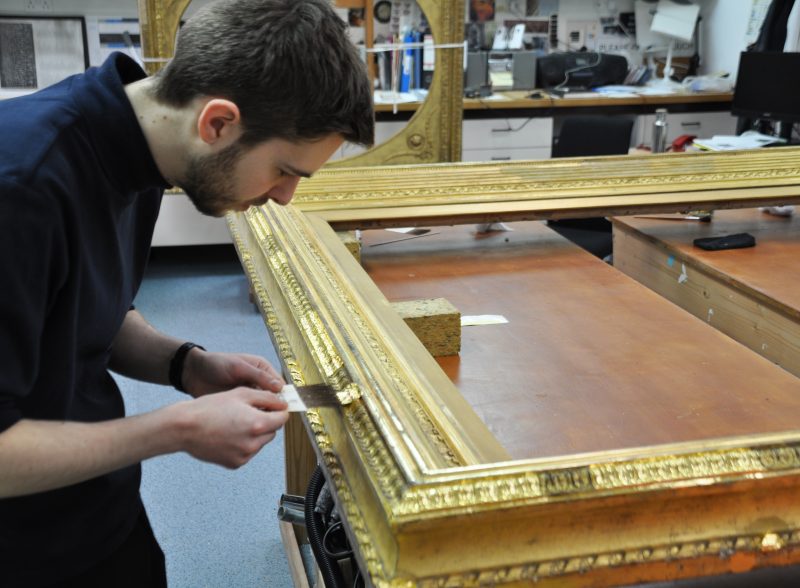 What really stayed with you from your time at the Art School?
The emphasis on craft skills was challenging but highly rewarding. I found the skills I picked up in life-drawing vital in teaching me how to really look and critically assess an object, which I have consistently needed in conservation.
What did you work on during your time at the Art School that has proved valuable in your professional career?
The conservation course at City & Guilds allows you to treat a wide range of objects, composed of many different materials. Though I have, since graduating, specialised in gilding and frame conservation, I still use many of the skills I acquired in other areas, including the treatment and analysis of stone and painted wooden objects.
What are you up to now?
Since graduating I have worked in private practice, in a conservation studio specialising in treating gilt and lacquer objects. Having then completed a frame conservation internship at the Guildhall Art Gallery, I worked for National Maritime Museum as a frame conservator and at the Houses of Parliament to make new frames for works on paper. Last year I worked at a new National Trust conservation studio at Knole. I am presently a frame conservator at Tate and the Guildhall Art Gallery. I also supervise conservation students on a frame conservation work placement at the Palace of Westminster.
IMAGE
Mark Searle water gilding replacement ornament on the frame for the painting 'Seascape' by Peter Graham. This treatment was completed for the internal exhibition 'Victorian Decoded' in 2016-17.