The National Saturday Club gives 13–16-year-olds across the country the opportunity to study subjects they love at their local university, college or cultural institution, for free.
The Art School's Club is part of the National Saturday Club's new Craft&Making programme and runs from October 2022 until June 2023. At our Club, you will have the rare opportunity to use traditional skills to make a series of hand-crafted artworks with a contemporary twist!
This short film shows you how young people have benefitted from taking part in Saturday Clubs around the UK.
WHAT YOU'LL DISCOVER AT OUR CRAFT&MAKING SATURDAY CLUB
You'll design your own coat of arms, featuring objects and symbols that demonstrate what's most important to you, such as your pet dog, favourite trainers or mobile phone.
Over the course of the Club, you learn an exciting range of techniques including etching, casting in plaster, gilding with gold leaf onto glass and carving in wood, plus you'll take part in a Masterclass with a leading industry professional.
Your final piece will be exhibited in the Club's Summer Show at Somerset House. There will also be one study trip to a museum or gallery in London during the first term.
YOUR TUTORS
Your key tutor at our Saturday Club is multi-media artist Sarah Davis. You can read more about Sarah and our other Saturday Club tutors here.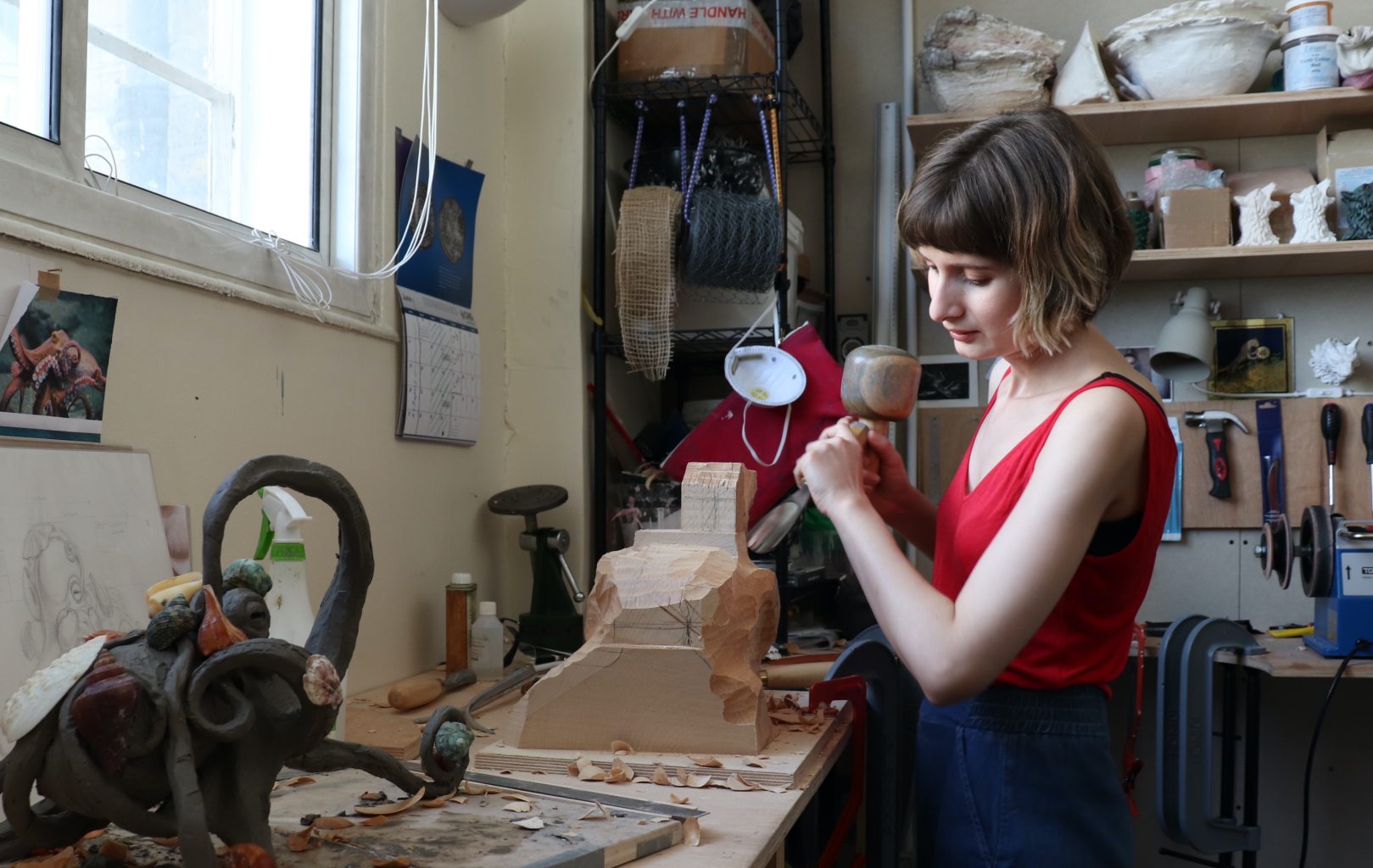 HOW TO APPLY
The Club is now fully booked for 2022/23.
Sign up to our Saturday Club mailing list if you would like to receive Club updates and 2023/24 application details – CLICK HERE TO SIGN UP TO THE MAILING LIST!
2022/23 CLUB DATES
The Club is held every Saturday, 10:00-13:00, during term time at the Art School.
Term 1: Saturday 8 October – Saturday 10 December 2022
Term 2: Saturday 7 January – Saturday 11 March 2023
Term 3: Saturday 15 April – 10 June 2023
OUR PROGRAMME OF ACTIVITIES
Our Saturday Club programme has been carefully shaped to introduce you to an inspiring range of new skills and techniques that support your creative development and enable you to progress your very own coat of arms and create a final, stunning artwork for the Summer Show. Throughout each term, we'll see your confidence, skills and knowledge grow and bloom and we'll encourage you to discover talents and explore new directions!
Check out our blog to see what Club Members have been discovering.
Workshop Programme Term 1
Weeks 1-2: through drawing techniques, explore how you see yourself and your identity
Weeks 3-6: learn the processes of soft ground etching and embossing in our Print Room, try out collage and creative abstract drawing
Weeks 7-10: discover the dazzling art of gilding with gold leaf
Date to be confirmed: visit to a museum or gallery in London where you'll display your wax bust and meet other Saturday Club members from across London
Workshop Programme Term 2
Weeks 1-3: Refining your Verre églomisé practice and sketching your beast designs
Week 4: Working with clay and casting in plaster
Week 5: Visit to two heritage buildings, Fishmongers' Company's Hall and Two Temple Place, to gather inspiration for your heraldic shields
Weeks 6: Calligraphy workshop with CGLAS tutor.
Weeks 7- 10: Designing patterns that reflect your identity, and learning how to carve patterns and lettering.
Workshop Programme Term 3
Weeks 1: Calligraphy workshop with CGLAS tutor.
Week 2: QEST workshop with print scholar
Week 3-4: Continuing with carving and lettering work onto crests
Week 5: Taking part in London Craft Week at the Art School
Week 6: Finishing carving your lettering and patterns on your shields
Week 7: Mounting your heraldic shields and creating frames to mount your Verre églomisé pieces
Week 8-9: Gilding and painting your frames
Week 10: Exhibiting your pieces at the Art School
GET IN TOUCH
If you have any questions about our Saturday Club and the skills you'll learn, don't hesitate to get in touch with Camilla Robinson who runs our Club. Email Camilla at c.robinson@cityandguildsartschool.ac.uk
We're looking forward to welcoming you at the Art School very soon!
We are most grateful to those donors whose generous support has made this project possible: City & Guilds Foundation , Fishmongers' Company