As part of our commitment to widening participation and access to the arts, we aim to encourage young people to visit the Art School and consider pursuing a further or higher education in fine art, carving, conservation or art histories. Our activities are for a range of age groups and aim to inform and educate young people, and their teachers, about career progression in our specialist fields and offers a range of educational activities.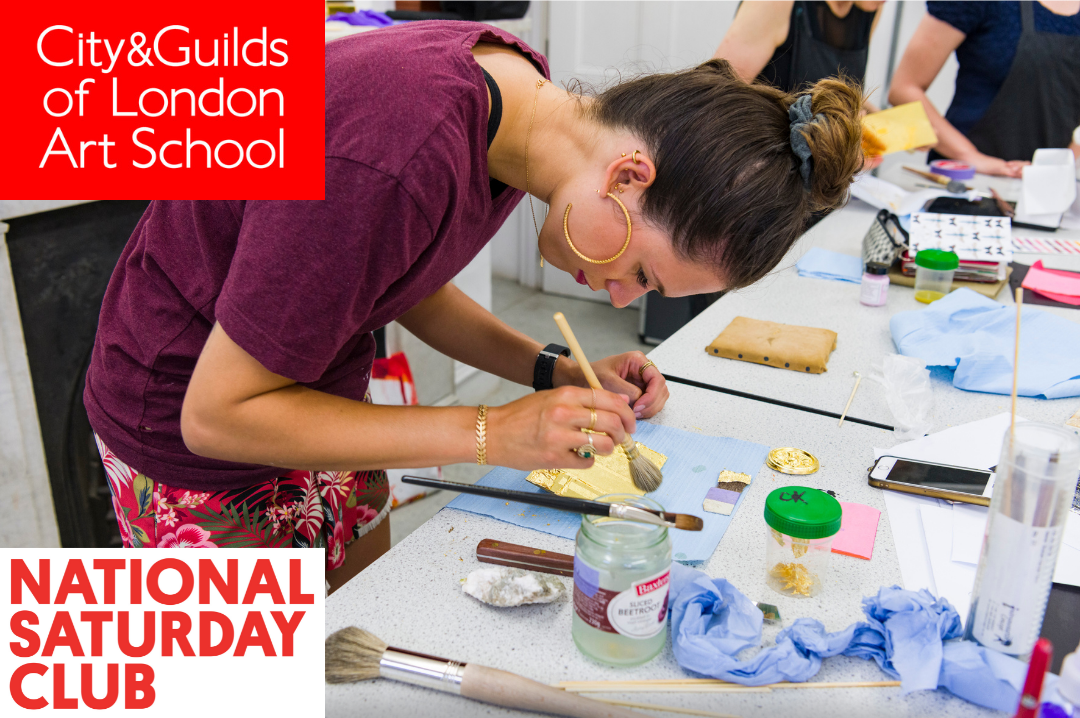 NATIONAL SATURDAY CLUB 2023/24
The Art School is excited to be taking part in the National Saturday Club programme, with our next Saturday Clubs running from November 2023 to May 2024.
The National Saturday Club gives 13–16-year-olds across the country the opportunity to study subjects they love at their local university, college or cultural institution, for free. During the Art School's Saturday Club, you will use traditional skills to make a series of hand-crafted artworks with a contemporary twist.
Discover your talents – find out more about our Saturday Club here.
Register for 2023/24
Visit the National Saturday Club website to find our club and to sign up for 2023/24.
All applications are welcome and priority will be given to applicants who reside or study in Southwark or Lambeth.
We are most grateful to those donors whose generous support has made this project possible: City & Guilds Foundation , Fishmongers' Company
TUTORS INTO SCHOOLS
In academic year 2023/24 Tutors into Schools will build on our existing work with young people, such as our National Saturday Club for 13–16-year-olds. This new project will see Art School tutors, alumni and students going into the classrooms of local secondary schools to provide bespoke workshops in our specialisms, to support their art, design & craft teachers and curriculums and engage over 1000 young people in the possible creative pathways for their next educational and career steps. This will give the learners opportunity to directly experience the skills taught on our courses, from their own classroom.
THE CREATIVE DIMENSION TRUST
We also work in collaboration with The Creative Dimension Trust (TCDT), a charity that runs fully-funded workshops for 14-18 year-olds from schools across London. Their aim is to enable students to acquire a set of fine hand skills which can be applied or transferred to any profession requiring precision, determination, and dexterity, primarily in the cultural and creative industries.
The Creative Dimension Trust run workshops and courses at the Art School in a range of disciplines including gilding, mural painting and printmaking.
Collaborations:
Recent collaborations include an Etching workshop focusing on soft ground etching and sugar lift aquatint with TCDT Tutor Laura Clarke, during November and December 2018, a Gilding & Verre Eglomise course in August 2018 with our Conservation Tutor and gilding expert, Rian Kanduth and an Etching course in our historic Print Room in autumn 2017, where students learned new etching techniques, creating some impressive work.
Tuesday Riddell, the Art School's Decorative Surfaces Fellow 2017/18, facilitated a gold leaf gilding workshop at Buckingham Palace in July 2018, where students helped restore decorative carved flower designs on the front of banquette seating in the Ballroom. Commenting on the activities, Tuesday described the lasting impact of the participants work, "Students were shown traditional  methods as well as using some of the modern machinery inside the workshop. They will take a selection of the prototypes with them when they leave to keep for their portfolio. This year the students had a chance to fix their creations on to the Palace itself – helping to restore the Palace for years to come."
If you're 14-18 years old and love working with your hands, or know someone who is,  you can find out more and apply to take part in a workshop here.
Images: Courtesy of The Creative Dimension Trust
SUMMER SCHOOL BURSARIES 2018-2021
This aspect of our outreach programme, was generously funded by the Andrew Lloyd Webber Foundation, and offered secondary school and sixth form college students and young people aged 18-25 the opportunity to apply for grant funded places on our Summer School short courses for a taste of studying carving, gilding and conservation.
VISITS
We also offer special school visits to our annual London Craft Week event which takes place in May each year. Students learn about the ancient practices of wood and stone carving, making paints from natural pigments, and gilding. We run demonstrations, talks and live carving competitions, and visitors are encouraged to try their hand at stone carving and other activities. Please be in touch with Camilla Robinson, Widening Participation Coordinator on c.robinson@cityandguildsartschool.ac.uk to discuss a visit or for more information about our work with young people.