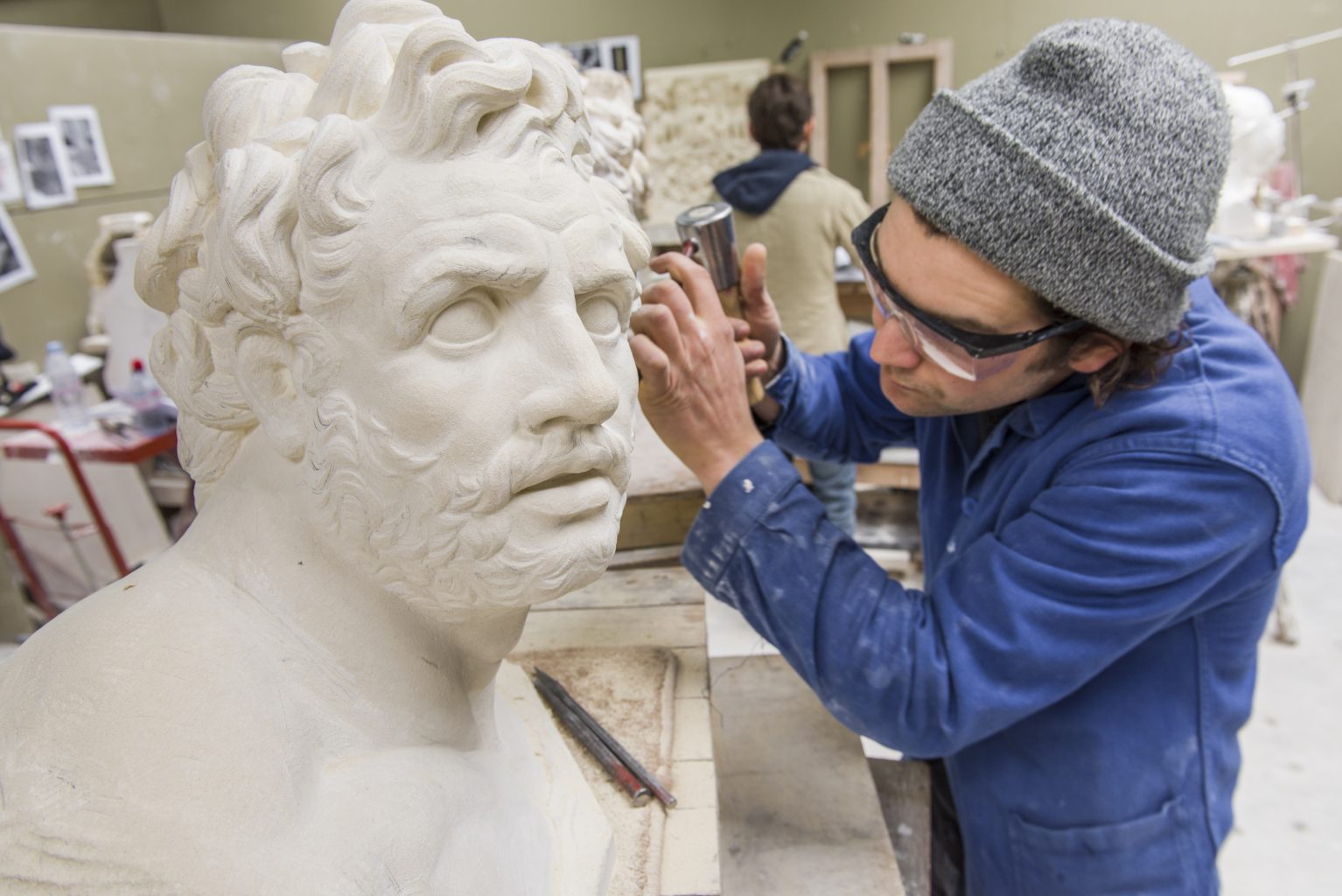 As we continue to move away from the disruption caused by the pandemic, we want to reassure current and future students that we remain committed to providing the best standards of education and care, alongside the highest levels of health and safety precautions, so that you are able to thrive and excel, and get the very best out of your time studying at the Art School.
If we are required to practise Covid-19 safety measures in the future, we will respond in much the same way as we have during the previous two years.
Since the start of the Covid-19 pandemic, one of our top priorities, alongside the safety and wellbeing of students and staff, has been to maintain the high standards of specialist education we are known for and that our students expect and deserve. Even when the nation was in the tightest grip of the pandemic, we were not only determined to continue delivering the highest quality of courses, but strived to ensure our students could thrive and fulfil their ambitions, to secure their progression through their programmes and to continue on to employment or future study.
In order to achieve these objectives throughout this challenging time, we have continued to take an innovative approach to delivering the very best for our students.
OUR RESPONSE TO THE PANDEMIC
During periods of national Lockdown, we successfully embraced online teaching, delivering courses through a combination of online demos, tutorials, seminars and one-to-ones. Where appropriate, we even posted materials and worksheets to students' homes so they could continue their hands-on practice from make-shift studios.

When national safety advice and guidance allowed, we were amongst the first to open our doors to welcome students back into their studios, following an extensive period of meticulous preparation to create a safe environment for students and staff.
By adapting our facilities, extending our opening hours and term dates, working in bubbles and providing additional teaching, as well as strictly adhering to all social distancing, PPE, testing and safety rules, we were able to offer our students the studio-based learning experience that is essential for the depth of study we provide. Socially-distanced studio practice and small group tutorials were supported with online group seminars and lectures.
To celebrate and promote the achievements of students who were unable to exhibit their final work during 2020, we launched an online Graduate Showcase, and in 2021, hosted an additional in-person summer show for our 2020 Fine Art graduates.
Throughout this difficult period, we have been dedicated to supporting students' mental health and wellbeing. Our wonderful Access to Learning team, led by Teresita Dennis, has been providing a comprehensive and compassionate service and course tutors have been particularly vigilant about noticing signs of mental distress in their students. We introduced 24/7 free mental health support for students through Talk Campus, and in addition we provide a wealth of information on alternative mental health support organisations available to students.
WHAT OUR STUDENTS SAY
Recorded at the start of the academic year 2020/21, some of those who were students at the time, shared their thoughts about our response to the pandemic.
"I feel so lucky to be at a school which simultaneously places student wellbeing and respect for Covid rules at the top of their priority list." – Roberta Bloomer, Foundation Diploma Art & Design

"The school is run in a way that not just considers, but actually centres around the student experience. In current times of Covid, where most institutions have reduced building access, City & Guilds of London Art School has found a safe and effective way of even increasing the number of studio-access hours." – Gaurav Gupta, BA (Hons) Fine Art

"At a time of such uncertainty and unrest, the Art School  has dealt with everything with incredible integrity and diligence ensuring the wellbeing of all who attend and work on campus. Given most courses at the Art School are very practical and hands on, stringent safety measures have been put in place which has enabled the school to remain open and created a safe environment for all. The quality of the teaching is outstanding. It is clear that it is a place that is well loved and run by a very dedicated and passionate team of professionals." – Joanne Grogan, BA (Hons) Historic Carving: Woodcarving & Gilding

"Despite the ongoing global upheaval in education institutions as a result of the pandemic, the Art School has remained dedicated to upholding the needs of its students, ensuring we are still creatively  supported and accommodating our growth as much as possible. Hearing about so many other art schools going online, I am so grateful I chose to come here. Not only are the tutors closely connected to the students in normal times, but even during the pandemic, they ensure that we are creatively guided, closely listened to and helped throughout this period, maintaining as much normality as they can." – Filippa Seilern Aspang, MA Fine Art