City & Guilds of London Art School is grateful to the Sir Denis Mahon Foundation for its continued support of a grant at the Art School, created in 2020 to honour the memory of Sir Denis Mahon, renowned collector and historian of Italian art, and to continue his legacy and lifelong interests in fine art, carving and conservation.
Intended to encourage and support students at the Art School to realise ambitious sculptural projects, the £5,000 annual grant will be available annually until academic year 2022/23. It is open to submissions from second year BA Conservation, Carving and Fine Art students working with sculpture for use in their final year. They are invited to submit their applications (which should reflect Sir Denis' studies, research and interests) to the Art School for the Grant and between one and three students will then be selected for recommendation to the Sir Denis Mahon Foundation for consideration.
In this second allocation, the Grant has been awarded to three particularly strong candidates, who will share the £5,000 grant.
MORGAN EDWARDS – Third Year BA (Hons) Historic Carving: Architectural Stone
"I am making a transcription relief carving in the Baroque high relief style, specifically of an illustration from a Welsh fairy tales book by the late painter Margaret Jones."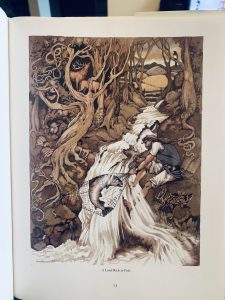 "I hope to challenge my current carving abilities by achieving a high-level representation of natural forms, such as the human figure, drapery, animals, water and vegetation, all in one scene. Thus, achieving a greater understanding of the techniques necessary to complete the notoriously difficult 'rilievo' form of carving (relief sculpture). In this carving I hope to draw the viewer in by depicting the leaves of the trees and water from the stream spilling over the edges of the scene and on to the frame work. This would aid the creation of an 'all-encompassing' and theatrical effect, giving multiple viewing angles and reaching out into surrounding space, which is essentially the definition of the Baroque style."
ROBERT (BOBBY) HEFFERNAN – Third Year BA (Hons) Fine Art
"My project will be in two stages; one being a stage of making a loom, and the other will be producing large scale tapestries. I will make the loom from scratch as this plays a big part in my practise allowing me to understand the mechanics of weaving. Along with this, tools will be handcrafted from both wood and metal. These will be presented as works in themselves"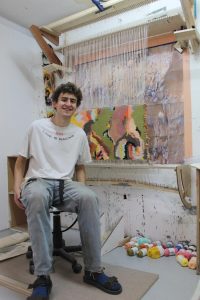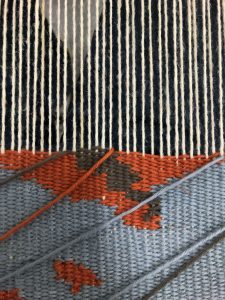 "The tapestries will be based around landscapes and will have a sense of the ever changing, unpredictability of nature.
Having recently travelled to Marrakech I was immersed in the diverse culture of craftsmanship that helped me understand the cultural significance of weaving. The techniques created by Berber and Moroccan artisans have been preserved over many centuries dating back to 1500 BC, which over the years have infiltrated into western culture. I want my work to hone in on and examine the exquisite masters of the past and bring those ideas to the forefront of what I do. I intend to use these techniques in my practise and further investigate my work by building a loom and weaving tools, such as bobbins and beaters, from scratch. The level of dedication and craftsmanship required will fully absorb me in the process of weaving and allow me to develop an understanding of historical traditions. I believe Sir Denis Mahon would have enjoyed the construction and my attempt to apply myself through every step of the process. I think from an art histories point of view, understanding African art and its significance in influencing western art and reflecting on those craft traditions would have been of interest to Sir Denis. Weaving is accessible globally as a craft and I'd like to contribute to promoting it further as a fine art form and I think Sir Denis Mahon would welcome this."
IMOGEN LONG – Third Year BA (Hons) Historic Carving: Architectural Stone
Imogen will carve a foliate relief sculpture of her own design. The carving is to be used as a stone lintel.
The design will be reminiscent of the Romanesque style, evoking the era when the portals of churches and cathedrals were carved with messages to those who passed beneath them about the coming of the Last Judgment and through this message urging them to review their conduct while on earth. This theme is developed to suggest that our current conduct on earth will lead to catastrophe and flood if we do not assess and change our behaviour and relationship with the planet, not in the next lifetime but in this one. The selected foliage specimens are therefore seaweed. In terms of shape and movement, seaweeds have a beguiling range of forms to explore. Their inherent form is further enhanced by the way in which they are acted upon by the movement of tidal water.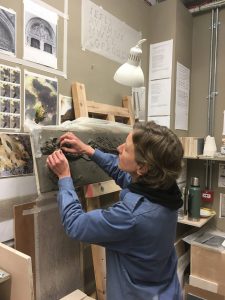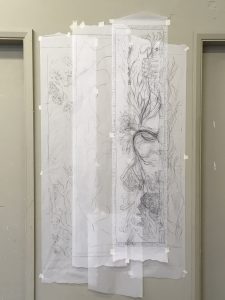 In her own words:
"Through carving the lintel, I hope to create a piece that is useful and beautiful, but which also goes beyond this to mean something to those who see it. The lintel will be of a size that is functional and could therefore be incorporated into a contemporary building. If the appropriate opportunity arose, it could also be installed in an existing building.
Sir Denis Mahon took a deep and serious interest in many aspects of art and had a particular period of painting – the Italian baroque – that became his life-long curiosity and study. At the time he became interested in it, it was not fashionable or well-researched. The Romanesque period had similarly been neglected in art history and only became the subject of scholarly study in the late nineteenth century, so he would have been aware of how the fates of different eras rise and fall in the contemporary academic and cultural world.
Mahon was an advocate of art being accessible for all. I hope that he would be thoroughly sympathetic to the idea of art adorning buildings, rather than hidden within them. The Romanesque portal carvings are an excellent example of this. I hope that the lintel project I am undertaking would also be something Sir Denis would believe to be worthwhile."
The Sir Denis Mahon Sculptural Project Grant is one of over 40 grants and awards available to students at the Art School.
The Art School itself provides some of the grants but many are funded by a number of organisations and individuals who value our commitment to championing specialist subjects, providing high levels of tutor contact time (about twice that of other London-based arts university courses) and continuing to deliver high standards of excellence. Over 40% of our undergraduate and postgraduate students usually benefit from one of our grants in an average year, which can be used to part-fund tuition fees or particular work projects.
If you would like to find out more about how you can support the Art School and its students, please click HERE or contact Head of Development & External Relations Hannah Travers on h.travers@cityandguildsartschool.ac.uk