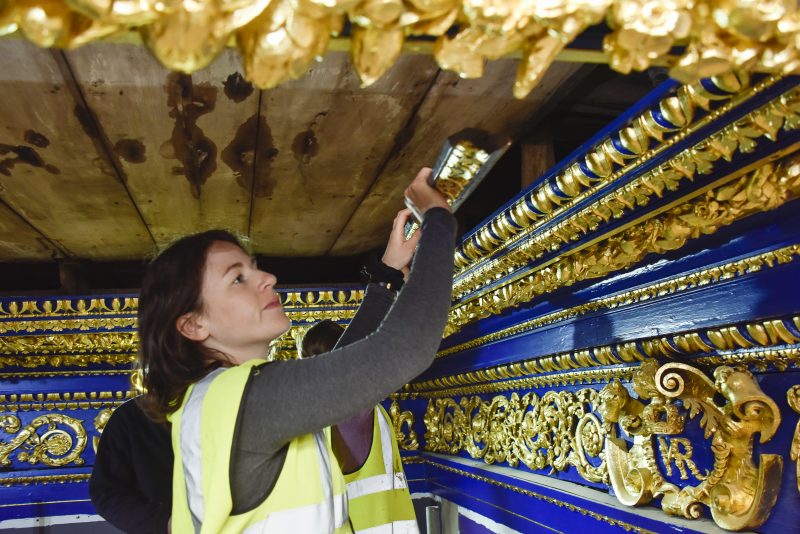 I was attracted to the Conservation Studies course at City & Guilds, by what I perceived to be a unique emphasis on developing historic craft skills and a comprehensive teaching of conservation science theory. On the day of our graduation, Dr Marina Sokhan reminded my year group that for every module we had studied during the preceding three years, we had been taught and mentored by at least one leading specialist in every subject. The quality of teaching at City & Guilds means that with every new project I undertake, I know that I am equipped with the relevant knowledge and understanding to feel confident. The training I received also instilled in me a rigorous approach to my work. Since graduating, this has been manifest for example, in the unpicking of complex problems pertaining to individual objects in the studio or, bringing a methodical and reflective approach to larger scale site-specific projects.
The reputation of the course enables us students to apply for training experiences within many notable institutions in London, the UK and abroad. The opportunities which I have been able to enjoy by becoming a City & Guilds student, I could not have anticipated. Between my second and final year of study, I interned with the Gilding Conservation Department of the Royal Collection. I learned a great deal on this placement and enthusiastically took up the opportunity to work on a suite of lacquerware belonging to HM The Queen, during my final year. I was thrilled to be awarded by the school, 'Best Conservation Project 2014', for this work. Students are required to dedicate a huge amount of time and effort to excel in this course. To me, the ethos of the school seemed to be more than a willingness but a gladness between students and staff to share knowledge, expertise and support. I acknowledge that I owe my success to having studied in this unique environment.
The support received by students, can also take the form of financial assistance. Being a recipient of a generous bursary from the Lawrence Atwell enabled me to dedicate so much time to my studies. Sponsorship from the Zibby Garnet Travelling Fellowship, Venice in Peril, the Gabo Trust and the Clothworkers Foundation, took me to countries including Italy, Russia and Hong Kong. To have had the experience of witnessing conservation practice and meeting practitioners from around the world, has certainly broadened my horizons as well as my understanding of the profession within a global context.
Since leaving City & Guilds, I have been continuously busy with work in the field. Immediately after graduating I worked for the Royal Collection, conserving objects for inclusion in a catalogue raisonné, and have since worked at several London museums. At Sir John Soane's Museum I focused on the conservation of picture frames, working closely with professionals from the department and the wider museum staff. For one year I was Project Conservator of Queen's House, Royal Museums Greenwich. This huge and complex project required me to draw upon so many skills developed during my training including conservation of wood and stone, wood carving, gilding and environmental monitoring.
Presently, I continue to build on my experience within private practice. My focus has been drawn towards the conservation of gilding and decorative surfaces. One of the most pleasing aspects of our profession is the culture of sharing information and opportunities to meet, study and work together. With this in mind, I have recently become a committee member of the Icon Gilding and Decorative Surfaces Group.
IMAGES
Queen's House ceiling progress shots
Assessing sculpture at Basilica San Giorgio Maggiore, Venice, Italy as part of Venice In Peril Internship 2014
Conducting endoscopy on a ship model with curatorial staff at National Maritime Museum 2016
Conserving a Russian icon painting at St Petersburg Art Academy during a summer placement 2013
Conserving a Soaneian display case at Sir John Soane's Museum 2015
Interning at the Royal Collection 2013
Presenting a poster at IIC Hong Kong Congress 2014
Working on lacquer plates belonging to HM The Queen at City & Guilds 2014