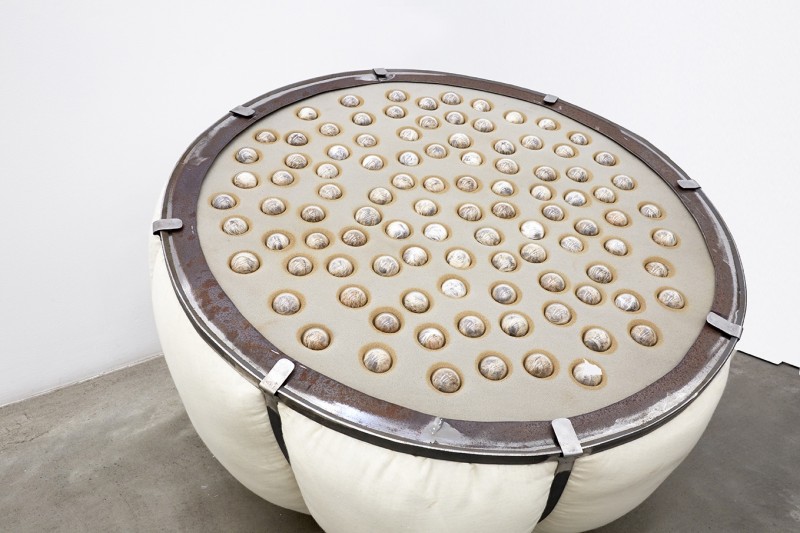 What was your work/background before starting the course?
Before starting the course, I had started painting around the age of 15 and had my first solo show in London age 19.  I was studying languages and literature at UCL at the same time with a year of Design and Architecture in Italy in 2007 as part of an Erasmus programme. When I graduated in June 2009 from my BA at UCL, I took a year to travel and get to understand the various art scenes around world, and meet as many artists, scholars and art schools as possible. It was then that I applied for a masters at City and Guilds and was thrilled to be offered a place. During May and September 2010, I spent a month doing a Fine Art course at Parsons New York and another three months at the Slade School of Fine Art in London to complete the Summer School Foundation just before starting my Masters. It was during that summer that I turned to sculpture.
What attracted you to study at the Art School? 
The school was recommended to me by artists and friends I trust and respect. When I visited it, I was immediately drawn to it. Its a warm and welcoming place whose walls are filled with history. Its facilities – especially the old-school printing room – and the studio spaces felt unique. While students in other universities were complaining of "feeling like a number in a huge institution", City and Guilds offered something a lot more intimate and therefore in-depth.
What aspects of the course did you most enjoy/ benefit from?
Being able to read and write about one's own practice with the help of knowledgeable tutors is a luxury not to be overlooked. I particularly enjoyed the one-on-one sessions with my tutors, visiting tutors and my thesis supervisor. Evening talks, gallery visits and even our trip around  Germany were all greatly enriching.
If you received bursary support, could you say the difference this made? 
I was lucky enough to be offered a bursary from the Monegasque government in order for me to attend C&G. This meant I could do my masters full-time and therefore have a studio at school and dedicate myself 100% to it.
What are you involved in now/ what have you been doing since graduating? 
Straight after C&G I was awarded the Catlin Art Prize (Public vote), after being selected for the Catlin Guide 2011 which came as a result of my masters degree. I have been part of many interesting group shows and recently had my first solo show with Ronchini Gallery, who have now been representing me for the past two years.
Selected exhibitions include: 'Home' solo show at Ronchini Gallery (2014-15), 'Articulate' curated by Jeremy Lewison at Victoria Miro (2013), 'The London Project' curated by Gerson Zevi at Yorkshire Sculpture Park (2013), 'The Uncanny' curated by James Putnam at Ronchini Gallery (2013), 'Dead Inside' curated by Max Wolf and Meghan Carleton at Bleecker St Arts Club, New York (2013), 'The Future Can Wait' curated by Zavier Ellis at Victoria House (2013), 'Dividing Line' curated by Sumarria Lunn at High House Gallery (2012), 'The Threadneedle Prize' at the Mall Galleries (2012). Selected prizes include: Royal British Society of Sculptors Bursary Awards (2013), Fack! West London Art Prize (2013), The Catlin Art Prize (Visitor Prize Winner, 2012) and Arcadia Missa Gallery Prize (2011).
Would you recommend this course, and why?
I have already recommended it to many talented people who were looking for the right place to find themselves as artists. The Art School doesn't put anyone in a mould, it aims to bring the best out of its students.
Why do you think Fine Art matters? 
It's food for the incurably curious.