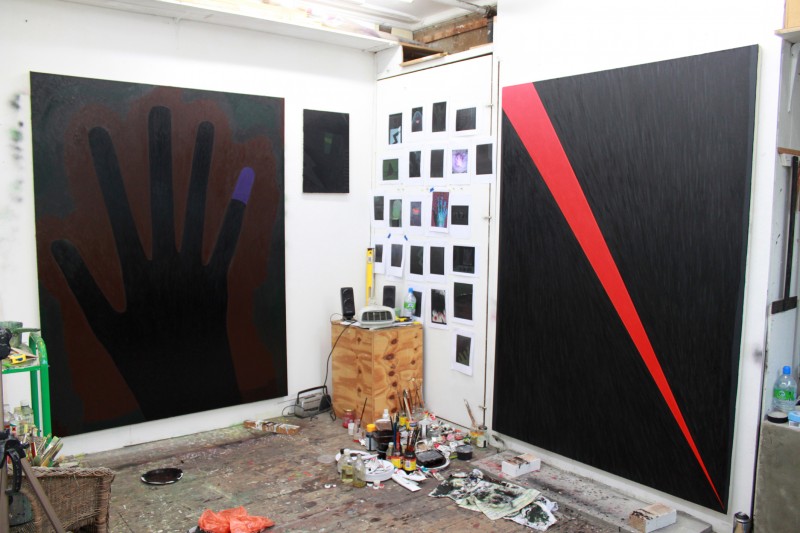 Alex Gene Morrison is a practising artist and has consistently exhibited his work nationally and internationally, from London to Tokyo, New York and Shanghai. Morrison graduated from the Royal College of Art Painting course in 2002. His practice revolves around an ongoing exploration of varying painting methods and processes, at times extending into areas of digital video and 3D animation. He is represented by Charlie Smith London gallery and his work is held in various public and private collections including the David Roberts collection. Morrison was one of the founders and curators of the Rockwell Gallery and Studios in Dalston, London 2002-2007, an influential artist run space.
There is a distinctively anthropological feeling to Morrison's images of skulls, forests, monsters and totemic abstract forms that call to mind the primitive and tribal. Signifiers of fire and raw electrical energy convey thoughts of destruction, transformation and re-animation via elemental forces. Morrison reminds us that there are embedded, archetypal elements within us that abridge modern and primeval man. Simultaneously, ongoing obsessions with horror and sci-fi movies; video games; sub cultural design; alternative music and the oppressive, unrelenting rhythms of Doom Metal all seep into and out of the work.
This sense of deep time, which is intrinsic to the work, is coupled with a knowing enquiry into Modern abstract painting, where Morrison references formalist tropes that were defined by 20th century avant-garde movements including Suprematism, Vorticism, Abstract Expressionism and Neo-Geo. Inherent within all of these was a departure from representation and gravitation towards a search for purity of expression and the universal via abstraction. Morrison absorbs these ideological and painterly languages, and in doing so, creates a unique and alternative visual language that invites his audience to go behind the surface through fractures, splits and tears. Rendered in dark, textured paint and in combination with his use of archetypal simulacra, Morrison presents us with resonant, metaphysical paintings.