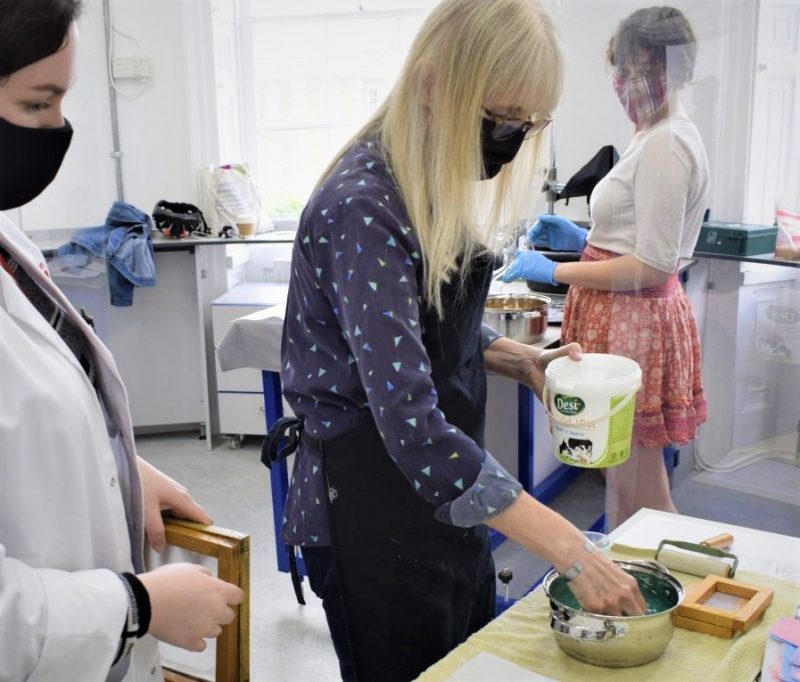 Amanda Brannan is a London-based book artist, papermaker and workshop leader. She observes and engages with patterns, images and informative text to create her visual arts language that is heavily influenced by her interaction and research with the architecture of London.
While living in California during the 90's she studied both Japanese and Western styles of hand papermaking, which led to the development of her personal style that involves experimenting with different traditional papermaking fibres, recycled materials and pigmentation methods. She uses complex layers of different manipulated fibres to create patterns that are influenced by her research.
Amanda's approach to support effective teaching is to create an environment that encourages cooperative learning in a relaxed atmosphere, allowing everyone the opportunity to participate in all aspects of the processes, encourage group idea sharing and discussions, as well as experimentation with all the different techniques.
EDUCATION
2009, MA Visual Arts: Book Arts, Camberwell College of Art. Murton|Crawford Award for Book Arts
1979, BA(Hons) 3D Design specialising in Silversmithing and Jewellery, Loughborough College of Art and Design
SELECTED COLLECTIONS
Tate Britain: Book Collection, London
Camberwell College of the Arts, Library Collection, London
Winchester School of Art Library
Manchester Metropolitan University: Artists Book Collection
Leeds University: Brotherton Library Collection
St Benedict College: Gallery Collection, Minnesota
Neil Crawford Artists Book Collection
Maria White Artists Book Collection
SELECTED PUBLICATIONS
2019, papers used for a craft accessories article 'Sticky Situations', Wallpaper Magazine, March Edition.
2018, Papermaking: Handmade Paper Booklet, Paper Crafts: A Makers Guide. Thames & Hudson/Victoria and Albert Publication.
2015, two images with descriptions – Axe: Cladding, Interaction & Engagement, British Artists' Book Makers, BCF Books.