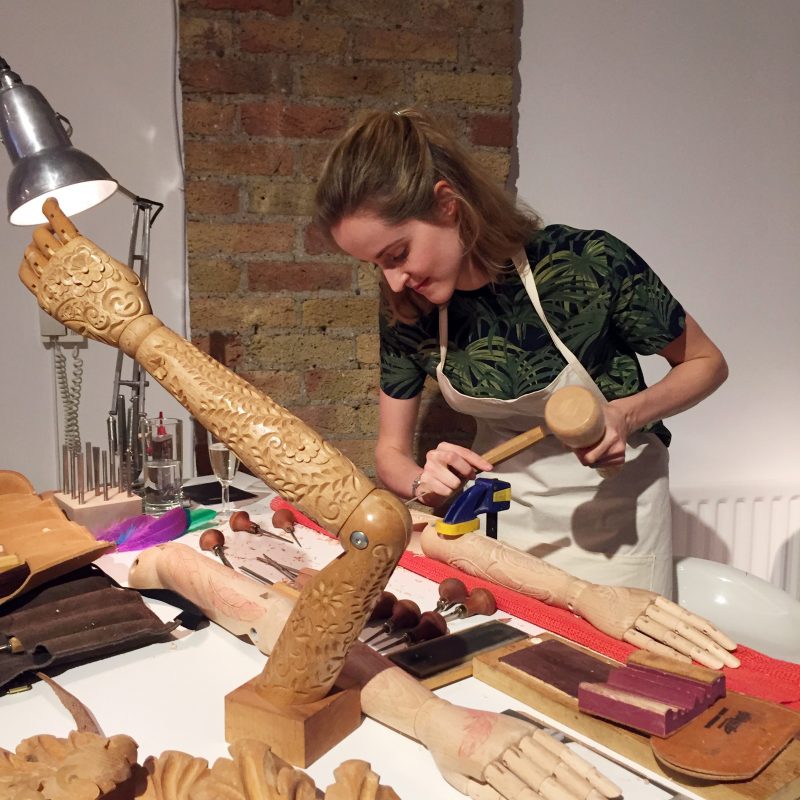 Discovering the carving department at City & Guilds of London Art School was like unearthing a rare and precious treasure. It's a very special place, for me mainly because at its heart is a solid, traditional (and importantly) hands-on, practical learning that gives you a solid set of traditional skills, that you can add to, experiment with and develop in your own practice after graduation. The course structure is both interesting and comprehensive; in addition to the woodcarving and gilding, practice is enhanced by lessons in drawing, modelling and casting.
During my time at the Art School, I didn't feel restricted in developing my skills and the tutors were encouraging in not only the course projects but also let me experiment with my own ideas. In my opinion, the amount of effort and time the tutors put with each student is what gets such great results. The small classes make for fast and personalised learning.
The ongoing friendships and collaborations both between students and with tutors past graduation, are a testament of the creative, dynamic environment that the Art School nurtures. It is a cosy, open-minded but serious Art School where you don't feel like just a number, unlike some of the big universities. What stayed with me in particular, are Kim Amis' modelling classes, both fun and terrifying, always made me go away with a great story as well of course invaluable new skills!
Whilst at the Art School, I was fortunate enough to work on gilding the Royal Barge for the Queen's Diamond Jubilee, which vastly accelerated by gilding knowledge. My design was also chosen for the Fishmonger's Company Menu Design competition. I was also grateful to have received a bursary from the Drapers' Company, which paid for my course fees while at the Art School, which meant I could fully focus on my studies and take on less Art Directing TV work. I was also delighted upon graduation to receive the William Wheeler Prize for Outstanding Work, which was a lovely send-off and gave me even more confidence.
Since graduating, I have been fortunate to be able to split my time between personal projects, private commissions and collaborations. I also have a background in Art Direction for Film & TV which has acted in my favour, since it is very useful to have both practical skills as well as design training and understanding how to create an environment, and so has made me a very versatile collaborator.
In my own practice, I spent some time after graduation perfecting my verre eglomise artworks, a technique which I was introduced to while at the Art School. I exhibited the resulting large-scale, gilded illustrations for London Craft Week, 2016 and was named as one of six "best exhibitors that are going to perform during London Craft Week" by Boco de Lobo. I also exhibited my verre eglomise at Clive Christian in Harrods.
My favourite collaborative projects have been where I have been working with talented and progressive designers. For example, I worked with MUSEEA on the award-winning "Utopian Bodies, Fashion Looks Forward" with my carved mannequins in Stockholm. This collaboration has led to an ongoing relationship with Proportion London, an artisanal mannequin manufacturer. Most recently, I designed and built a large installation of raw wood and willow sculptures for Margate's Dreamland "Treetop" entrances in collaboration with d_raw Associates. This project was also special as I was able to employ two fantastic, past woodcarving students, Mike Watson and Marcus Gill.
With my woodcarving personal work, this year I have been experimenting with stripping back to simpler, tactile shapes and subverting materials, encouraging interaction and playing with scale. An example is the huge 3 meter "Memory Chain", made from one single length of pine, currently exhibited at The New Craftsmen in London and is also part of their collaboration with 1st Dibs.
I am also in the process of creating my "functional sculpture" series – wood carved pieces that not only tell a story but also have a function, such as a light or sculptures with secret compartments. Right now I'm working on a trio of hand-carved, twisted rope lights. After which, I hope to realise a collaboration with a very exciting surface design company and an exhibition at the beginning on the New Year.
This November, I move into the eagerly anticipated Peckham Levels, where I will have a new studio space. There, I hope not only to create exciting new work, but also inspire others and reignite interest in age-old crafts by demonstrating that a traditional approach to technique and craftsmanship, blended with the exciting developments in technology and materials can create unexpected and beautiful results.
So I would say, that the Ornamental Woodcarving and Gilding course at City & Guilds of London Art School gives you a lot of core skills, that can take you into whichever direction you choose, be it into restoration or art and design. So far I have worked in Miami, Stockholm and New York – with solid knowledge and passion, you can go anywhere!
Images:
Rococo mirror – carved and gilded lime with verre eglomise mirror. Image: Perry Patraszewski
"Memory Chain". Image: The New Craftsmen
Proportion London Craft Event, (demonstration) Image: Cecily Puckett
Khokloma inspired carved and painted child mannequin. 
William Morris inspired, carved arms for "Craft and Form" room for "Utopian Bodies, Fashion Looks Forward" exhibition in Schiaparelli Couture. Image: Serge Martynov
"The Sacred Feminine" – verre eglomise.
 "Tribute Chain". Image The New Craftsmen