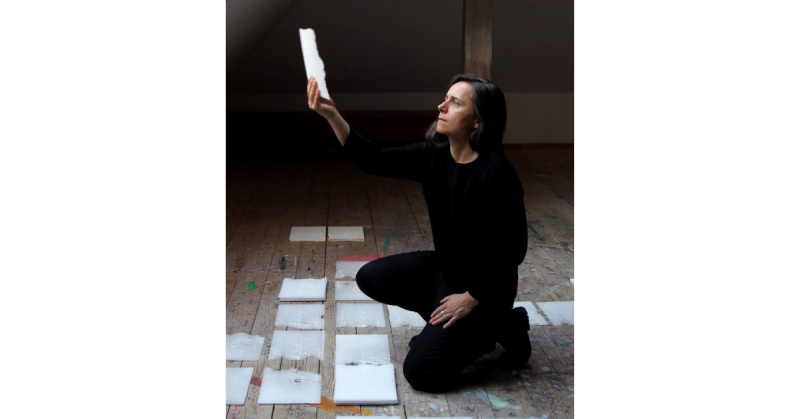 Anne Petters is a multi media artist with a background in glass art and design. In 2009 she received a Diploma in Fine Arts/ Glass at the Institute of Ceramic and Glass Art in Germany and in 2011 the Master of Fine Arts in Sculpture/ Dimensional Studies at Alfred University, New York. Anne has been showing work in glass museums and art institutions in Europe and the USA, such as the Saatchi Gallery, London 2018, the GlazenHuis Lommel Belgium 2018, the Nürnberger Kunshalle Germany in 2014, the European Museum for Modern Glass, Coburg in 2014, the Shack Art Center, Everett, WA and the Vergette Gallery at Southern Illinois University, IL in 2015.
Born in Dresden, Anne grew up in the German Democratic Republic. The political change in her country, which she experienced as a displacement of reality, has had a profound influence on her lifestyle and artistic work. Her interest in controlling and displaying moments of our fleeting, vulnerable existence leads her to a poetic, metaphoric use of glass and other materials, including natural phenomena.
Anne has developed a specific glass kiln forming technique and is teaching internationally. She has been a visiting lecturer at the Institute for Ceramic and Glass Art in Germany in 2012, a visiting lecturer at the Royal College of Art in 2016 and instructor at the Pilchuck Glass School in Washington, at NorthLands Creative in Lybster Scotland and the Summer Academy Bild-Werk in Germany.
Anne has been awarded various artist residencies including a fellowship at Wheaton Arts/ Creative Glass Centre of America, NJ in 2012, a residency at the Edinburgh College of Art 2013/2014 and a visiting artist scholarship at the Southern Illinois University, Carbondale in 2015. In 2014 she received a scholarship from the Queen Elizabeth Scholarship Trust for Excellence in British Craft/ QEST, London.
Publications:
1. Klotz, Uta; Neues Glas/ New Glass- Glass and Architecture No. 1/2016: Anne Petters/ Thinking in Glass, p.14-17
2. Hauschke, Sven; Weschenfelder, Klaus: Coburger Glaspreis 2014 – The Coburg Prize for Contemporary Glass, Coburg 2014, p. 94 and 257
3. Institut für künstlerische Keramik und Glas; Brandt, Jochen; Gussek, Jens; Rinn, Ludwig: Materiales Denken, Höhr-Grenzhausen 2012, p. 78 – 81, 118-119
4. Jutta-Cuny Franz Memorial Award 2011. – In: Neues Glas / New Glass, 3/2011, p. 74/80
5. New Glass Review 33 Corning Museum of Glass, p.39; No. 64