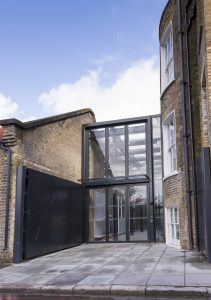 We are delighted that the Art School's beautiful new entrance and atrium, which opened earlier this year, is featured in the latest issue of Architects' Journal. The article features several photos of the project, as well as a discussion of the design by Alan Higgs Architects, the firm which has been overseeing the Art School's masterplan for the past decade.
This new development has had a remarkable impact of the Art School since the entrance opened in April this year. Of this project, Alan has said: 'This development realises an idea that was part of the first thinking about future options in 2007. It gives the Art School attributes it lacked: an appropriate entrance, a gathering space at its heart and a bringing together of the Georgian houses, rear studios and garden. The design developed into a composition that has a visual dialogue with the strong curving bays on one side and a high brick wall on the other. The design refers to the robust dark steel and glass architecture of open but covered Victorian structure: railway stations, markets, factories. In this way it refers to the Art School's period of establishment and its purpose of bringing art and design education to the booming industries of 19th-century London.'
Have a look at the article and come and see this wonderful new architectural intervention for yourself!