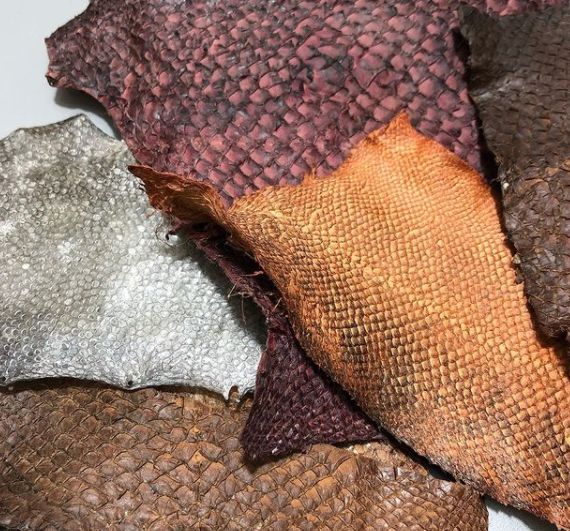 Whilst the Art School's facilities are closed due to coronavirus restrictions, we are delivering high quality teaching online, through workshops, 1-to-1s, tutorials and lectures. In a recent set of online Leather and Parchment workshops, part of the Historic Craft module of our BA (Hons) Conservation: Books & Paper, students learnt and carried out the process of making leather and parchment from fish skins.
Studying from home, the students each prepared their fish skins with the support of Book Conservation Tutor Abigail Bainbridge, who demonstrated each of the processes – de-fleshing the skin, de-scaling and de-greasing it, and preparing a tannin solution which is added to during the week.
Abigail recommended using salmon or rainbow trout skins, but the students could experiment with skins from different fish if they wish. To prepare the skins the only tools the students needed were a blunt knife and a chopping board, so easy to find at home. Black or green tea is used to make the tannin, starting off with 3 tea bags and adding more each day to increase the amount of tannin in the water.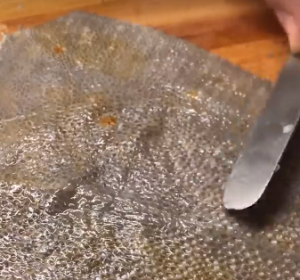 De-scaling the fish skin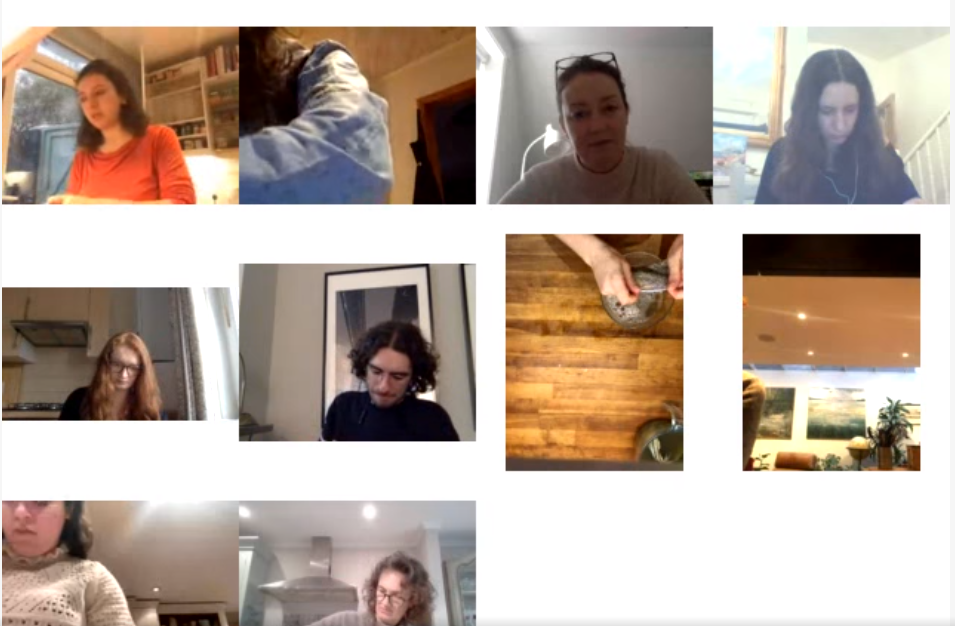 Massaging the fish skin in soapy water to remove the grease
Once the fish skin had the flesh, scales and grease removed, the students soaked them in the tannin solution. After a day or two, the tannin will soak into the skin and at this point, more tea bags are added. The way to check if more tea bags need to be added is to taste the skin and tea mixture! If it no longer has an astringent taste that tea usually has, it needs more tea bags.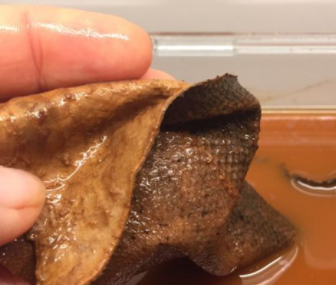 Fish skin after a few days in the tannin solution
Abigail demonstrated how to make parchment by stretching and pinning the treated fish skin on a board and allowing it to dry.
As well as making the fish skin leather and parchment, the students learnt about historic methods to make the material using mammalian skin and looked at their working properties, and how to identify species.
In the second Leather and Parchment workshop, the students massaged coconut or olive oil into their fish skins that have been steeping in the tannin solution during the week, in order to turn it into a flexible, workable leather that can be used to bind books.
To test the leather's strength, Abigail demonstrated measuring the skin's shrinkage temperature in a flask of heated water.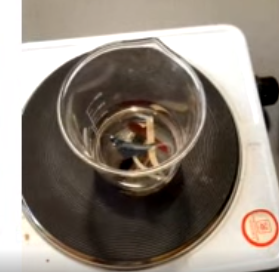 Measuring the shrinkage temperature of the skins
Jesse Meyer, a tanner based in the United States, joined the online session and gave the students a tour of his tannery where he works with mammalian hide including goat, cow and sheep from sustainable farms, and described the largely traditional tanning process he undertakes.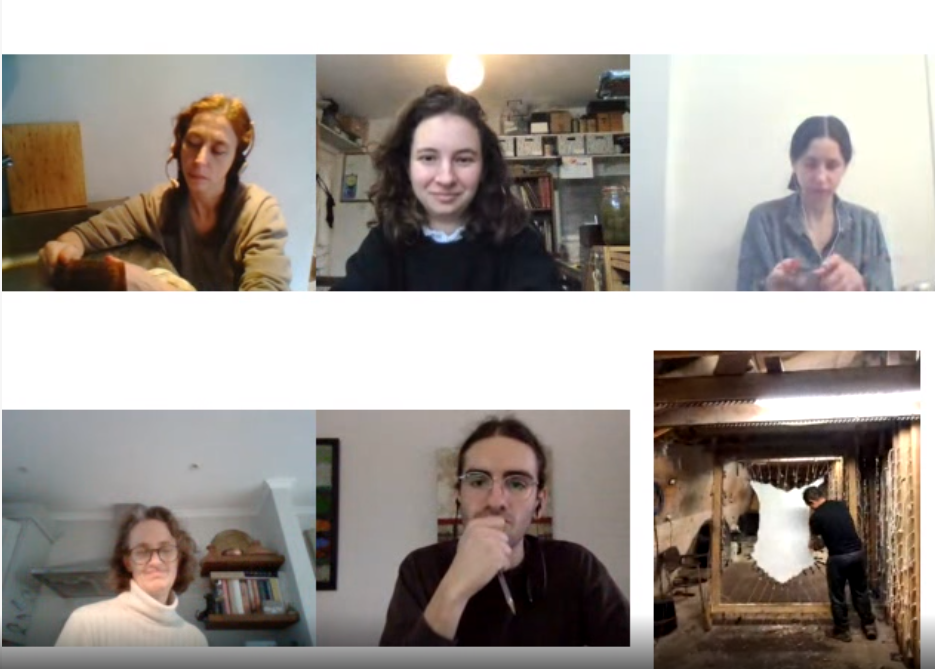 Stretching a skin at the Pergamena Tannery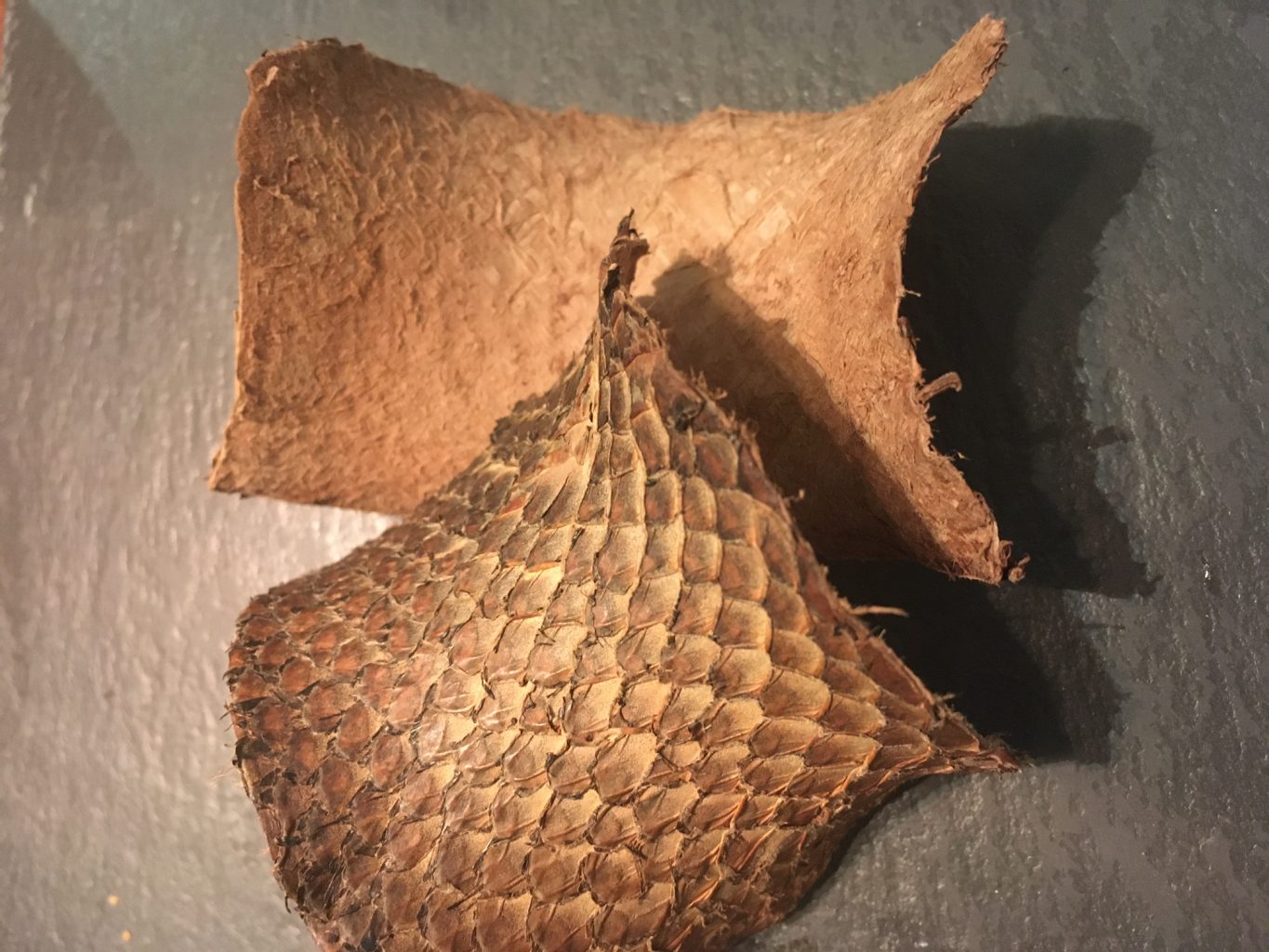 Fish skin leather made by student Tanya Alfille