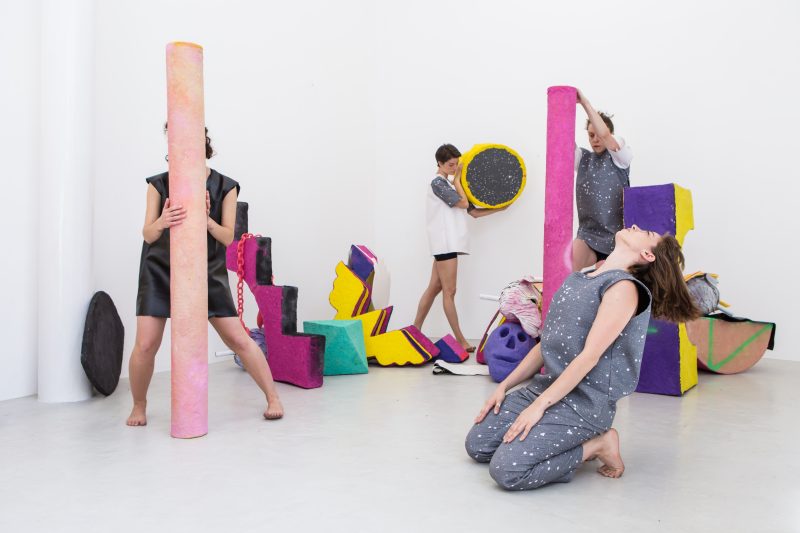 Candida Powell-Williams has an MA in Sculpture from the Royal College of Art and a BA in Fine Art from the Slade School of Fine Art London. Her sculptures and performances explore the instability of memory and storytelling. Her work is informed by an exploration of visual patterns and human ways of ordering the chaotic universe, examining the connection between objects, action and belief through a female lens.
Using a range of materials and textures she references archaeological objects, artworks, architecture and landscapes exploring the consequences of retelling history. Playing with figuration and abstraction she renders her research in emblematic forms or prop-like sculptures akin to drawing which are characterised by wobbly geometry and the intimacy of the handmade. Sculptures are echoed and repeated in different media (ceramics, plaster, jesmonite, embroidery, textiles, wood, metal, resin, plasterzote) and different scales from human size to miniature. Often fabricated in sweet gradients of pinks, purples, yellows and greens sculptures come together in whimsical theatrical stagings.
Powell-Williams works with dancers to explore a physical, bodily relationship to her research material. Together they devise performances that experiment with movement, gesture, touch, group mechanics, rhythm in space, patterns and narrative. These live experiences are accompanied by her synthesised soundscapes and documented in stuttering animations overlaid with drawing and reconfigured sculptures.
Recent exhibitions include Orbit within the Echoes a performance as part of Whitechapel Gallery's Nocturnal Creatures (2021), The Gates of Apophenia at Bosse and Baum Gallery London (2019), Command Lines at Void Gallery Northern Ireland(2019). In 2019 her tarot deck was published by common-editions, she was Artist in Residence at The Warburg Institute London (2018-19) and awards include the Sainsbury Scholarship at the British School at Rome (2012-13).  As well as being reviewed widely her work is discussed by Dr Edwin Coomasaru in 'British Art and the Environment, Changes, Challenges and Responses since the Industrial Revolution' published by Routledge in 2021.