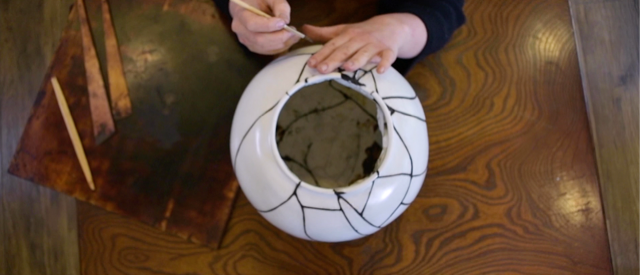 What really stayed with you from your time at the Art School?
All the different pathways it introduced to me – I left with a lot of options I would never have guessed existed when I began, and an amazing community of clever, kind people to call on when questions come up! It's been ten years, but I have very clear memories of sitting in the sunny courtyard – dusty and happy.
What did you work on during your time at the Art School that has proved valuable in your professional career?
Getting my hands on a variety of materials and working between departments was invaluable. Our fantastic drawing classes have underpinned how I approach almost every project and carving one of the Windsor grotesques was fun!
What did you learn from lacquer expert and former Head of Restoration, Margaret Ballardie?
I was part of the final Japanning class that Margaret taught at the Art School, and in the opening minutes she introduced a totally unfamiliar term, urushi. She was the very first person I ever heard say this word I now use more than any other in daily life – well, some days it might come in second after 'delicious' – oishii!
My classes with her got me really excited about the relationship between British and Japanese craft history, and a few months later I had the opportunity to see them in action, thanks to the Art School's David Ballardie Travel Scholarship. I spent two weeks in Japan in my second year, returned for a couple of months on a Winston Churchill Memorial Trust scholarship, and thanks to these things was invited back out her to live.
I wouldn't be where I am today without my time at the Art School, and with Margaret Ballardie. I'm very grateful.
What are you up to now?
I'm undertaking a PhD at Tokyo University of the Arts, working with the Japanese technique of kintsugi – mending with gold and Japanese urushi lacquer. I do repairs and make new works based on the thinking and practice behind the method. I've lived in Japan for two years and should be here a couple more years at least – although this year I'll be traveling in Europe and other parts of East Asia, to learn, teach and exhibit.
Images by Sybilla Schwaerzler.