Following on from the very successful first Costume Symposium in 2018 hosted by the Art School, we are delighted to announce that the second Symposium will be taking place this year at LIPA (the Liverpool Institute for Performing Arts).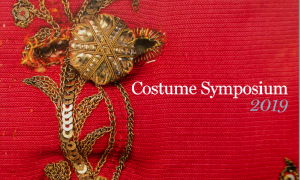 The Symposium will consist of three days of workshops and talks by leading costume specialists from Gentleman Jack, Game of Thrones and other major film and television productions.
The Costume Symposium is run by Susannah Buxton (award winning costume designer for Downton Abbey), Catriona Tyson (former head of BBC Costume) and Mary Davies (film lecturer and event organiser) to promote costume making and the associated skills vital to theatre, opera, film and television, and bring together young makers from across the country to exchange ideas, learn from experienced practitioners in the field and celebrate their art.
The weekend is designed for costume technicians and offers an unrivalled opportunity to develop their skills.
Speakers include Tom Pye (set and costume designer for theatre, ballet, film and television) and others to be confirmed.  Practical workshops will be led by Sean Barrett (Millinery), Toni Bate (Pattern Cutting), Michele Carragher (Embroidery Embellishment), Kunza (Corsetry), Vicky Salway (Period Tailoring) and Sarah Shepherd (Renaissance Knitting).
The symposium will run from 9.30am to 6.00pm each day.  Lunch will be provided on Friday 6 June and a reception will be held later the same day.
For further information please visit costumesymposium.co.uk
Registration is open until 26 August 2019
Fee – £240 for 3 days
UK-based participants may be may eligible for bursary funding from ScreenSkills to support their attendance at the Symposium.