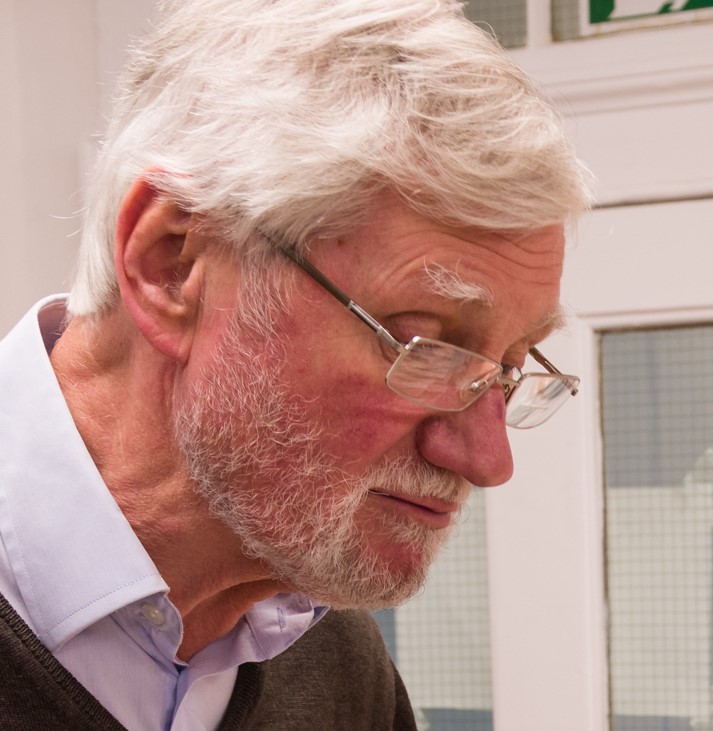 Established carver and sculptor, Dick Onians, was awarded the Art School Fellowship in 2018 in recognition of his exceptional contribution to the Art School over many years. Dick taught Historic Carving Diploma and Postgraduate Diploma students at the Art School since 1978 until his retirement in 2018, and he is widely recognised by alumni and staff as an incredibly generous, thoughtful, knowledgeable and inspiring tutor and colleague, who has had a lasting influence on those he taught or worked with.
As a Cambridge Classicist who had begun his career as a teacher before devoting his life to art, Dick studied Woodcarving under William Wheeler, Stone carving under James Butler, R.A. and Life work at the Art School in the late 1960s, before becoming a freelance sculptor and teacher of carving. He continued doing this even after being invited back to join the Art School teaching staff as a Senior Carving Tutor in 1978. Until his retirement Dick was a constant source of inspiration to generations of our wood and stone carving students as well as to the Conservators, where his wealth of classical knowledge and deep appreciation of form were valued, and he became synonymous with the Art School. The quality of his Carving Teaching led to the award of a gold medal from the City & Guilds Institute, for which he wrote the entire woodcarving syllabus and ran accredited courses in evening classes and summer schools near his home in Hertfordshire. He then became the first recipient of the President's Award for a City & Guilds teacher, presented to him personally by the Duke of Edinburgh in 2003.
Dick's private work covers a range of genres, including the human figure and traditional ornament but concentrates on abstract sculptures in wood and stone with a focus on the invention of new forms. Much of his work is concerned with endlessness in time and space and with regeneration. Many of his pieces have been cast in bronze. His sculptures appear in private collections in the UK, Europe, Canada, Australia and the USA and he has public work in Greenwich and in the Docklands.
Dick is a Fellow of the Royal Society of Sculptors and a Liveryman of The Worshipful Company of Carpenters. He has written two books on the subject of woodcarving as well as contributing regularly to the woodcarving press and also writing for the Grove Dictionary of Arts.