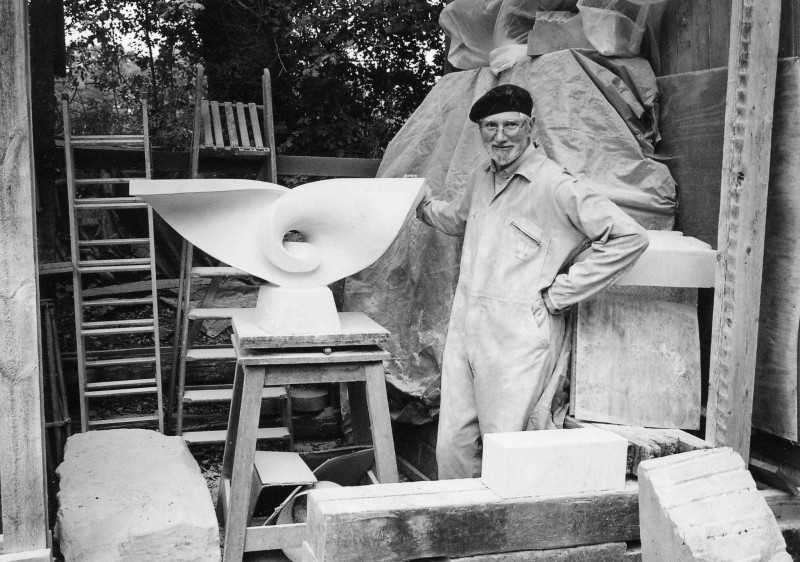 Nearly all my sculptures start as carving in wood or stone. The subject is sometimes derived from natural forms and simetimes from mathematical ideas of proportion or geometrical figures which I develop into organic shapes.
Carving satisfies me because I delight in the physical activity and because of the way in which ideas and problems with the material emerge during the process of searching for the intended shape. This induces a collaboration between me and the material which gives the completed piece a life of its own. I am trying to make forms that never would have existed but for me. Their underlying purpose is a celebration of life.
DICK ONIANS M.A. (Cantab), ARBS
Dick Onians' work is mainly abstract in wood and stone and but he does representational and traditional work and lettering on commission. His sculptures appear in private collections in Great Britain, Europe, Canada and the USA. Some of his sculptures have been cast in bronze and in resin. Many of the forms combine organic with mathematical elements, mostly concerned with endlessness, growth and continuous renewal.
From 1972 to 2012 exhibited in many solo and group exhibitions mostly in London and surrounding counties, including the Mall Galleries and the Alwin Gallery.
Awards
2008 Liveryman of the Worshipful Company of Carpenters
2003 First recipient of the President of the City and  Guilds of London Institute Award for teaching from HRH Prince Philip
2003 Medal of Excellence from the City and Guilds of London Institute for teaching
2003 Shortlisted with Anthony Gormley and Anish Kapoor for the Sculptural Focus for the British Memorial Garden in New York
Exhibitions & Commissions
2012 Participated in Woburn ARTBEAT
2011 Participated in Woburn ARTBEAT
2009 HVAF Sculptors' Group Exhibition at Letchworth Art Centre
2009 "The Chiltern Landscape" at Obsidian Art, Aylesbury
2007 18 @108 Exhibition at the RBS
2007 Charity Exhibition at Bride Hall, Herts.
2000 – 2007 Pashley Manor Gardens annual summer exhibitions, Ticehurst, E Sussex
2006 "Off the Wall " Art Fair, Bucks County Museum 2006 View Gallery, Thames Ditton
2005 Group exhibition, Parndon Mill, Harlow
2005 RBS "Inside Annual" exhibition
2002 Hertfordshire Visual Arts Forum "Escape", Platform for Art Exhibition on Gloucester Road Underground Station
2002 Newby Hall summer exhibition
2001 Participated in RBS Second annual exhibition
2000 Participated in RBS First annual exhibition.
2000 Commissioned to carve a large family group for South Oxhey, Hertfordshire
1999 Shortlisted for a large public sculpture in Watford, Hertfordshire
1999 Shortlisted for a millennium sculpture for Harpenden, Hertfordshire
1999 Royal Society of British Artists annual exhibition 1999 Joint exhibition, Bow House Gallery, Barnet
1997 RBA annual exhibition Edith Grove Gallery, London
1996 RBA annual exhibition
1994 One man Show Edith Grove Gallery
1993 United Artists annual exhibition
1993 Participated in RBS exhibitions at Chelsea Harbour & Woodlands Gallery, Blackheath, London
1990 Founding member of the Hertfordshire Visual Arts Forum (HVAF)
1991 Initiated Open Studios Event in Hertfordshire and regular participant since then
1991 – 1995 Leader of the HVAF Sculptors Group
1989 Elected Associate of the Royal British Sculptors Society
1985 – 1989 Chairman of the Buckinghamshire Art Society
Teaching
1995- present – Senior Carving Tutor, teaching carving, skull modelling and timber technology at the City and Guilds of London Art School,
1983-1995 – Head of the Carving Department
1978- 1983 – taught carving at the City and Guilds of London Art School,
1963-1966 Taught English and Latin at Dudley Boys Grammar School
1968 – present  teaching Sculpture and Carving to adult classes at Missenden Abbey Adult Residential College
19991 – Has designed 4 levels of Design for Craft woodcarving courses for the City and Guilds of London Institute
Publications
Regular contributor to the woodworking press, especially "Woodcarving" magazine
MacMillans Grove Dictionary of Art: entry on Woodcarving Techniques
Book: "Carving the Human Figure: Studies in Wood and Stone", published by Guild of Master Craftsman (sic) Publications Ltd 2001
Book: "Essential Techniques of Woodcarving" , Guild of Master Craftsman Publications Ltd 1997