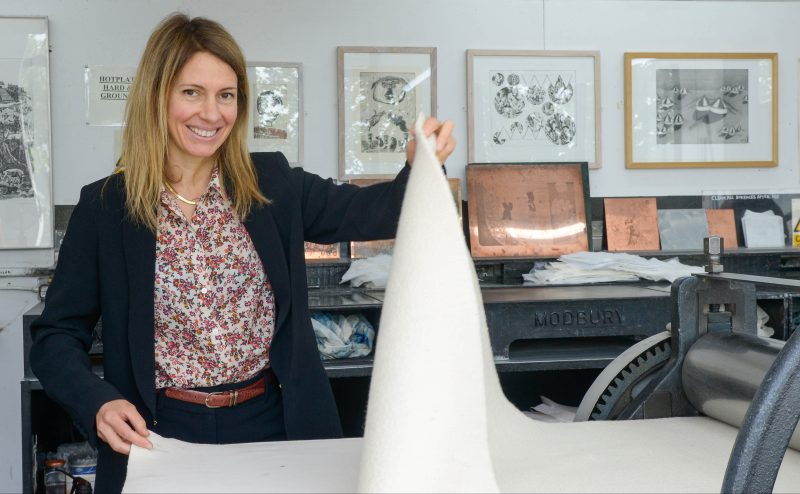 Dr Lois Rowe joined the Art School in 2022, following a successful career in Higher Education at the University of the Arts London (UAL), where she was Programme Director Fine Art and the Lead of Knowledge Exchange for Fine Art at Camberwell College of Arts and Wimbledon College of Arts.
Alongside her career in Higher Education, Lois is a practising artist and researcher. Her art practice was shaped by an early career in theatrical costume design in Canada and Japan. Following a growing interest in textiles and soft sculptures, her work moved towards 'animating' her costumes and sculptures and her practice turned to producing and exhibiting film and video. Her work as an artist also involves writing and has focused on how art intersects with other disciplines, and she has published a series of written pieces on current cultural events.
Her academic career has led her to initiate active research partnerships with organisations around the world, such as Ars Electronica, in Austria, where she curated Spectacular Resonance, a showcase of UAL interactive works. Lois also engages in pedagogic research and has organised a joint conference with OCADU in Toronto called Worlding Landscape which considers the different ways that art and land ownership are entwined and how pedagogic strategies can decolonise canonised perceptions of landscape.
Following a Diploma in Theatre Studies at Dalhousie University, Lois gained her Bachelor's Degree in Fine Art at Concordia University, Montreal. Moving to the UK, Lois took a Masters in Fine Art at Glasgow School of Art, and has subsequently been awarded a Postgraduate Certificate in Management of Learning and Teaching, and a PhD at Goldsmiths College, London.