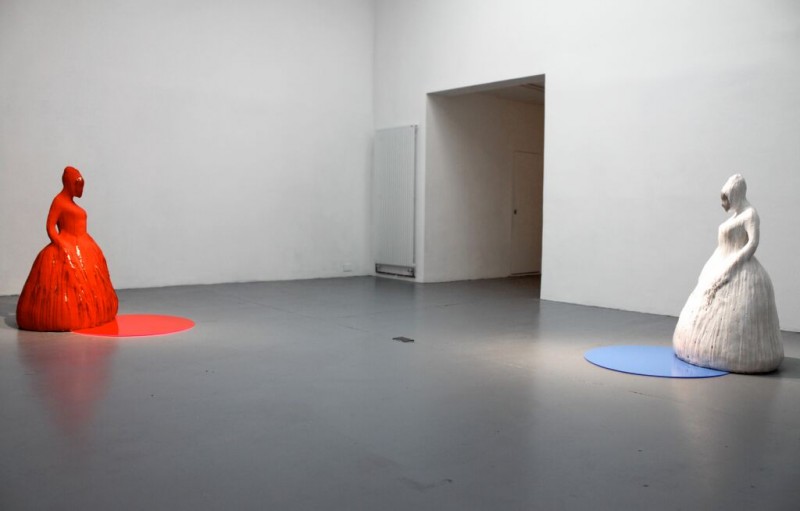 Elaine Wilson is Senior Lecturer in Fine Art specialising in sculpture.  She studied BA Sculpture at Duncan of Jordanstone School of Art in Dundee followed by an MA at the Royal Academy Schools where she was awarded the RA Gold Medal.  She has won residencies, travel bursaries and Arts Council awards supporting both public commissions and publications.  Her work continues to be exhibited widely both nationally and internationally.
Elaine Wilson makes work that appropriates and reinterprets old models, leaning on traditional forms in order to address contemporary themes and issues. Having worked with a diverse number of materials and media, her sculpture has for several years largely focused on ceramics process and it's contexts.
A 3-month residency at the European Ceramic Work Centre in Holland and the Norma Lipman Research Fellowship at Newcastle University allowed her valuable time to experiment and contextualise ceramics within fine art practice. During this year she explored the politics of femininity and ceramic ornamentation. The residency spawned several solo exhibitions at the Hatton Gallery, Globe Gallery Newcastle, Bath Spa University and GiftVyner St. Gallery, London. She also received awards from the Arts Council, Art Editions North and the Hope Scott Trust to produce a monograph of her work 'Mirror.' She has regularly been an invited artist in group exhibitions and symposiums and recently featured in the publication New Directions in Ceramics-From Spectacle to Trace examining innovation, critical and cultural contexts in contemporary ceramics. Although largely feminist in concept, Wilson's engagement with more philosophical debates of self-reflection and 'otherness' is reflected in the large sculpture, 'Seeing Myself Seeing' exhibited in her solo exhibition 'Spoiled' at the Hatton gallery. How women view themselves and are viewed by others is still a dominant social construct and underpins much of Wilson's work, for this she is much indebted to the works of Joan Riviere and Israeli analyst, writer and artist Bracha L. Ettinger.