'An inspiring tutor who was not only able to give us her in depth knowledge but also to give us all individual time to work on what we wanted to try as the week went on. I felt like I'd achieved so much by the end of the week.' Laura
Level: Beginners
Tutor: Rian Kanduth
SHORT COURSE OVERVIEW
Create your own stunning reflective artwork, by learning to apply and then etch in gold leaf on glass. After that we move on to oil gilding a small plaster cast, a technique you can go on to use on all sorts of surfaces, including plaster, wood and stone, indoors and out. Verre églomisé (gilding on glass) and oil gilding techniques have barely changed over the centuries and are amongst the most satisfying to learn.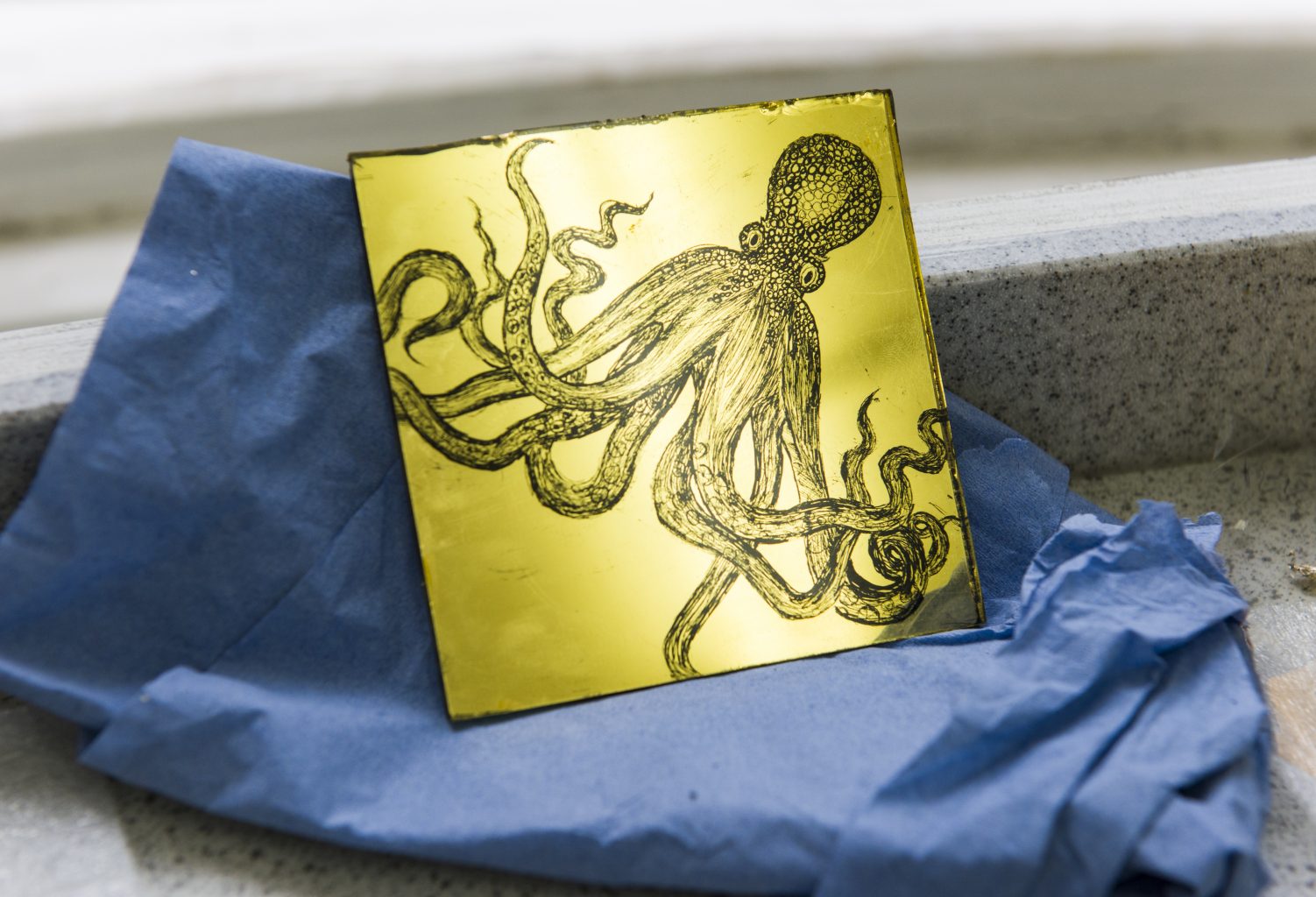 'Learning a new skill directly from a teacher with so much knowledge and experience was great. I have tried to teach myself these techniques from the internet, with disappointing results, I feel I have saved time and money by doing this course!' Justine
COURSE DESCRIPTION
At the Art School, we teach our woodcarvers and our conservators a variety of techniques for the application of gold leaf to different surfaces and objects, old and new.  In this short course, we introduce you to the specialist techniques of verre églomisé (gilding on glass) and oil gilding. The latter is suitable for use on external architectural features, including wood and stone, but in this course, you learn to apply it to plaster.
Verre églomisé, the technique of gilding the reverse side of a piece of glass, is now most often found in museums and galleries, and employed by sign writers and artists. In this course you learn how to apply loose gold leaf to glass, and then to etch your design in gold leaf, finally sealing it with coloured enamel. Along the way, we show you how to make size, and some interesting techniques for etching.  You'll be amazed at the end result of your endeavours: a stunning reflective artwork!
While the verre églomisé method is only ever used on glass, oil gilding is found on various substrates. Key to successful oil gilding is an understanding of how best to seal the substrate (though we will already have sealed the cast you'll be working on) and working to timeframes (knowing when the size is perfect to then lay the leaf). Again, you learn how to apply loose gold leaf to plaster, using a gilder's tip, and afterwards to 'fault' it, or identify where the gold has not taken. Getting it just right is tricky and requires guidance and a lot of practice.
With the skills you learn during this fascinating week, you'll have all the essentials you need to start practising gilding at home.
What's included: all teaching, and most of your tools and materials for gilding, including gold leaf.  Feel free to bring your own gilding equipment if you have some already.
What isn't included: your meals, and bring a 1" flat sable brush and a small round sable brush no 1 or 2 Please also wear clothes you don't mind spoiling, or bring an apron.
Places on Summer School are sold through the Eventbrite website.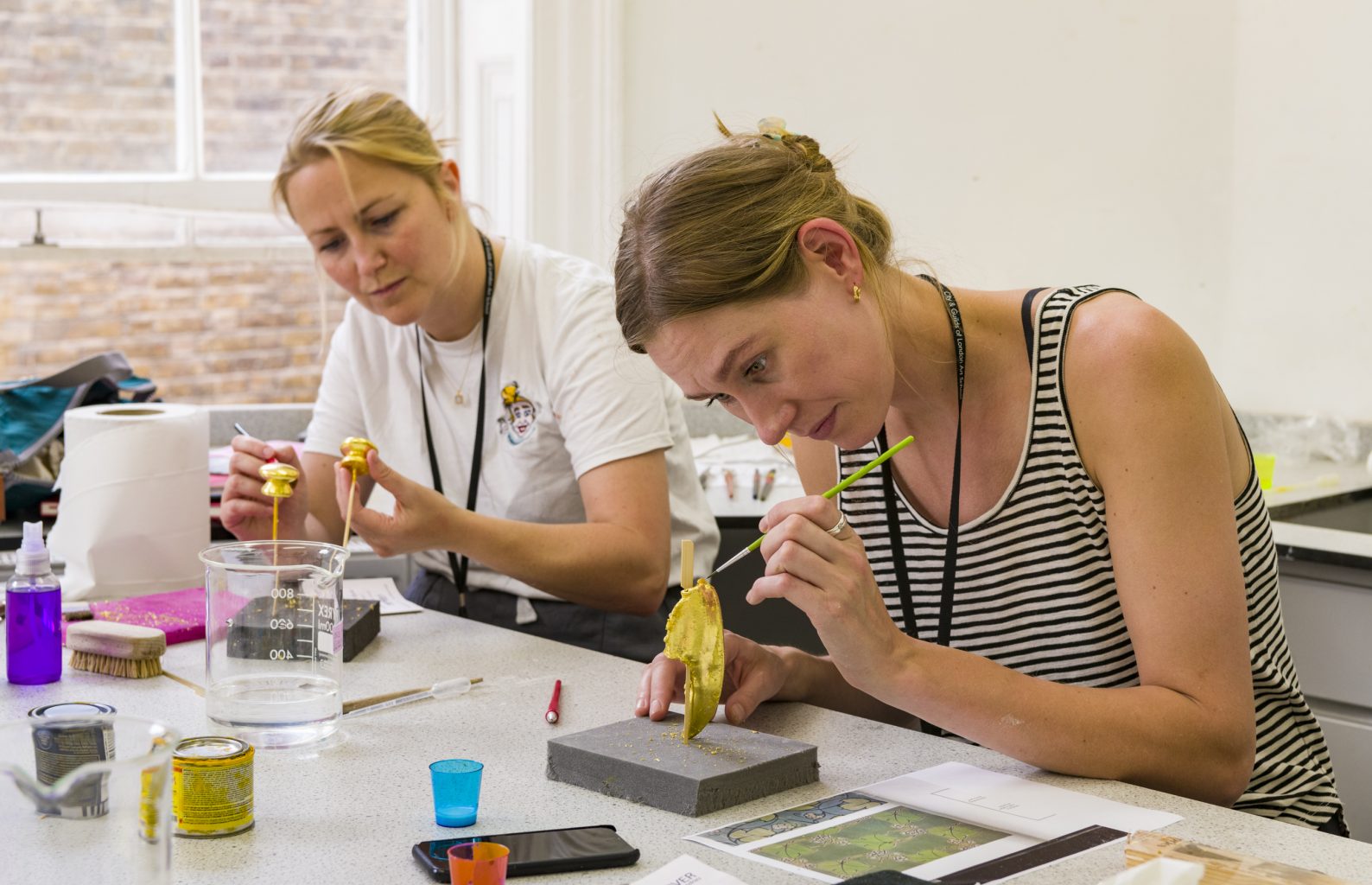 'Rian is a fantastic tutor, her knowledge is unprecedented and it is clear she is a true professional with a passion for her area of expertise. As a total beginner I really appreciated her patience with all of my mistakes and transparency in answering every question I asked.' Sarah
'Thoroughly enjoyed the experience. Our tutor was delightful.' Wendy
'I loved it and found it very useful. Great to be back at school learning something new with a great teacher and fun people.'  Ingibjorg
'The thing I liked most about the course was playing and experimenting with texture and oil/water gilding.'  Luna
'Overall this course was excellent. The organisation and teaching of the subject matter was clearly communicated. The atmosphere in the lab was extremely comfortable and Rian gave excellent, constructive feedback.' Jessica
Find out about our BA (Hons) Carving: Woodcarving & Gilding.