'It was fabulous – being taught how to carve, having lots of practical hands-on opportunity, great teaching and a friendly group of fellow pupils.' Jane
Level: Beginners
Tutor: Saena Ku
SHORT COURSE OVERVIEW
Be inspired by this rare opportunity to learn historic woodcarving skills in one of the few art schools still teaching traditional craftsmanship. Out of raw timber and with guidance, you'll create an original architectural ornament: an acanthus leaf or oak leaf, for example, or a section of classical moulding. In the process, you'll learn how to work with the wood grain, and use and sharpen chisels safely and with confidence.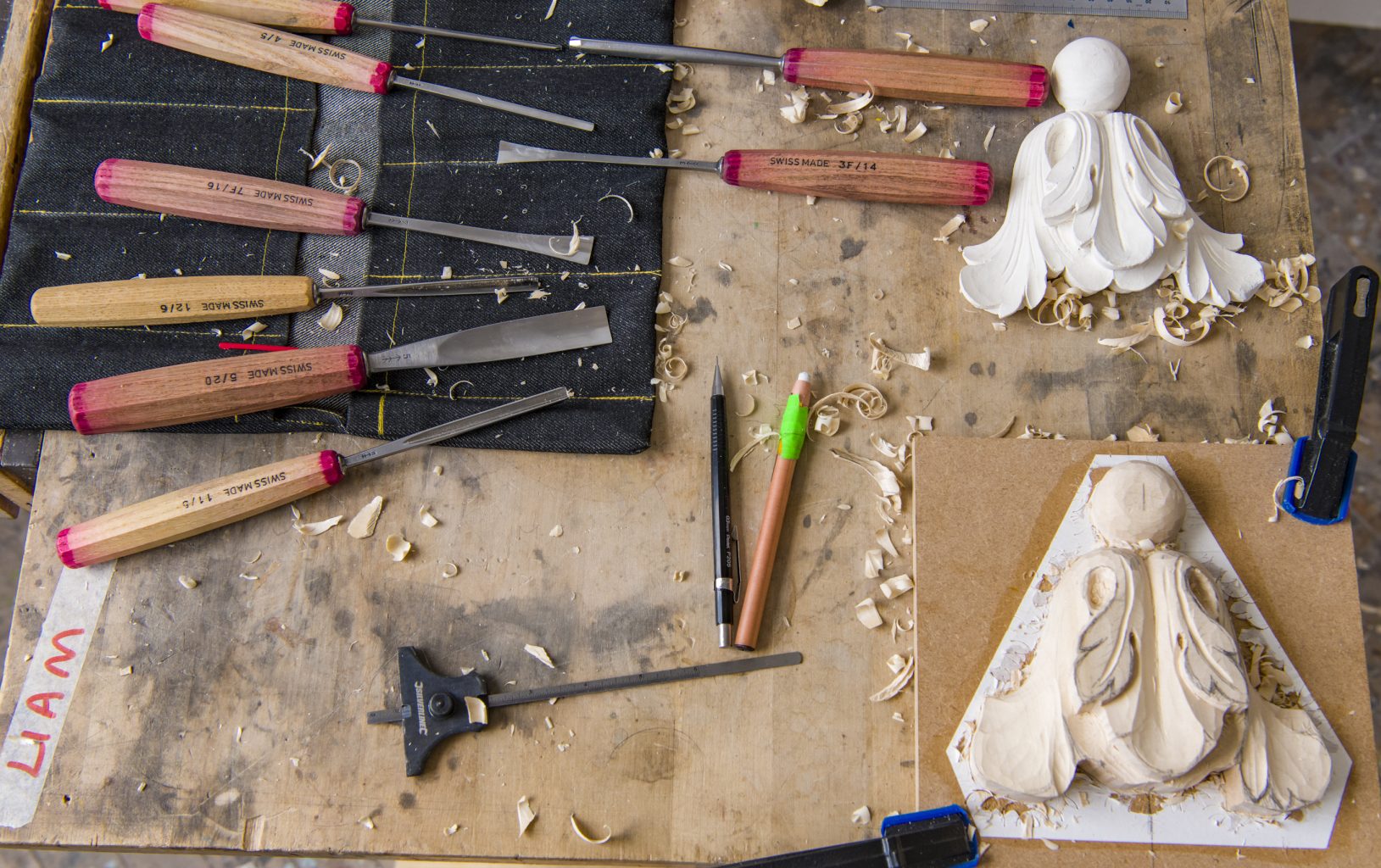 'I enjoyed learning the basics of a totally new skill under really expert guidance; challenging myself to do something quite outside my normal skills/experience; and gaining some understanding of the level of skill and artistry that goes into producing woodcarving.' Martin
COURSE DESCRIPTION
We introduce you to the specific skills and techniques needed for historic (not freestyle) woodcarving, firstly by way of a simple chip carving, and then by moving on to carving an original architectural ornament.
Chip carving is a great place to start. This decorative technique was commonly used in the medieval and early renaissance periods in Europe, particularly on oak furniture. You learn about the different types of cut that each tool makes in the wood, and how the shape and size of the chisel dictate the pattern. If you have not carved wood before, you may find it hard to produce crisp cuts, and this 6" square practice piece helps you develop consistency and accuracy in the handling of your chisels. Practice makes perfect!
Once you've got to grips with the basic techniques, and have started to understand grain direction in timber and its effect on cutting technique, you can move onto the creation of an original architectural ornament: an acanthus leaf or oak leaf, for example, working from a plaster mould.
The modelling of a leaf introduces you to working in relief – it stands out from the surface rather than being set in – and you learn something of the way a carver may 'draw' with the chisel, in long, sweeping strokes. It's a more sculptural process and very satisfying work.
You'll leave our course with two pieces of carving, and knowing how to approach and execute your own simple carving project at home.
What's included: all teaching, and your tools and materials for the woodcarving.
What isn't included: your meals, and bring a steel tape measure, an A3 sketchbook, pencil, rubber and ruler. Please wear old clothes you don't mind spoiling, or bring an apron, and wear steel toe cap boots.
Places on Summer School are sold through the Eventbrite website.
'Extremely helpful teacher. The classical way of teaching was much appreciated… and the sharp tools.' Sue
'Everything about the course was great, even when it was challenging. I loved it.' Gardenia
'A truly wonderful introduction to the fundamental skills and techniques of woodcarving.' Jeff
'It was extremely informative with clear stages of progression. I always felt at ease with each process.'  Alex
'Excellent course well taught by an expert in her field. Lovely and patient teacher and great access to tools and materials.'  Lydia
Find out about our BA (Hons) Carving and PgDip/MA Carving.