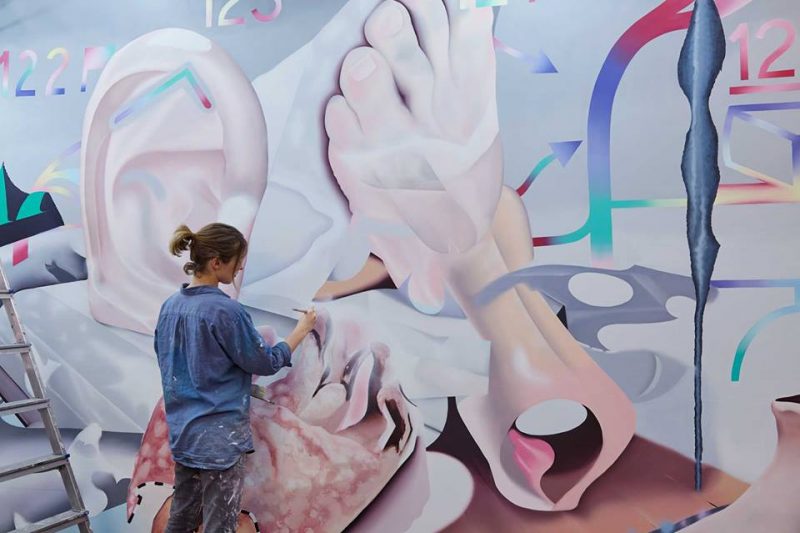 Jane Hayes Greenwood is a lecturer in the Fine Art department. Alongside her practice, she is the Director of Block 336, a UK registered charity, artist-run project space, studio provider and independent publisher in Brixton, London. Block 336 hosts one of the largest, non-institutional and architecturally unique spaces in London. They offer opportunities for artists, encouraging ambitious projects and providing a sympathetic and supportive environment for the development of new work. Jane recently managed the large scale exhibition: Unspeakable Freedom >> Tastes Like Chicken by Jennet Thomas which was supported by the Arts Council England.
Jane Hayes Greenwood's practice is concerned with the material and psychological histories of objects. In her recent paintings, bodies and food are juxtaposed in playful compositions, exploring ideas relating to consumption and desire. Her works are veiled with the seductive qualities sometimes related to consumerism, yet they reveal a world of anxious uncertainty. Art history and personal history are interwoven and humour is used as a device to disguise complex and multi-layered meanings. Appropriating from a wide range of sources, the works bring together images culled from different times and places. Elements selected from early christian manuscripts, ancient Greek ceramics and contemporary visual culture, rub up against each other to generate abundant associations. Hayes Greenwood's invented compositions hint at narratives, twisting the familiar into something more disturbingly revealing.
Combining different painterly techniques, there is a preoccupation with surface and objects are often depicted with a tactile realism. Some areas appear almost computer generated rather than created by hand and the lure of the unblemished surface is seductively screen-like. This is in contrast with areas of impasto paint where the physicality of the material is made discernibly present. Ultimately, works aim to comment on the complexity of human desire in a world of excess.