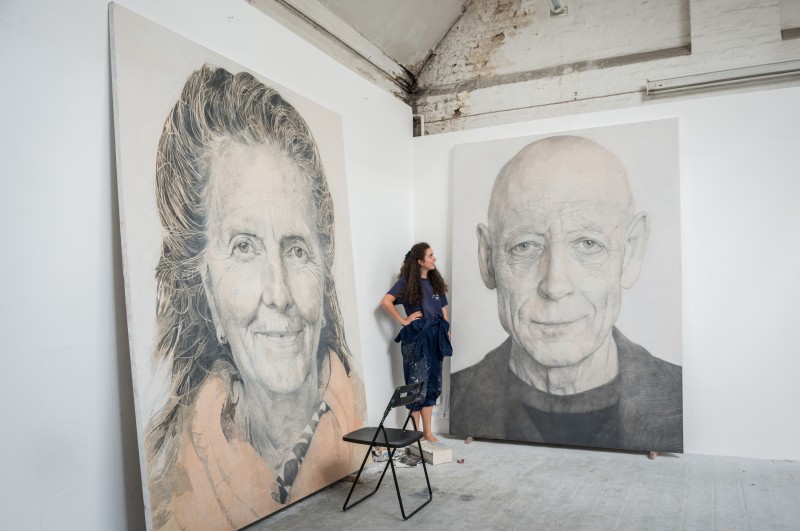 What was your work/ background before starting the course?
Prior to starting the MA course, I have studied visual arts at the Academy of Arts, University of Novi Sad, Serbia. The emphasis of my making was on drawing, while my interest lay in the human face.
What attracted you to study at the Art School?
I was seeking an environment that could facilitate my growth through critical and theoretical support, while also being respectful of the hand-made object – City & Guilds Art School felt like the right place.
What aspects of the course did you most enjoy/ benefit from?
I feel that the biggest contribution of the course to my practice was the encouragement to conduct a theoretical research revolving around my practice and its relating fields, and the consistent presence of a team of tutors channeling and expanding that research.
I was very fortunate to have received bursary support from the Art School that immensely contributed to the payment of my fees, and without which the MA course would not have been possible for me.
Can you describe projects you were involved in while studying at the Art School?
During the course I devoted my energy to two projects, one being the contextualization of my practice that culminated in dissertation writing, and the other being the exploration of the materiality of paint as a second skin sitting on top of canvas, realized through the creation of large and small scale paintings.
What are you involved in now/ what have you been doing since graduating?
It has been busy since graduating – I have had my works shown in exhibitions in Geneva, London and Vienna. One of the paintings that I created while studying at City & Guilds was exhibited at the National Portrait Gallery in London, as a part of the BP Portrait Exhibition, they then useed the painting to advertise the competition the following year. I have also taken part in one residency, in Charleston, US. A couple of my works have been housed in the Saatchi Collection, while my work and its process of making have been featured in a programme presented on CNN. I am currently working on an exciting collaboration with a City & Guilds alumnus.
Would you recommend this course, and why?
I would recommend the MA course, primarily because of the enormous and valuable attention given to each individual student enrolled in the School.
Why do you think Fine Art matters?
I cannot but quote my friend Stacie McCormick: 'Fine art is not important, artists are because they are alive enough to make people perhaps for a moment feel the majesty of what it is to be alive.'