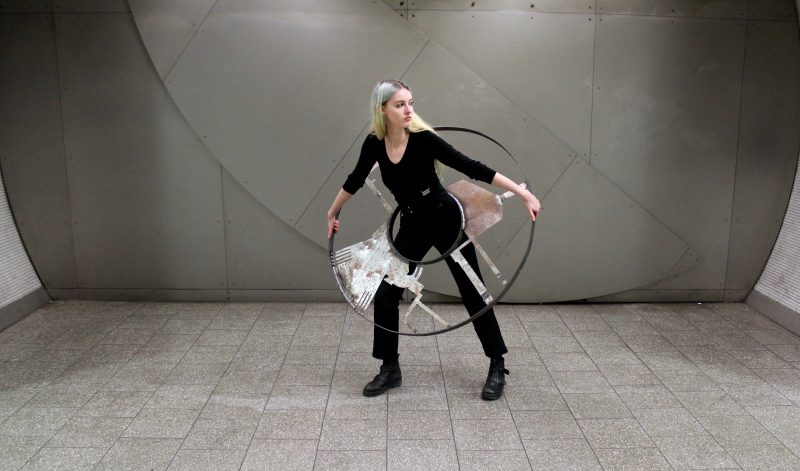 Studying Foundation at the Art School was crucial to my growth creatively and as an individual. The course drew me out of 'A-Level' thinking and encouraged me to be more experimental and confident. Throughout the first 10 weeks you experience a diagnostic period which exposes you to a huge range of art and design disciplines; vital for everyone, even if you think you already know your pathway.
I actually had a place to study History of Art at university, but my time at the Art School confirmed to me that I wanted to continue studying art and design. After the 'Found Object Jewellery project', I was exposed to a practice that explored the boundaries between art and design on the body, and I decided to apply for Jewellery Design.
The Art School provides accessibility to such a variety of workshops. I was exposed to working with new media including traditional printmaking, film, photography, glasswork, woodwork and metalwork. Getting one-to-one advice and attention from technicians was such an opportunity especially as I did not have experience working 3-dimensionally, the foundation really helped to improve my approach.
What in particular has stayed with you from your time at the Art School?
During my time at the Art School, the history of art program not only exposed me to concepts and movements but to galleries and museums around London, which I had not been to before but continue to visit for inspiration since. The drawing project also developed my primary research skills as it encouraged me to look closer at the world around me.
The tutors and technicians are devoted to their students at the Art School, and I am still in contact with a number of them, who continue to show their support and give me guidance.
I would 100% thank the Art School for building my self confidence and enabling me to work independently, which is crucial whether you are working or studying.
My final project is still my favourite work I have done to date. The tutors and technicians encourage even the most ambitious of ideas and help you to execute them. I focused on creating glass jewellery that was used in a performance to demonstrate the intimacy of breath. This performance element of the work is an aspect I continue to incorporate in my jewellery design.
What have you gone on to after leaving the Art School?
After the Foundation Show, my film was shown at a music and art event "VeryLove presents: Cultural Capital" at the Copeland Gallery. Since Foundation I started studying BA Jewellery Design at Central Saint Martins in September 2016. I have also had work displayed at the V&A during London Design week 2017 as part of a showcase "Extra-ordinary: Inspired by Balenciaga" responding to their "Balenciaga: Shaping Fashion" exhibition.
What advice might you give to current Foundation students?
I would advise students to realise the opportunities the Art School provides. You get your own working space and the tutors and technicians are available to discuss work daily, which might not be the case on your degree. Keep an open mind even to projects that don't necessarily seem to suit you. There is something to be learnt from all of them and treat this year as a chance to experiment. City & Guilds of London Art School is an incredibly welcoming environment and I would encourage Foundation students to take advantage of the facilities as much as possible.