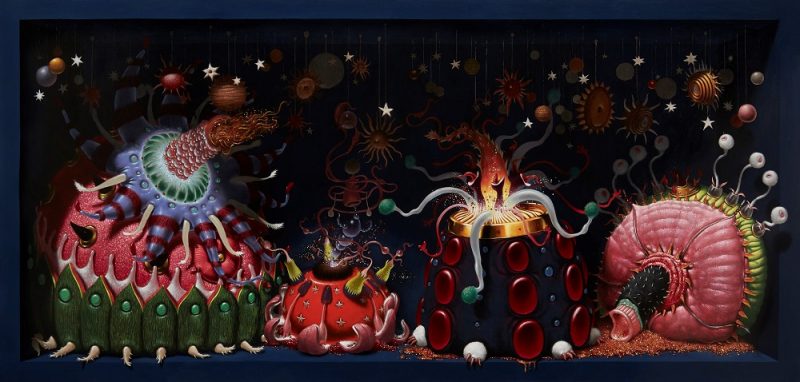 Greenwood is inspired, in part, by 17th century Spanish or Dutch still life paintings with 'cabbages, melons, weird carrots and threaded sparrows.' He is an unapologetic raider of other people's paintings. To his mind, art of the past must be fermented and feasted upon to bring nourishment to his own. And what a mush of things and qualities lie buried there: things that hang, overflow, ooze, bulge, and glisten; lunar cheeses, velvet peaches and barnacled bread. None, however, appear directly in Greenwood's paintings. Instead they await transformation in the heat of the ferment. Only then do glass vases in the floral still lifes of de Heem and Ruysch emerge as 'objects that have observable internal spaces, viewable through glass, crystal, or inflated transparent membranes'.
Through the use of one point perspective and painstaking painting technique, Greenwood imprisons his symmetrical creations in confined and claustrophobic spaces. In doing so he brings a mixture of humour and pathos to their pointless wrigglings and fumblings, squashings and balloonings. Will they fall flat, dilate, deflate, or dissolve? Amusing speculation for the viewer perhaps, but underlying their absurdity there is also a sense of outrage rumbling away. Of a recent painting, El Dorado, Greenwood writes: 'As I worked on this I felt its heart lay in this post-Thatcherite/Reaganite world where we're meant to function as desire machines, mindlessly consuming the world.' The symbolic still lives painted for the newly prosperous Dutch Republic were intended to warn of the moral perils of this compulsion to consume and flaunt. In Greenwood's paintings, dysfunctional desire and material excess are similarly exposed; just this time it is as disorderly, pretty, playful, repulsive things that over-extend themselves with limpid gestures within clinical confines.
There is no window onto the world in these interiors. There is no light source from without or within other than that provided by the artist himself. No other world is implied or invited in; it is a world of a singular imagination. As such, Greenwood's highly personal, obsessive and absurdist practice recalls the paintings of Hieronymus Bosch or Yves Tanguy, the animated films of Jan Švankmajer, or the sculpture of Cathy de Monchaux.
'The carving out of space is essential to the works, whether as spaces to allow the depicted objects to live, or as implied spaces around, or within which, to create their character.' states Greenwood. Having imposed severe constraints on their depth of field he makes their scale and situation ambiguous and open to interpretation: 'the allusion to realistic proportions, where the object is life size; or possibly inflated from some microscopic investigation; or my favourite, an implied vast disjuncture of scale to the cosmic, where the small, decorative baubles refer to much bigger entities, rendering the small space a model in a child's bedroom.'
Greenwood's process is 'pre-verbal, or sub-verbal' he suggests, but behind such a modest claim there would seem to lie an inconsolable imagination being put into play.
Dr. Frances Woodley
Born in Leeds, 1959, John Greenwood graduated from the Royal College of Art in 1990, where he received the Cite Internationale Paris residency award, the Burston Award and the Midland Bank purchase award.
Solo exhibitions include: Jason Rhodes Gallery, London (1995 and 1998), Galerie Helmut Pabst, Frankfurt (2000) and Europaische Zentral Galerie, Frankfurt (2002).
Selected Group exhibitions include; 'Young British Artists', Saatchi Gallery (1992), 'mutations' (two person show with William Latham), Manchester City Art Gallery (1993), Helen de Sybil and John Greenwood, Jason Rhodes Gallery (1994), 'Fusion', Rhodes + Mann Gallery inaugural show (2000), 'The Modern City in Europe', Museum of Contempory Art, Tokyo (1996), 'Cheers', Sun and Doves Gallery, London (1999), 'The Armory Show', Rhodes + Mann Gallery, New York (2002), 'Trailer' (2001) and Guns and Roses, London (2002), curated by Juan Bolivar.
Following a career break, recent shows have included; a solo show, 'Being John Greenwood' in 2014, curated by Juan Bolivar at the C+C Gallery, London and group shows in 2015, 'Doppelganger', No Format Gallery, London, 'Tutti-Frutti', Turps Gallery, London, 'Anti-Social Realism', Charlie Smith, London, 'Present Tense', Swindon Art Gallery and Museum and the '2nd Nanjing International Art Festival, Nanjing, China.
In 2015 John won the Bronze Award at the 2nd Nanjing International Festival, had a residency at the C+C Gallery, London, and an article: 'John Greenwood,' published in the Autumn Turps Magazine.
In 2016 John took part in 'El Dorado,' curated by Juan Bolivar at Horatio Junior Gallery, London and Geraint Evans', 'The Abject Object' at Wimbledon College of Art. He was also a finalist in the Marmite Art Prize.
John also had a one man show at the Turps Gallery, London. He took part in Frances Woodley's show at the Bay Gallery, Cardiff: 'Models and Materialities,' and Rosalind Davis' 'Telling Tales' at the Collyer-Bristow Gallery, London.
In 2017 he was included in 'Earth, Wind and Fire' at the Griffin Gallery in West London.
In 2018, John is going to the London Art Fair with Turps Gallery and 'In the Future' at the Collyer-Bristow Gallery.
Facebook: John Greenwood Artwork
Instagram: johngreenwoodartist