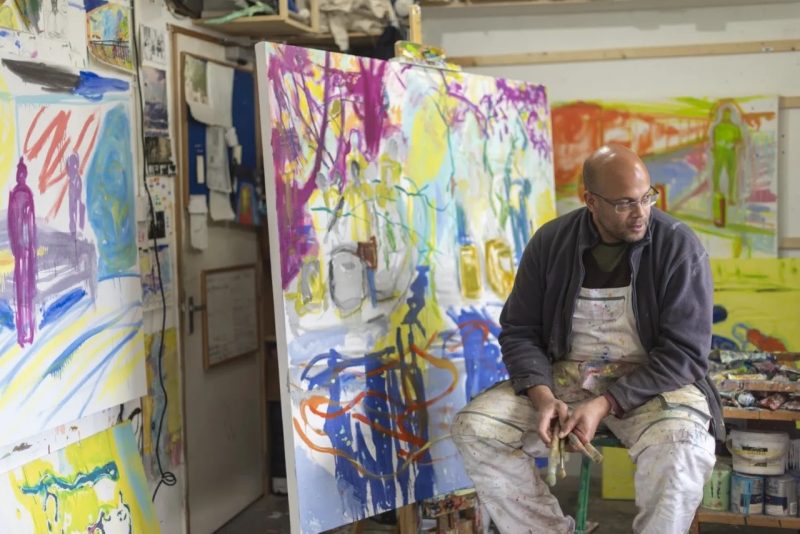 Joshua Uvieghara is an artist who works primarily in painting, as well as processes involving collage/assemblage, found objects, printmaking, sculpture and installation. These frequently come together as environments that incorporate different approaches to painting. His practice is influenced by a broad range of sources including philosophy, the substance of colour and film.
Uvieghara has exhibited extensively in the UK and internationally including: The Royal Academy, The Freelands Foundation in London and Towner Gallery in Eastbourne. Since becoming a steering group member following his first solo show with the Brighton-based Grey Area project space (2006-2012), he has collaborated in varied artist led activities. He was a member of the artist strategy/exhibition group at Phoenix Art Space in Brighton (2013-2018). His work has recently been featured at The Manchester Contemporary with Meter Room project space from Coventry (2022) and with The London Group, 'the UK's longest-running and most prestigious artists' collective' since he was elected as a member in 2022.
Uvieghara has had several academic appointments over the past 15 years as a studio-based lecturer in Fine and Visual Art from Foundation to Post-Graduate level including: University of the Arts London, Kensington and Chelsea College, Rye Studio School, Hereford College of Arts and University of Brighton.
He started his formal education on the Art and Design Foundation course at the City Lit in London. Whilst studying Fine Art Printmaking at the University of Brighton, he also studied Painting, Neon Sculpture and Philosophy of Art on an exchange at Alfred University in New York. He has earned a BA with First Class Honours and an MA, both in Fine Art, from the University of Brighton. Uvieghara has also successfully completed independent post-graduate courses in painting at The Essential School of Painting and Turps Art school in London.