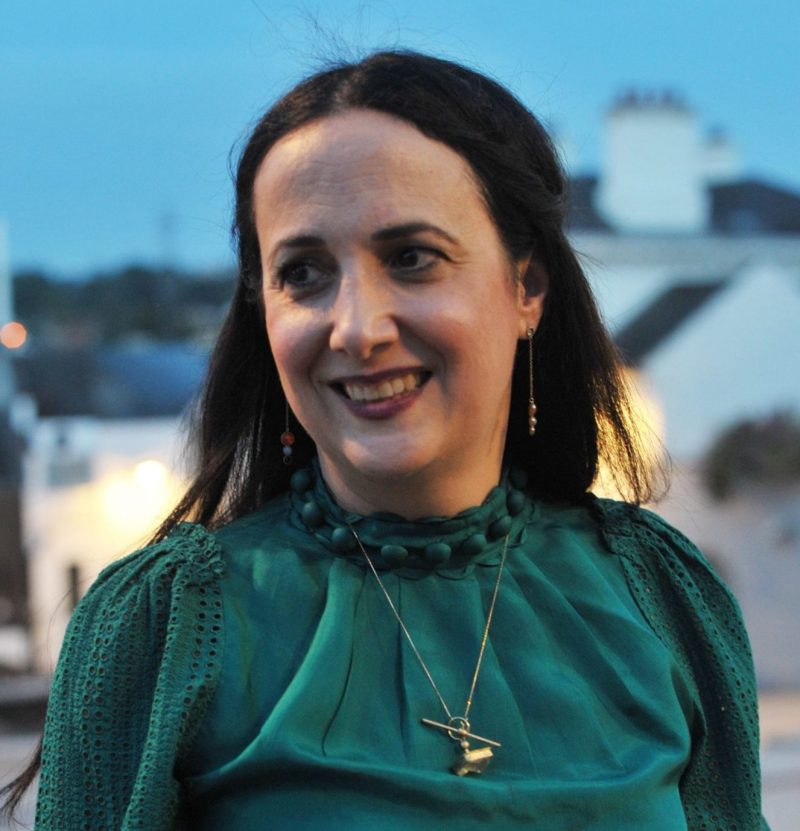 Kathryn Maris is a poet, critic and occasional curator who has published three poetry collections and a pamphlet.
Her work has appeared in Penguin Modern Poets 5, The Pushcart Prize Anthology, The Best British Poetry, The Forward Book of Poetry, Poetry, the TLS and other periodicals.
A selection from Kathryn's most recent poetry collection, The House With Only An Attic And A Basement (Penguin 2018), won the Ivan Juritz Prize for creative experiment and was the subject of an exhibition at One Paved Court in Richmond. Her previous collections are titled The Book of Jobs (Four Way Books, 2006) and God Loves You (Seren, 2013).
Kathryn also writes essays questioning orthodoxies in contemporary poetry. In 'Transgression and Transcendence: Poetry and Provocation' (Poetry Review, 2017), she examines 'offensiveness' and what might be gained when a poem provokes its reader. 'Damned Universal Cock: Our Whitman Moment' (The Dark Horse, 2019) reflects on Walt Whitman's continuing influence, transitioning into an analysis of narcissism, scapegoating and public shaming in critical discourse.
Her recent book reviews include assessments of Strange Hotel by Eimear McBride, Grand Union by Zadie Smith, You Know You Want This by Kristen Roupenian, What I'm Looking For by Maureen N. McLane and Coventry by Rachel Cusk.
Kathryn is poetry editor of Mal, a journal themed around radical approaches to sexuality and gender, and she co-organizes the Poetry and Psychoanalysis conference.
Here's what some of our students have said about working with the Writing Fellow:
"I've had two sessions with Kathryn, the first for structure and the second as a read- through making corrections while we went through the essay. As a student who is a bit nervous about writing in a more academic tone, I found the sessions incredibly helpful and took a weight off my shoulders, allowing me to focus more on the content of the essay, knowing that I would be supported with the grammar, structure and legibility. Kathryn is really lovely and attentive. I felt that she cared very much in terms of helping me and found this very reassuring." Final year BA Fine Art student

"I found my sessions with the Writing Fellow a massive help. The sessions are relaxed, and I felt reassured about my writing abilities." MA Art & Material Histories student

"Kathryn's incredible advice has saved my dissertation. I'm a dyslexic student who has always struggled with sentence structure, punctuation and generally structuring my writing. Kathryn was patient and informative and went through the entire dissertation with me and made sense of it sentence by sentence. She was very supportive and validated my strengths while also being honest about what needed to change. I think going forward, when writing essays, I will have a much better understanding of how to structure them. I would highly recommend Kathryn's services, it was a pleasure working with her." Final year BA Fine Art student

"I've had several sessions with Kathryn who has helped me with presentation writing, essay writing and an application for a post degree programme. She's taken great care picking apart each piece to help me get the best out of my writing. I've learnt a lot about grammar, sentence structuring and creative writing which has hugely benefitted my degree so far. She has been hugely accommodating with deadline timelines." MA Art & Material Histories student

"Kathryn's guidance very early on gave my essay a solid skeletal structure that allowed my research from then on to be more focused and relevant. I was able change the moving parts as the essay evolved, all while having a strong grounding." 2nd year BA Fine Art student
Image credit: Conor Greenan