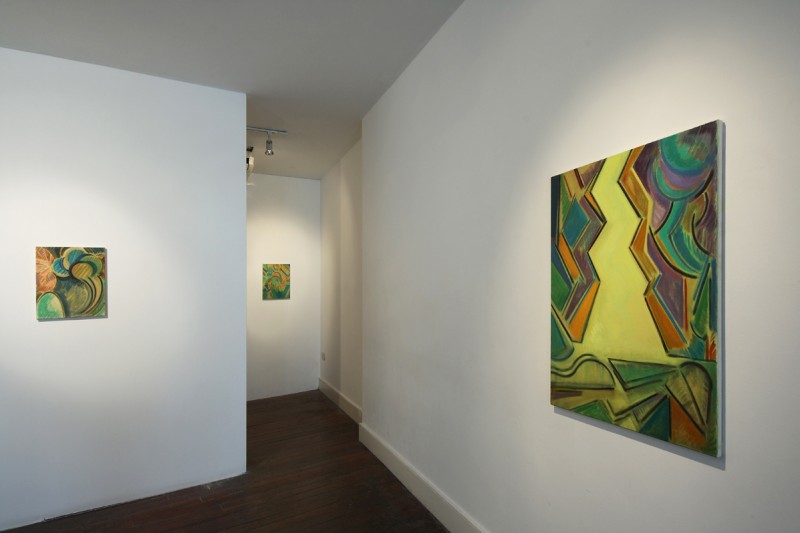 Kiera Bennett studied at The Royal College of Art and The Ruskin Oxford University. Since graduating from the RCA in 2002 she has consistently exhibited both nationally and internationally. Bennett was also involved in creating Rockwell, an artist run gallery and studios in East London 2002-07. She was a Cocheme fellow at Byam Shaw School of Art in 2004. She is represented by Charlie Smith Gallery London and has work in various collections including: Mario Testino, Arthur G Rosen, David and Serenella Ciclitiras, Amlin plc, Cornelia Parker and Julian Opie.
"Bennett's paintings engage thoroughly and seriously with early modernist pictorial ideas to find new uses for them: to limn new ways of visualising bodily experience out of the rag and bone shop of the past." Ben Street
The artist's studio activity, frustrations, optimisms, a sense of urgency and the act of painting itself, is often the primary subject of the work. These autobiographical references are filtered through an instinctive selection process. Driven by a desire to make the fleeting and the fugitive permanent and immovable Bennett's works are abstractions of these original experiences. The paintings become ciphers, symbolic of that first event and its related values.
The formal attributes lead us superficially to early 20th century Modernism but help to affirm a constant and cyclic relationship between Modernist and Postmodernist doctrines. Bennett adopts strategies such as simplifying form into line: through a transformative process of reduction and repetition they become paintings about painting. Each work is, therefore, current, timeless and exists in acknowledgement of that which has been before and that which is yet to come.