Level: Beginners/some experience
Tutor: Sarah Davis
SHORT COURSE OVERVIEW
Using a combination of modern and traditional materials, we will peel back layers of history to unveil the tools, techniques and methods of Medieval painting and illumination. You will create your own painted and gilded pieces and learn the skills to continue practising the craft at home.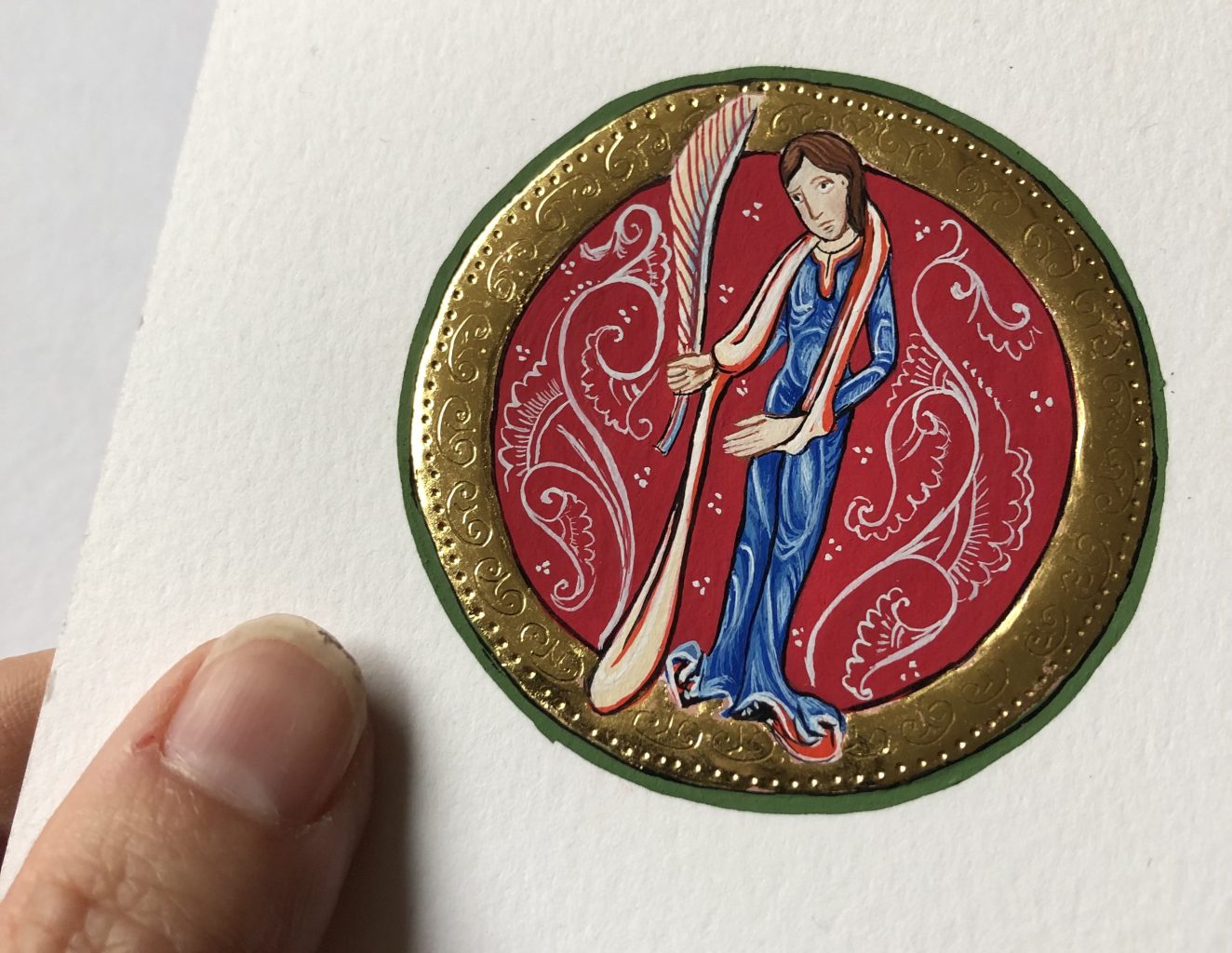 COURSE DESCRIPTION
The luminous artworks that are often seen adorning the most precious medieval manuscripts, are known as 'miniatures'. These highly detailed images would function as visual aids and decorative embellishments to the sacred text beside them and were made with some of the most precious materials of the time such as gold leaf, lapis lazuli and vellum.
Over this five-day intensive course, you will create your own medieval-style illuminated miniatures. Working closely from historic designs, and where we can, using some of the traditional tools and techniques favoured by medieval artisans, we will emulate as closely as possible the materials that would have been used by our medieval ancestors such as real gold leaf, vellum and garlic juice!
We will also make illumination Gesso together to create mirror-shine raised gilded images. At the end of the course you will have made at least three stunning pieces, including a gilded letter, a gilded and painted zodiac sign and a fully illuminated miniature. You will also have the skills to continue with this astonishingly beautiful and rewarding craft at home.
You can choose to copy designs from our collection of historic images or you may bring in your own designs or images to work from.
Traditional materials for medieval illumination included animal-derived products, but vegan alternatives are available. We will start by using paper and modern gilding glues which are fully vegan, you will have an equally enlightening experience if you choose to stay vegan for the whole course. Please indicate before the start of the course if you require vegan alternatives.
What's included: all teaching, most of the tools and materials required, including gold leaf!
What's not included: some widely available tools such as miniature painting brushes, pencil and scalpel
Places on Summer School are sold through the Eventbrite website.
Alongside other heritage craft skills, students on our Books & Paper conservation degree course learn the methods and materials used for medieval painting and illumination. This practical approach allows them to truly understand the precious manuscripts they are conserving. Find out about our BA (Hons) Conservation: Books & Paper