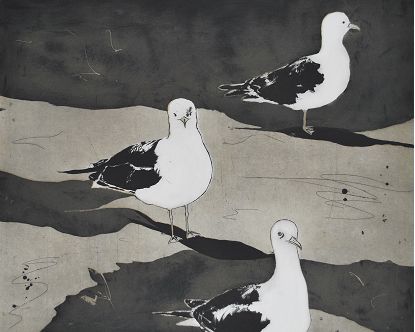 Niamh Clancy was born in Ireland in 1975. She graduated with a joint honours degree in the History of Art and Fine Art from NACD, Dublin 1997 and with a Masters in Printmaking from the Royal College of Art, London 2002. Clancy currently lives and works in London as an artist and has established an editioning service for reputable artists based in England. Niamh has exhibited regularly in Europe and America. In 2000 she held three solo shows: the first at The Original Print Gallery, Dublin, Ireland; the second at The Basement Gallery, Dundalk, Ireland; and the third at The Droichead Arts Center, Drogheda, Ireland. She has received funding awards from the Arts Council of Ireland, Department of Foreign Affairs, Royal College of Art, and Queens University Belfast. Niamh has taught at City & Guilds of London Art School and Putney School of Art & Design and has been a visiting lecturer at Kunstskolen i Rogaland. She is currently working as printer for Norman Ackroyd RA.
Niamh writes: "The prints Gas Mark 4 and Montgomery are part of an ongoing series that derive from newspaper articles. When reading the daily papers, it is the absurd and disturbing short texts that conjure up imagery for me; and I feel the need to record them.
The articles in question did not make the front page nor were they credited with large headlines and therefore may often be ignored or easily forgotten amongst world news. By creating an image to coincide with these stories and making the texts more permanent in the form of etched zinc plates (commemorative plaques almost) they document and highlight the absurdity of life and leave one with the thought of what will happen tomorrow.
The process used in both these prints is etching. The image is painted onto a steel plate with stop out varnish and etched in a bath of nitric acid. Three plates are used to create each image."