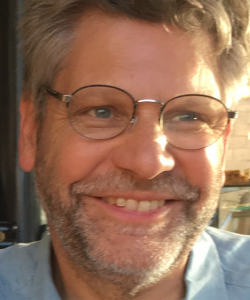 City & Guilds of London Art School is delighted to announce the appointment of Nick Rampley, who joins the Art School as Director of Resources & Operations.
Commenting on his new appointment, Nick told us: "I am thrilled to be joining the team at CGLAS. Having visited your degree shows on many occasions in the past I am well aware that the claim to be "a real art school" is no empty boast and I'm greatly looking forward to making a contribution to such an inspiring institution."
Nick has a vast experience within the FE and HE sectors in both financial and operational positions. He was Vice Principal of Morley College, where he worked for 11 years, and prior to this was Director of Finance and Administration at The Purcell School in Hertfordshire, as well as holding several earlier posts including Institute Secretary at The Thrombosis Research Institute.
As Vice Principal at Morley College, Nick was a key part of the team leading the development and implementation of its business, providing adult education to over 13,000 students. During his tenure at the College, Nick was integral to the formulation and execution of all aspects of the strategic and business development plans, and as part of his work, led the acquisition of an independent training provider and a community-based outreach centre. Leading the College's property strategy, Nick planned and delivered complex building development projects including specialist arts studios, and completed the first (£3.5M) phase of Morley's estates masterplan.
Nick gained a BA (Hons) in Music at Merton College, Oxford University and in 1996, he achieved an MBA at Imperial College of Science, Technology and Medicine (University of London), where he was awarded the Director's prize for best dissertation. Since 2020, Nick has been completing an MA in Public Histories at Birkbeck College, University of London.
Nick is a keen musician and is principal bassoon for Kensington Symphony Orchestra, and occasional member of other orchestras and chamber groups.  He has written programme and liner notes and given pre-concert talks. He also enjoys playing bass guitar in a soul covers band.
The variety of trustee positions held by Nick reflect his passion for music and the arts. During the pandemic, he was one of the Founding Trustees of the Margaret Engering Music Trust which provides grants to musical projects and supports early career musicians. He is also a Trustee for NonClassical, the Samuel Gardner Memorial Trust and We Are Waterloo.
Remarking on Nick Rampley's appointment, Art School Principal, Tamiko O'Brien, said: "We are absolutely delighted to have Nick join our team, he has a most impressive track record and clearly has the experience and skills to excel in all the aspects of this complex new role. As well as his professional abilities and accomplishments his deep commitment to widening access for education in creative practice fits well with the Art School's ethos and ambitions. We are also excited that such a talented musician is joining our team, and hoping that the Art School's band may see some guest appearances in the future… "
The Art School welcomes Nick to this new role and looks forward to working with him as we emerge from this most challenging time and look forward to the new academic year and progressing our strategic plan.