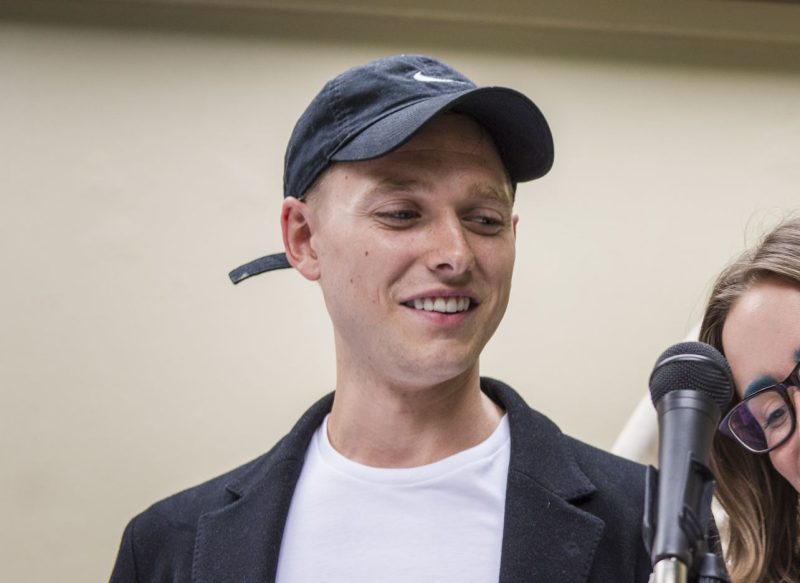 Fine Art alumnus Oli Epp, was presented with an Art School Honorary Medal in 2022, in recognition of his extensive work with alumna Nell Nicholas, in researching and preparing the Student Submission for the Quality Assurance Agency (QAA) from 2015 to 2016.  As the Art School's first lead student representatives, Oli and Nell devised and led focus group meetings and summarised their findings in a detailed report submitted for the QAA Review in 2017. This was a considerable task undertaken in a voluntary and unpaid capacity.
Their approach demonstrated a generosity of spirit and determination to capture the student voice, and was particularly impressive because this project ran alongside their own intensive and highly successful studio practices.
Oli Epp's paintings circulate a number of tragicomic aspects of 21st century living: the complexity of identity in the digital age, consumerism and consumption leading to control and addiction, anxiety and conflict. The paintings work in an endlessly cyclical way as Epp ironically questions idealisms, the pursuit of perfection, and the conflict that arises as a result.
Oli graduated with a BA (Hons) in Fine Art from City & Guilds of London Art School in 2017. He has exhibited internationally, founded the PLOP artist residency, and lives and works in London.