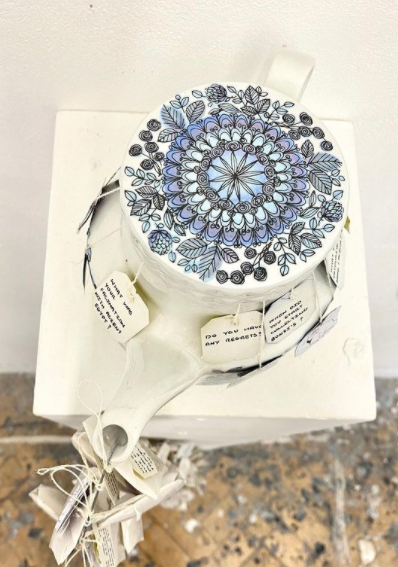 Foundation Diploma student, Madeleine Halil, recently completed two very different pieces, repurposing everyday objects and materials to create evocative artworks. We asked Madeleine to tell us about the inspiration behind her work ,'Waste land' and 'Cup of tea anyone?', how she developed her initial ideas and the process involved in creating her final outcomes.  You can see more of Madeleine's work by following her on Instagram @mads.halil.artwork
ON 'WASTE LAND':
"'Waste land', is a dress made from waste products from the coronavirus pandemic. The glamorous, retro style of the garment jars with the disposable, contemporary material it's made from, lending a satirical tone to the piece.
The project was kickstarted with research into the Arte Povera movement of the late 60s, which gave me an insight into the breadth of materials available to me and their broad applications. I took a walk on Google Images to create a mood board of different ideas, processes, aesthetics and materials that jumped out to me.
I experimented with different materials, melting plastic together, looking at their textures and colours, and incorporating tinfoil. I manipulated paper and fabric to explore how they would behave, then finally began to sketch ideas of garments I could make from discarded and recycled materials. This was followed with collage and experimentation on the mannequin before finally beginning to assemble the final piece.
Although I had spent time designing and planning the garment, the design developed further during the making process. My original concept was a corset-inspired top, however, I experimented with bubble wrap which I had gathered when creating a collection of materials to work with, and as I began to layer it to create a skirt, I liked the look of extravagance it brought to the work. This set me on a path to develop the piece into a garment inspired by an glamorous ball gown instead of just a top.
Assembling and wearing a mask dress was a challenging process! I wanted to leave the shape of the masks mostly intact so they were recognisable, however they didn't naturally fit all of the body's contours and there was no flexibility or stretch in them. With very limited experience in fashion and textiles, I was mostly learning as I went along, with lots of help from the wonderful Foundation Technician Emma Simpson, who guided me through the technical aspects of assembling a garment.
I had definitely underestimated the complexity of getting a garment or material to sit the way I wanted it to. However, it helped to frequently refer back to my model to take measurements and make alterations. I allowed room for trial and error in my plan, so I was able to really explore different directions, which made it a fun process."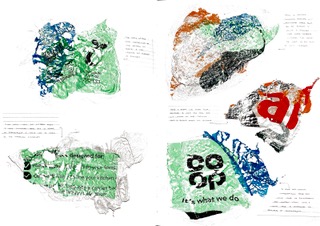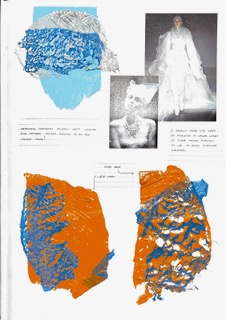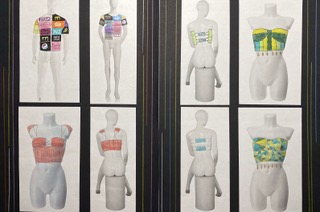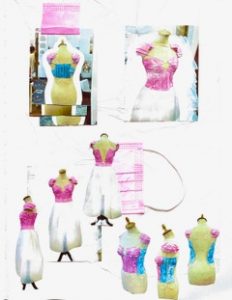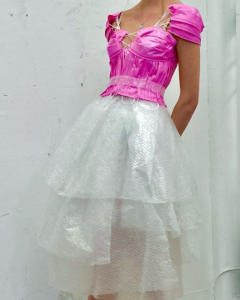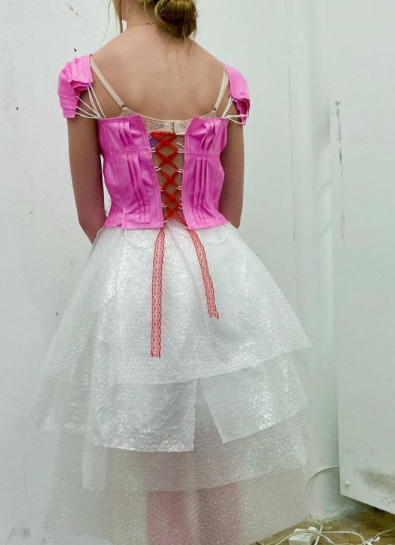 ON 'CUP OF TEA ANYONE?':
"'Cup of tea anyone?', is an exploration of loss and mortality, reflecting on the life of my wonderful Grandad. On each individual tea bag tag are illustrations and questions that make up a waterfall of reflection. For me, the tea references all of those casual moments throughout our lives that we take for granted. I can't think of one particular conversation over a cup of tea that stands out as particularly different from the rest, however I would give anything to have one more with my Grandad.
I began the process of making 'Cup of tea anyone?' by producing a series of mixed media collages, exploring my experiences of loss and grief. This got my ideas flowing and I began to capture the essence of various aspects of my Grandad and his life.
I took a closer look at the imagery that I was working with. I examined more closely how my Grandad's features and facial expressions could be used to capture his story. This led me to produce a series of illustrations which can be seen on some of the teabags of the final outcome. After looking through lots of my Grandad's things and material that I had collected for the project, I came across a few handwritten notes and letters. I found stacks and stacks of bonsai magazines, art work and collections of music, which made me begin to contemplate all the knowledge and experiences my Grandad had accumulated throughout his life, and that I had never really asked him about properly.
I found more and more questions that I wish I had the chance to ask as I continued on this journey of reflection.  From here my idea to combine the written word and my illustrations in a final outcome was born.
As is the nature of self-directed study, I experienced quite a few changes of direction with this piece. Originally in the very early stages of the project, I had the idea to look at obsessive documentation. I considered casting some of my Grandad's possessions, creating a larger sculpture from these components, perhaps a life-sized sculpture of him. However, when working on my mixed media collages, I came to the conclusion that I wanted to do a piece of work of a more multidisciplinary nature. And from this point I decided to explore illustration, written word and sculpture.
In making 'Cup of tea anyone?', I came across a few technical challenges. It took many attempts and much consideration to hang the teabags. I originally used string, however this presented limitations. I wanted to have more control over how the form would fill space so decided to use wire instead. The logistics of tying so many individual tea bags was difficult at first! The thread was slipping down the smooth wire and the weight of all of them together was problematic. Double knotting each thread and securing the wire with hot glue inside the teapot proved most effective.
As well as the technical difficulties, I found this a very emotionally-challenging piece to make. I processed a lot of emotion surrounding my own experience of losing my Grandad. However, I think the process was ultimately beneficial for me."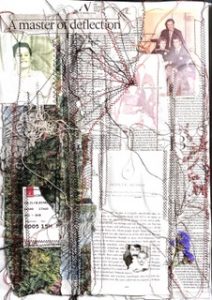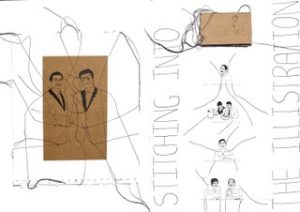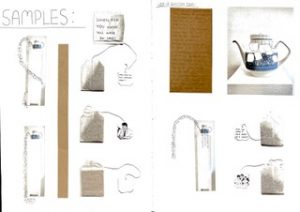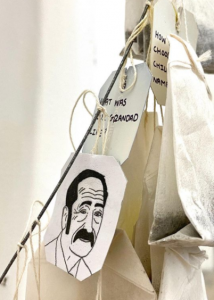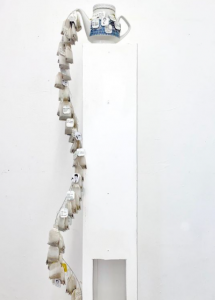 Photos courtesy of Madeleine Halil @mads.halil.artwork