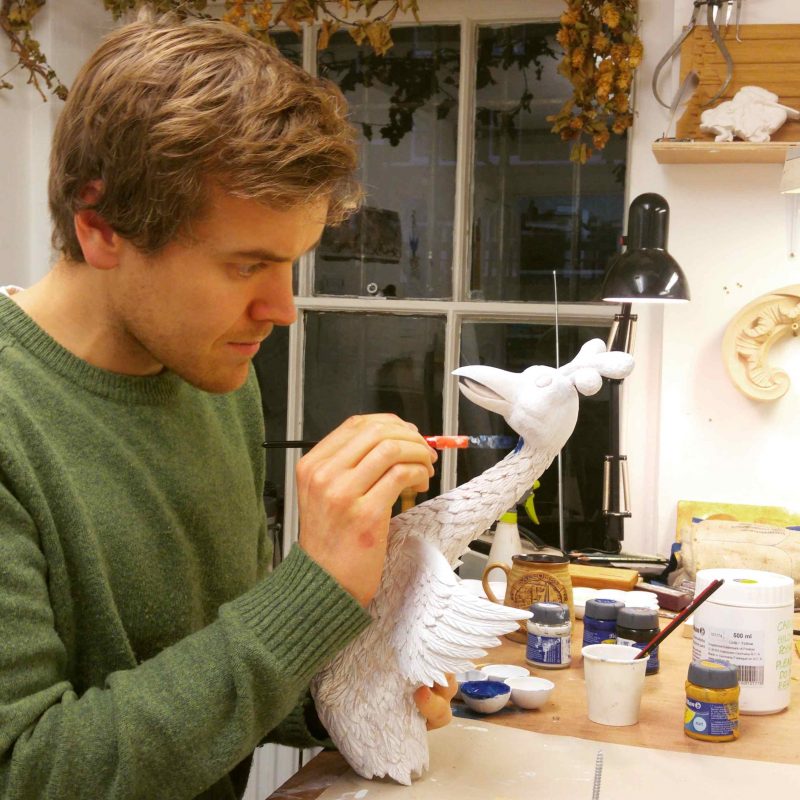 What really stayed with you from your time at the Art School?
Two things really stayed with me after graduating. The first was having found a real sense of community at the Art School; it is a very special place for a multitude of reasons but, in an age of increasing technological growth, the school is not only swimming against the current, but making it's own path. I remember on my first day being surprised that I had found so many people as passionate about carving as I was, and who were equally happy to talk about the subject for hours on end! Having now graduated, I am constantly amazed at how many people I meet in the industry who trained at the Art School. It forms an instant connection and also a sense of respect, as the course is so highly regarded.
The other thing that has stayed with me is how much I learnt and progressed over the three years. The one-to-one tutorship from professional carvers is fantastic and really helps you develop. There is real encouragement to push yourself to the absolute best of your abilities.
What projects were you involved in while studying at the Art School?
Whilst at the Art School I took on a number of exciting projects, particularly in my second and final year. The Art School are great about encouraging you to take on commissions for your final year, which not only gives you valuable experience in dealing with clients, but also helps your bank balance.
I was asked to produce a memorial plaque for the memorial hall in my home village in Kent for the centenary of World War One. The famous war poet, Siegfried Sassoon, grew up in the village and so we decided to use the last line from his popular Aftermath poem for the inscription as well as copying his signature. The work was unveiled in 2018 during a memorial service.
One very fun project was being asked by the Royal College of Arms to produce the new heraldic crest for Roald Dahl's grandson, which depicted the Roly Poly bird from the much loved books sat atop a circlet of medieval clouds. Being a big fan of Roald Dahl's work, it was a real honour to make this crest, but also a good challenge as the client wanted the bird to appear in motion.
What are you up to now?
I've just finished a year of working at the Houses of Parliament, specifically on Westminster Hall, helping to restore the incredible medieval roof and angels inside. To go straight from the Art School into this type of work was a wonderful opportunity, particularly learning how to carve onsite and all of the challenges that come with that.
I now have a workshop in London for the summer and am happy to be back focusing on building my own carving business,  working on commissions for private clients. In the near future my wife and I will be moving out of London to set up base in the South West, where I hope to one day begin running short courses in carving alongside my own work. I've always loved working with people, and am keen to share this great craft with others.
William features on the Capital of Craft podcast, published in January 2022, in which he talks about his experiences on the Woodcarving & Gilding course at the Art School and what he has done since graduating – listen here.