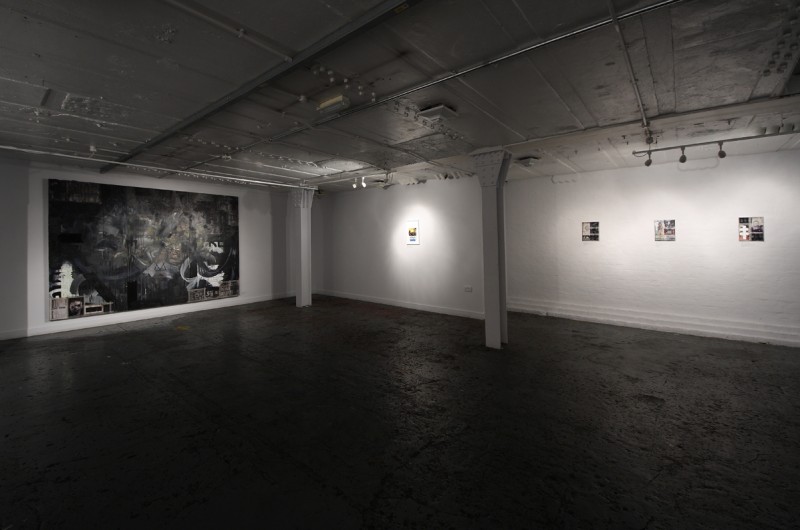 Can you provide a brief outline of your career following graduation?
In 2007 I launched the curatorial project THE FUTURE CAN WAIT which has run every year since during Frieze week and for the last four years in partnership with Saatchi's New Sensations. In 2009 I launched my Shoreditch gallery space CHARLIE SMITH LONDON. In 2010 I re-launched my annual graduate show Young Gods, currently presented at my gallery and Winsor & Newton's Griffin Gallery simultaneously. I have continued to make work and exhibit including at Museum der Moderne, Salzburg; Torrance Art Museum, Los Angeles; Klaipeda Culture Communication Centre, Klaipeda; and Paul Stolper, London.
What do you do now? 
I still combine running a gallery with curating and making work. All of these pursuits interrelate and feed into each other. I am currently working on THE FUTURE CAN WAIT Edition 9; running a continuous programme at CHARLIE SMITH LONDON; and making work for Galerie Heike Strelow, Frankfurt which will be shown next year in Frankfurt and Basel. My most recent project – called Black Paintings – is a good illustration of the interconnectedness of my projects. I launched it at Positions Berlin art fair in collaboration with Galerie Heike Strelow, showing both our gallery artists. I will curate a version soon ay my gallery. Heike and I will then collaborate again at London Art Fair, and then she will curate a version at her gallery next year which will include my own work.
Is there a particular project you worked on or class while at the Art School that you still remember/ that proved useful for your career development?
There are a few moments that resonate. Interestingly our first project was to present something historical and something contemporary that influenced our practice. Remembering back to studying Books of Hours during my art history degree, it was apparent that my interest in text had always been present, and this became a core component within my practice. I was asked to do 'the lift test': an imaginary situation where you find yourself in a lift with an influential collector, gallerist or curator, and you have a few moments to either say nothing and always regret it, or introduce yourself and communicate a precise explanation of yourself and your work in those few moments between floors, hoping to create an interest or dialogue. It was unforgettable, and it's something I now advise all artists to have ready: a brief synopsis of one's work where time is short and clarity essential.
What do you think was the most valuable aspect of studying at City & Guilds of London Art School?
Fundamentally its excellent teaching staff, but also small class sizes and the general ethic of the school.
Would you recommend studying at the Art School, and why?
Very much so. It's very unusual to have such a committed, generous staff who are all active in their own careers. There is a wealth of knowledge and experience to tap into. And now that fees are required by almost all art colleges the playing field has levelled. City & Guilds Art School should be on the shortlist of all aspiring art students.
First Image – Installation (ZE 14)2: Zavier Ellis solo show Type 1 Zealotry, curated by Edward Lucie-Smith at Cock n Bull Gallery, London
Second Image – Installation (TFCW12): THE FUTURE CAN WAIT, curated by Zavier Ellis & Simon Rumley
Third Image – Installation (JS 11)1: John Stark solo show Apiculture at CHARLIE SMITH LONDON
Fourth Image – Installation (YG 11)ii: Young Gods at CHARLIE SMITH LONDON, curated by Zavier Ellis