The Sir Denis Mahon Foundation has supported a grant at City & Guilds of London Art School since 2020, created to honour the memory of Sir Denis Mahon, renowned collector and historian of Italian art, and to continue his legacy and lifelong interests in fine art, carving and conservation.
Intended to encourage and support students at the Art School to realise ambitious sculptural projects, the £5,000 grant has been open to submissions from second year BA Conservation, Carving and Fine Art students working with sculpture for use in their final year. In this third allocation, the Grant has been awarded to three outstanding candidates, who will share the £5,000 grant. The Art School is grateful to the Sir Denis Mahon Foundation for their valued support.
EMMA SHERIDAN – Third Year BA (Hons) Carving: Architectural Stone
"For my third-year project I plan to produce a series of 3 sculptural works in the form of fantastical ornamental objects. These objects will take their inspiration from the Gothic and Baroque architectural forms that we have studied during our previous two years at City & Guilds of London Art School and from my previous training in masonry.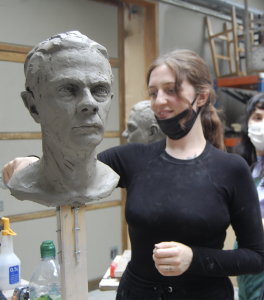 "I hope to draw from the works of Giovanni Battista Piranesi and of the Dutch Auricular artists in this body of sculptures. Their extremely ornate design works have a particularly high ratio of ornament to object functionality. I would like to push this even further and take away the purpose of the architectural forms entirely, to make the sculptures pure works of ornament and render their only purpose as works of art. The pieces will be produced alongside and correspond with my dissertation in which I will explore the use of architecture as an evocative/romantic device within literature. I am interested in this exchange of architecture from reality into fiction and want to continue this exchange by taking the grotesque metamorphic ideas from gothic fiction where formal architectural features are fragmented and spaces and objects are thrown out of proportion, and from this create tangible objects."
ALFIE BIRO SIDFORD – Third Year BA (Hons) Fine Art 
"Building on my autobiographical work to date exploring my Hungarian heritage in second year, which featured handmade 1960s curtains from my late great aunt Martha's archives, repurposed into hanging straps, I plan to create an installation that explores my Irish ancestry, through family stories, folklore and exploring the Ballinlass Incident of 1846.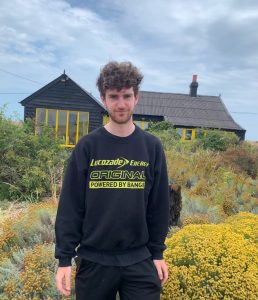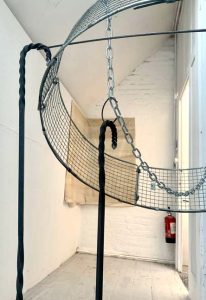 "At the heart of the Great Famine, The British Army and police brutally evicted 76 farming families in my great grandmother's village to make way for cattle grazing upon orders of the landowner, a Mrs Gerrard. My paternal grandmother's family then emigrated from Co. Galway in the early to mid. 20th century, but I know little of my family history, much of which vanished with my great grandfather as he was killed on Christmas Day in the 1950s, whilst working to sweep snow off the train lines near Hitchin.
"The work I make will be broadly site specific to the studio that I inhabit next year, and I hope to scale up my work to make use of the high ceilings of the Art School studios in order to hang my pieces. Objects and forms will be hung responding to the space itself, in the vein of Leonor Antunes, who uses rope gridding tied across the architecture of the spaces she shows, in order to maximise the interconnectedness of installation and setting. Rather than rope, I will create hanging frames using leather, a nod to the cows that replaced my family on the land, alongside chains, echoing the industrial landscape that awaited my great grandfather upon his arrival in England. The exact form of the composition will emerge through the coming together of materials with a focus on balance and stability, something that has emerged in my work since my studies into the work of Matt Calderwood."
SAVANNAH DU QUERCY – Third Year BA (Hons) Fine Art
"As part of my third-year projects, I plan to create a series of three small/medium bronze sculptures that are based on three cardboard sculptures I have already made.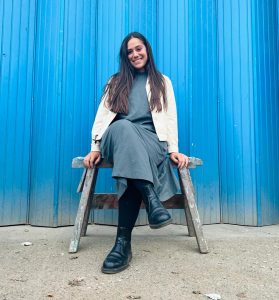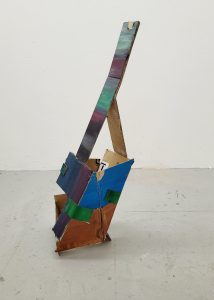 "The predominant material in my current sculptural output is cardboard; however, I am interested in questioning and generating a conversation around value and material while also embracing dichotomies such as soft vs. hard, found vs. made, original vs. copy and valuable vs. valueless. Working on this project will allow me to strengthen my practical capabilities/conceptual fluency and explore inconsistencies within presumed binaries. Once the sculptures are finished my aim is to showcase the bronze sculptures alongside photographic documentation of the cardboard versions however the original cardboard sculptures will be burned with the bronze sculptures becoming memorials of the cardboard works."
The Sir Denis Mahon Sculptural Project Grant is one of over 40 grants and awards available to students at the Art School.
The Art School itself provides some of the grants but many are funded by a number of organisations and individuals who value our commitment to championing specialist subjects, providing high levels of tutor contact time (about twice that of other London-based arts university courses) and continuing to deliver high standards of excellence. Over 40% of our undergraduate and postgraduate students usually benefit from one of our grants in an average year, which can be used to part-fund tuition fees or particular work projects.
If you would like to find out more about how you can support the Art School and its students, please click HERE or contact our Development Team on development@cityandguildsartschool.ac.uk