Two of our carving alumni won bronze medals in their respective categories at the Goldsmiths Craft & Design Council Awards, which took place earlier this month at the Goldsmiths' Hall in London.
Diploma in Ornamental Woodcarving & Gilding Graduate (2018) and Woodcarving Tutor Sarah Davis won a bronze award in the senior 3D Modellers Category.
Bone Bed, Sarah Davis
"The artwork I entered is a wax model for an art medal titled 'Bone Bed'. The design references the earliest fossilised dinosaur embryo ever found. The model is small and nestles comfortably in the palm of your hand. The next step is to have this wax model cast in bronze.

Art medals are typically double sided. They are objects for the hand to be turned and played with. Their narrative, however abstract or simple is revealed in the act of turning. Since September 2022 I have been taking part in The British Art medal societies New medallist scheme. The scheme is a year long developmental programme intended to provide a framework by which artists based in Great Britain and Northern Ireland can develop their interest in the medal as a vehicle of artistic expression. Its aim is to deepen and broaden the selected artist's knowledge of the medal and to expand their awareness of the medium's possibilities."
BA (Hons) Architectural Stone Carving Graduate (2019) Sue Aperghis entered the 2D Art medal design section and also won bronze in the senior category.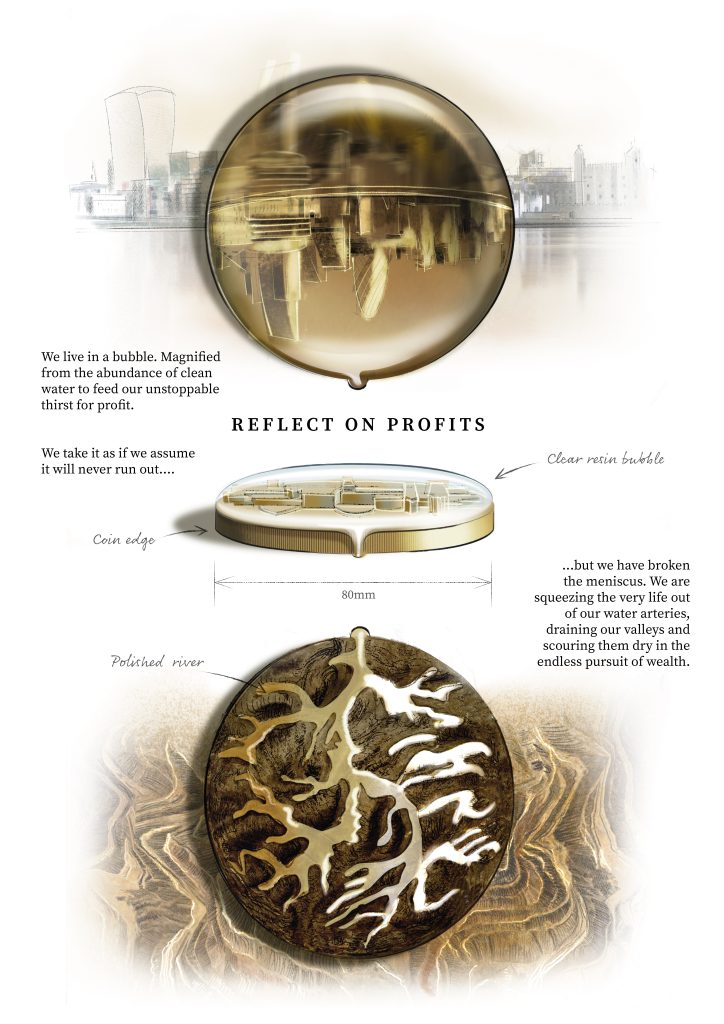 Reflect on Profits, Sue Aperghis
"In briefing for this year, we were invited to consider the critical value of water in the world, and the myriad ways in which water can be depicted on the two sides of an art medal, to create a coherent narrative about a material upon which all life depends.

My investigation into the theme of water was to question the thirst our cities have for profits and the relationship it is having on the landscape and our civilisation which can be argued is on the edge of collapse."
You can re-watch the Awards Ceremony via the link below, with the 2D Medal Design Category shown from 14:40 and 3D Modellers Category from 32:20.