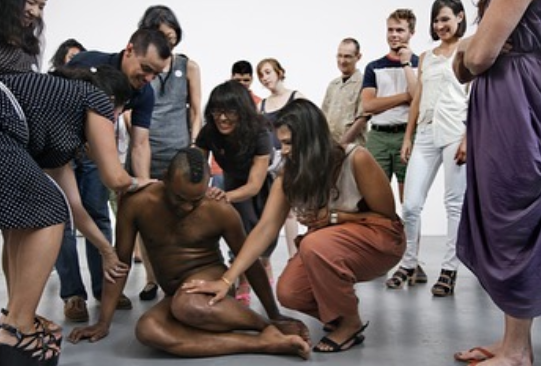 Clifford Owens' work revolves around the fact that black people have been hugely underrepresented within the history of performance art. The MA Art & Material Histories invited Clifford to talk about his practice and how his work seeks to rewrite that history.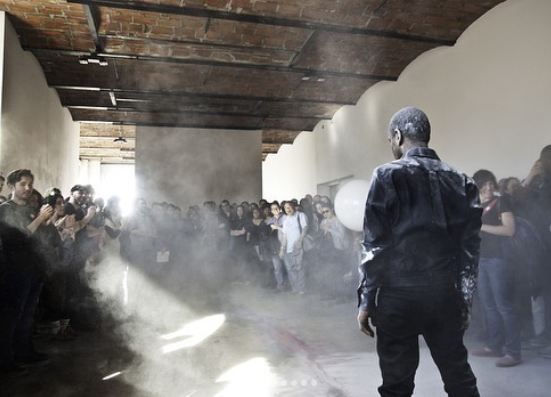 Clifford Owens is a trans-disciplinary visual artist working through photographs, performance art, works on paper, videos, installations, and texts. His work forges connections between the legacies of artists from the African diaspora and his own creative practice. For key projects, Owens has invited African American artists, and in turn British artists, to provide scores that he (re)performs within a gallery context. In this way, his work is akin to, but also significantly departs from curation in its collecting and presentation of past work via a live-embodied and documented experience.
One of the topic areas we have been scrutinising on the course is how the materiality of the exhibition space interacts with the exhibited work and to what effect. We've been looking at the ideas and ideologies behind the 'white cube' of the gallery, discussing institutional critique which considers the social and political context of the museum and gallery, examining the use of online exhibitions, how archival material is used in exhibitions and recent curatorial trends that have taken human interactions and their context, as the medium of exhibition.
Owen's work has helped shape our thinking and enabled us to rethink ways in which the materials of exhibition can disguise as well as reveal the ideologies of the institution and the broader historical-political contexts that support it.
Owen's art has appeared in many solo and group exhibitions, both in the US and internationally. His solo museum exhibitions include 'Anthology' at MoMA PS1, New York; 'Better the Rebel You Know' at Home in Manchester; and 'Perspectives 173: Clifford Owens' at the Contemporary Arts Museum Houston.
All images courtesy of Clifford Owens.