'An excellent course. Brilliant tutors, excellent use of different venues, well paced, loads of information imparted and a lovely bunch of people to spend 3 days with!' Mary
Tutors: Gerry Alabone, Dana Melchar , Joanna Russell
Level: Beginners
SHORT COURSE OVERVIEW
Have you ever wondered what goes on in the conservator's studio? Learn about furniture at the V&A, and paintings in the National Gallery, and why they look the way they do today, and along the way try panel painting for yourself in our Art School studios. Bring your own objects for some Antiques Roadshow discussion and advice, and visit the National Trust property Knole and its new conservation studio, for a superb insight into the conservator's vocation.
'I enjoyed every aspect and how I immediately began to look at objects in galleries, historic houses etc in a new light.' Ian
COURSE DESCRIPTION
People come to work in the field of conservation and restoration from all sorts of different backgrounds and interests, including, but not limited to, science, fine art, and the history of art. This unique course is for those of you with no real knowledge or experience of the subject, but with an interest in looking behind the scenes to learn about and experience the role of the conservator today. To this end, we are bringing together three leaders in their fields: a furniture specialist, a conservator of paintings, and a frames and furniture specialist from the National Trust's conservation studio at Knole, to lead you on a fascinating three day tour of the field.
We approach the subject from a number of different vantage points. To help you understand the processes of the conservation of paintings, you'll get practical hands-on experience of how a painted surface is created. No artistic skills required! This follows an enlightening visit to the National Gallery with our paintings expert. On the second day we visit Knole in Kent, one of the National Trust's great country houses, dating back to the fifteenth century, and recently reopened following a huge conservation project supported by the Heritage Lottery Fund. We will visit the house and public areas accompanied by its senior conservator of furniture and frames. You'll have some time to stroll in the extensive grounds, before visiting its newly established conservation studio where the team is busy preserving the Trust's magnificent collections.
We spend the last morning with one of the V&A's leading furniture conservators, examining items from their own collection, alongside objects that you have brought in yourselves. Start thinking now about something small (and portable!) that you'd like advice on, or maybe scout one of the online auction sites for a bargain purchase. We consider your options for preservation, and learn about the differences between restoration and conservation, and when each might be most appropriate. From there, it's on to the V&A's furniture galleries, for a personalised tour, very much put together in response to the group's interests.
You'll leave the course with real insight into the work of the conservator, and a unique understanding of the everyday challenges of this important field of work.
What's included: all teaching, and entrance charges where applicable.
What isn't included: your meals, travel in London (we use public transport to get around), and return rail travel to Knole near Sevenoaks in Kent. Please bring an apron to protect your clothes on the first day, and a notebook and pen.
Places on Summer School sold through the Eventbrite website.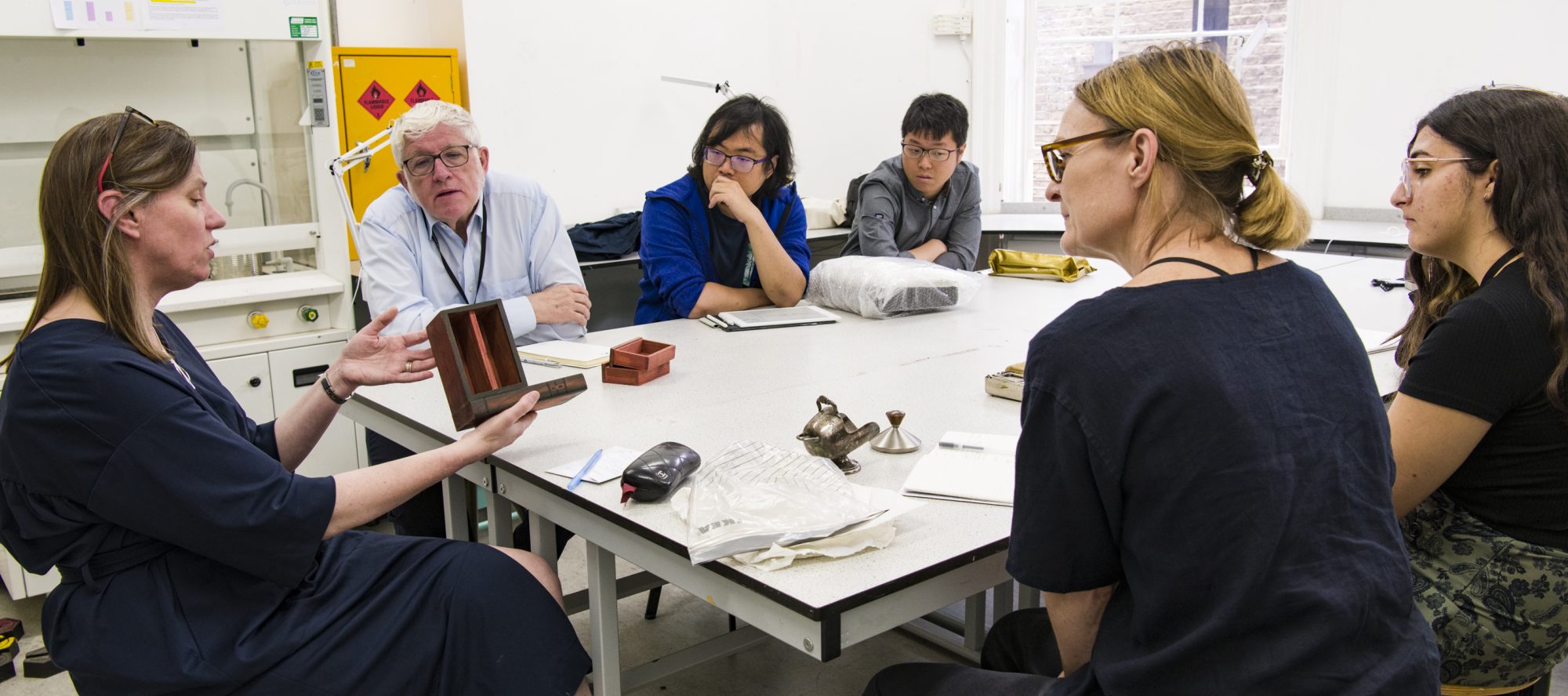 'It's a fantastic short course overall! It managed to capture a good breadth of the varying types of Conservation across different contexts and environments.' Laura
'Getting behind the scenes really described it well and I really felt we got a fabulous insight into a variety of conservators' work.' Mary
'I enjoyed hearing about the tutors' particular areas of expertise – being able to ask questions of someone with extensive, real-world experience of conservation is invaluable.' Poppy
'Everything was well developed and inspiring. The museum visits and seeing the real work of the professionals were great.' Marina
'A great experience , full of detail, the course gave me a lovely idea of what conservation looks like and is like at a professional level.' Joanna
'It was an excellent introduction to the material by caring and articulate tutors. The breadth of topics relating to conservation and restoration was excellent and enlightening.' Gretchyn
'Extremely informative! A lot of fun and good to see a wide range of aspects of conservation.' Naomi
Find out about our BA (Hons) Conservation and MA Conservation.