Congratulations to Historic Carving students Emma Sheridan and Steffan Lomax, who have been selected to receive the 2021 Brinsley Ford Award, which promotes and recognises the practice of observational drawing and sculpture by funding a study trip to Rome.
The Brinsley Ford Award is run by a charitable trust established in honour of Sir Brinsley Ford CBE, the celebrated art historian and collector who held a fascination with The Grand Tour and 16th and 17th century Italian drawings and sculpture. It enables a second-year wood or stone carving student from the Art School to travel to Rome for at least three weeks in the summer break, to study sculpture at historic sites and museums, compiling a sketchbook and portfolio of drawings.  These drawings can be developed to form a carving project for their final year on the course.
As the Award couldn't be allocated in 2020 due to the pandemic, the Brinsley Ford Charitable Trust kindly extended the Award to two deserving students this year.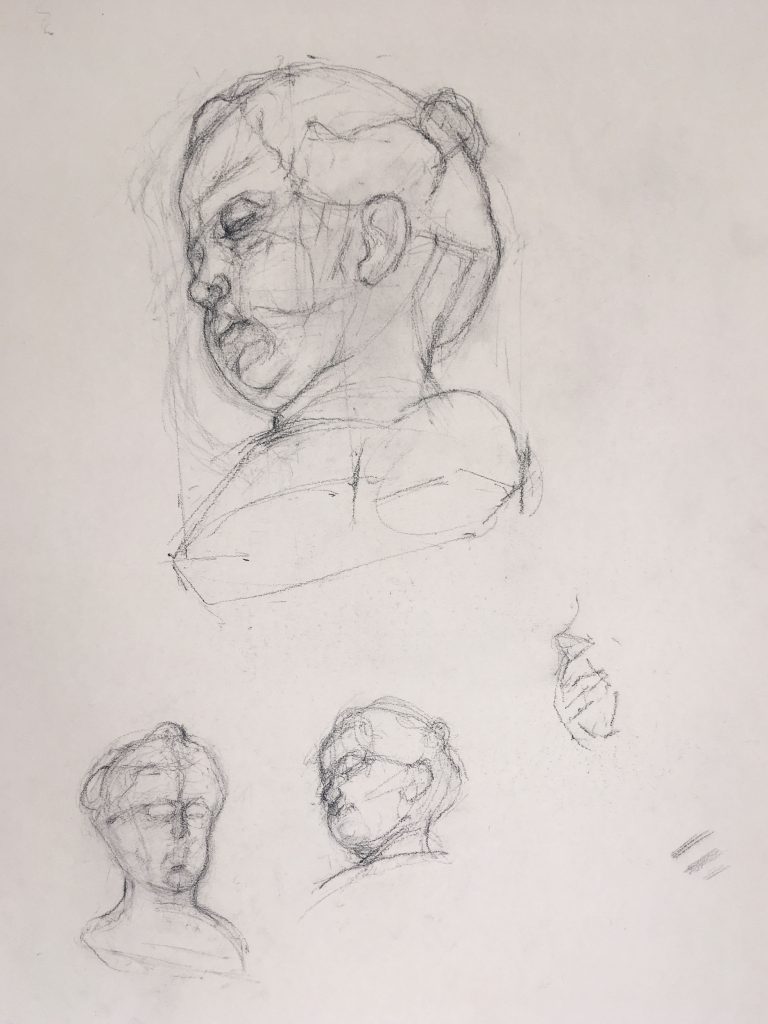 Bust of a Girl, Emma Sheridan
Commenting on winning the Award, Emma Sheridan, BA (Hons) Historic Carving: Architectural Stone, said: "I am very grateful for the chance to travel to Rome for three weeks with the sole purpose of drawing. The Brinsley Ford Award provides the opportunity for a valuable experience that I am sure will inform my further studies."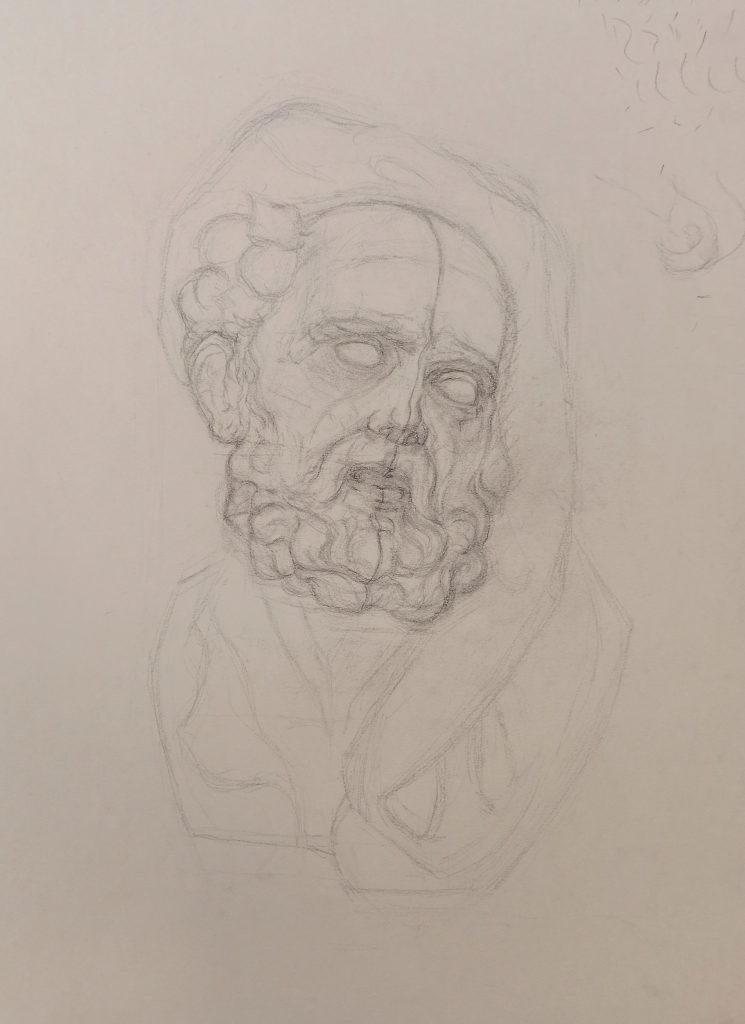 Marinelli Philosopher, Steffan Lomax
Steffan Lomax, also studying on the Architectural Stone course, confirmed his delight at winning the Award and added: "I look forward to developing my drawings skills studying renowned works created by masters over thousands of years, with a particular focus on Hellenistic styled sculpture. The trip will be hugely beneficial to my third year studies, and beyond."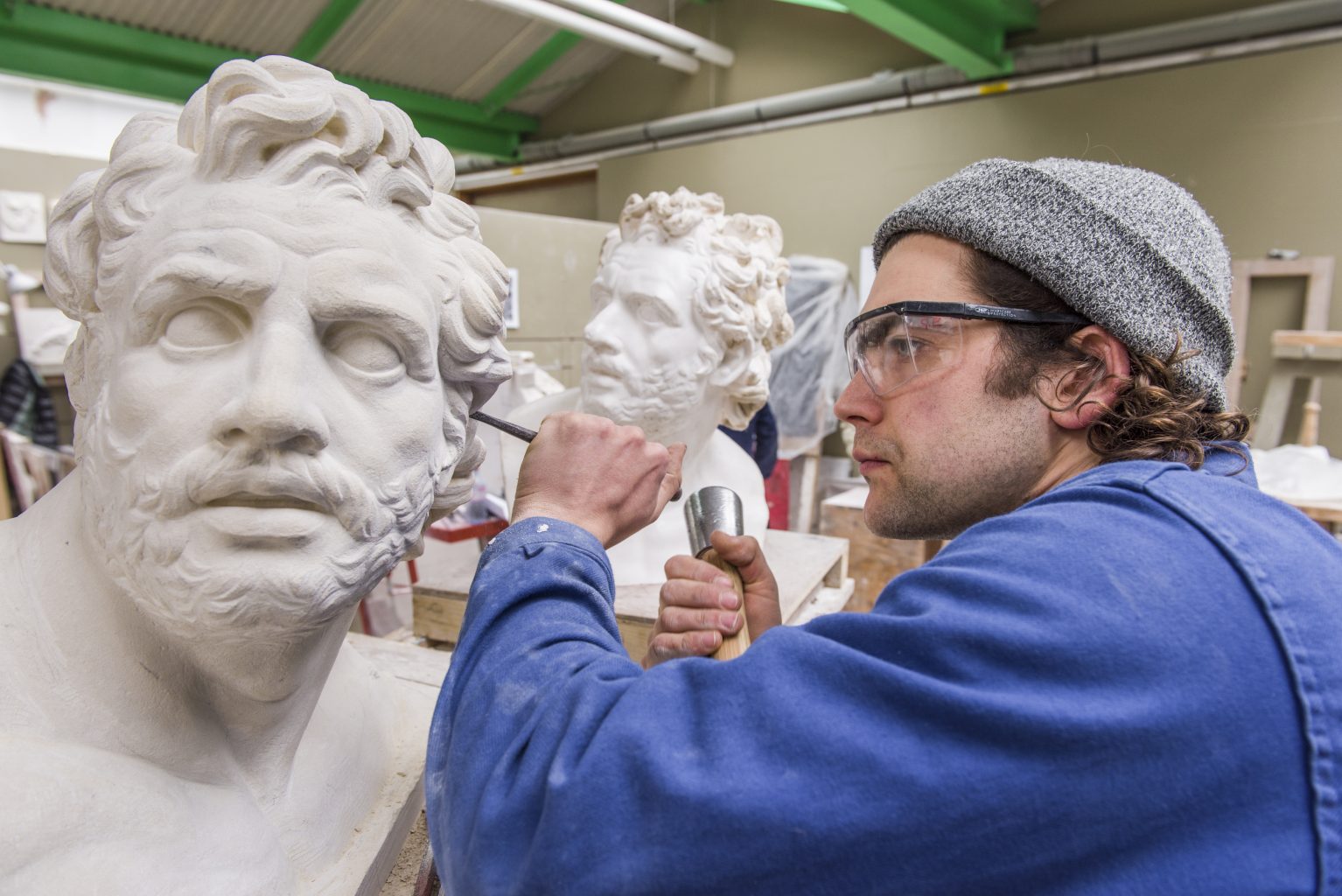 George Edwards (Diploma Architectural Stone Carving, 2018) received the Brinsley Ford Award in 2017. Whilst visiting the Sperlonga National Archaeological Museum he was particularly inspired by a sculpture of 'the wineskin bearer' part of a series of Hellenistic sculptures that depict scenes from Homer's Odyssey. Using his drawings and a cast of a similar Roman sculpture from the British Museum, George carved the head of the wineskin bearer for his final year project.
George said: "The time I spent in Rome was one of the best experiences of my life. Having never been to the city before, I was overwhelmed. I spent five weeks inspired by an abundance of art and architecture and finally getting to understand my subject much more clearly. My drawing improved so much during my trip. Having the time to 'look' was so valuable and has without a doubt had an enormously positive impact on my knowledge and skill."
We are looking forward to seeing how the study trip to Rome inspires this year's recipients!
We have a few places on our wood and stone carving courses starting in autumn 2021, with generous grants and bursaries available to help fund course fees . If you're interested in finding out more, book onto our in-person open day on 21 August, arrange an online chat with Heather Newton, Head of Historic Carving, or contact us at admissions@cityandguildsartschool.ac.uk