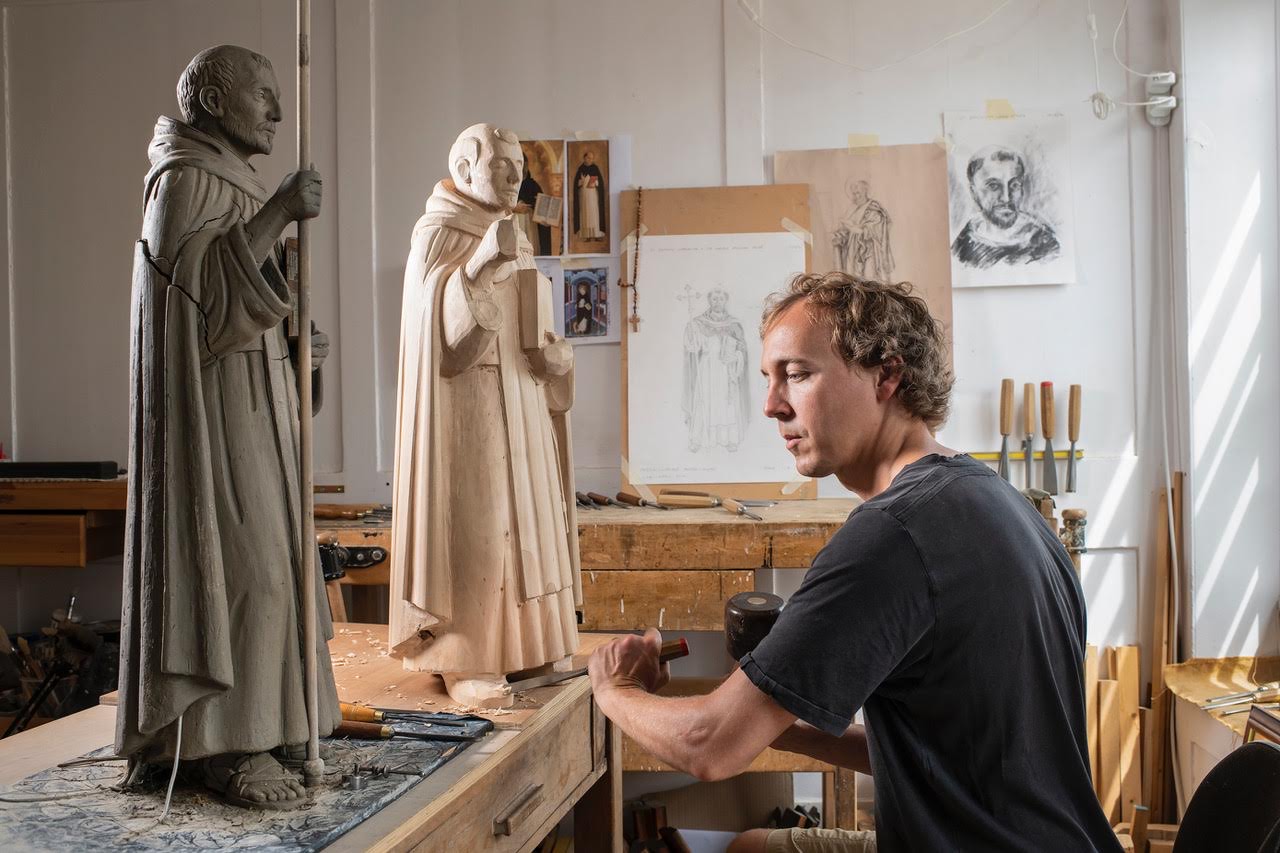 © Julian Calder for QEST
We are delighted to share the exceptional work of 2021 Woodcarving graduate, Borys Burrough, who is completing a commission to design and carve a statue of St Dominic for Cours Notre Dame des Victoires, a Dominican Convent in Northern France.
Borys was awarded the commission following the Art School's open call for recent woodcarving alumni, to submit drawings and plans to create the statue, via one of our supporters. The competition brief, to create a carved, polychromed statue of St Dominic, was set by the Convent to mark the 800 year anniversary of the Saint's death.
St Dominic (1170 – 1221) was a 12th century Spanish priest who founded the Dominican order of preachers. The completed statue will be placed on a niche about one and a half meters high in a chapel in the convent, amongst other wooden polychromed and gilded figures.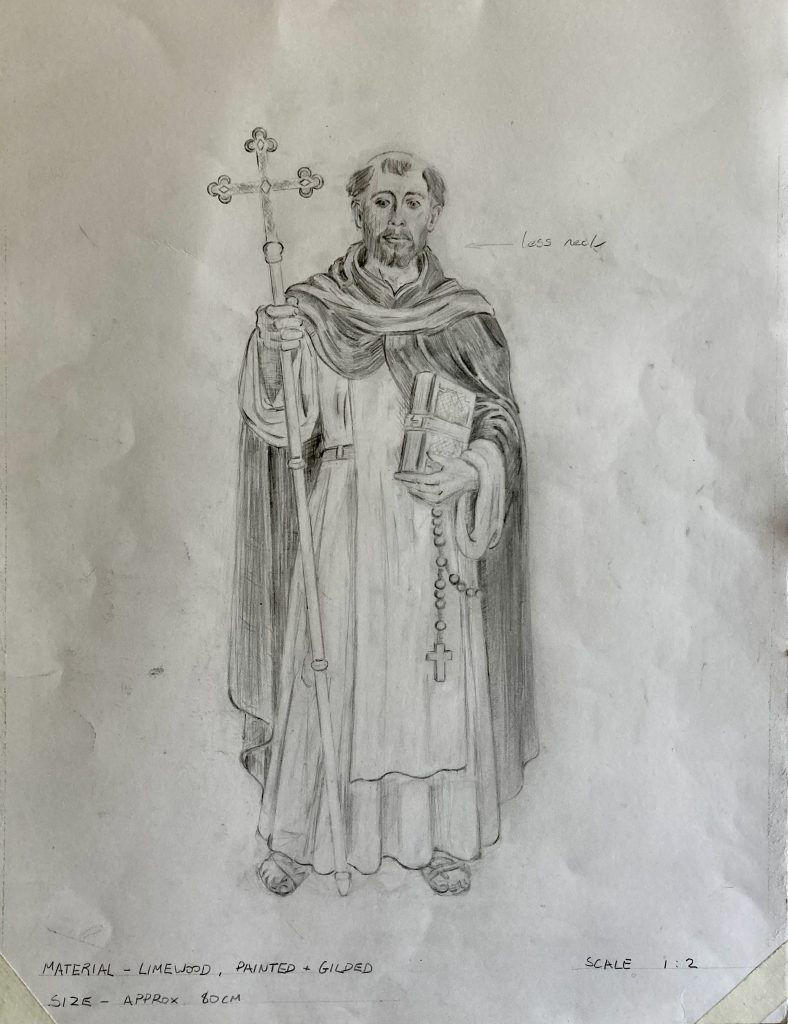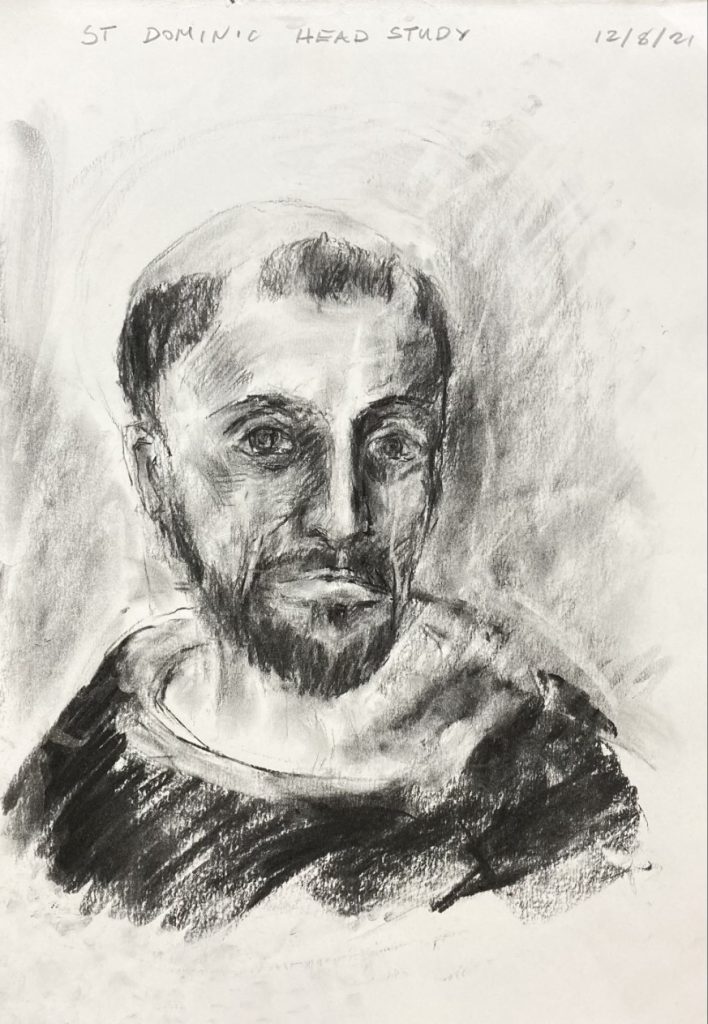 Borys' drawings of St Dominic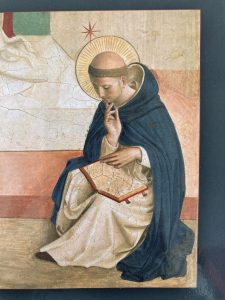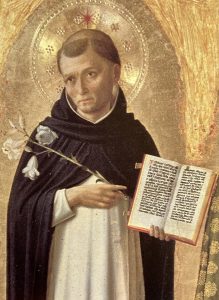 St Dominic, detail of fresco in Convento di San Marco, Florence; St Dominic by Fra Angelico
After winning the commission, based on his pencil study of St Dominic and charcoal face study, Borys was asked to develop a clay model for approval by the convent. The full size clay model is approximately 80cm in height, and was developed based on feedback from the convent's nuns, who had a very clear vision for how this St Dominic should look. His appearance is based on paintings of St Dominic by Fra Angelico (an Italian early renaissance painter) who was himself a Dominican friar. Unusually, the  feedback process has been conducted by letter, as the nuns have not yet embraced modern communication technology.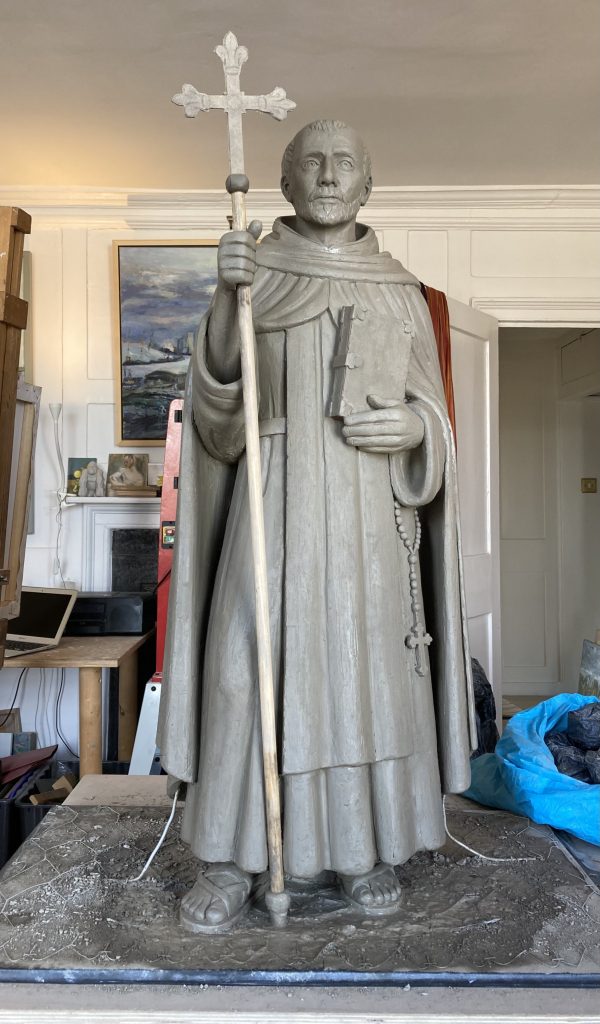 The clay model of the statue
Once the clay model was finalised, Borys began the wood carving, which is nearing completion. The statue is carved in lime wood and will be painted, along with gilded elements including St Dominic's golden cross and details on his book and cloak.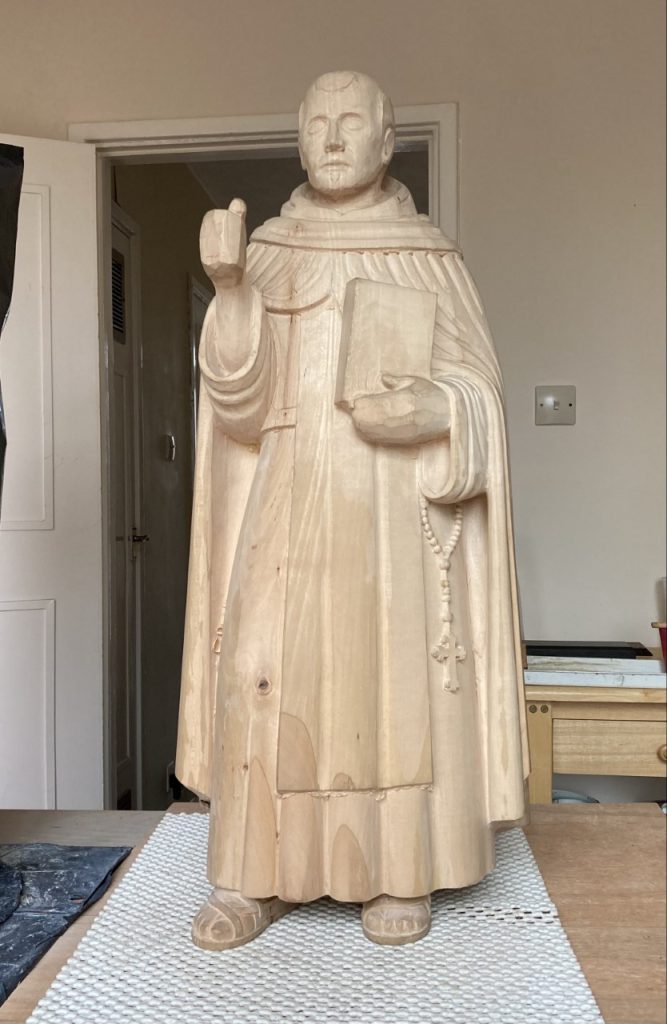 The carved statue – work in progress
Work on the project continues and we look forward to sharing photos of the finished statue before it is transported to its new home in France.
Borys graduated from MA Carving at City & Guilds of London Art School in 2021, having previously obtained his undergraduate Diploma in Ornamental Woodcarving & Gilding (now verified as a BA course) in 2018. Borys works as a professional woodcarver and gilder, with a focus on restoring and creating picture frames. As well as taking on private commissions, Borys works part time for antique picture framer and restorer Rollo Whately Ltd.
Borys also undertook several commissions whilst studying at the Art School: a frame for a Van Dyck portrait;  frames for two Dutch Old Masters.
The Art School's extensive links and partnerships with institutions and individuals mean that we have a history of providing opportunities for placements and projects to both current students and recent alumni.