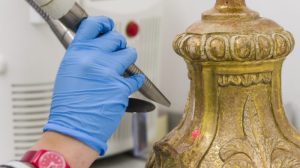 City & Guilds of London Art School Conservation Student Symposium 2022
10:00am – 1:00pm Thursday 21st of April 2022
Alongside specialist conservation practice, students in the final year of BA Conservation and students studying MA Conservation, undertake a conservation research project based on an area of conservation practice they have identified during their practical work.
Students prepare a thesis illustrating their research methodology, experimental data and conclusions. Their research findings are also presented at the online Conservation Symposium, a public-facing annual event to which professionals and interested parties from the world of Conservation are invited.
Find out more about our renowned Conservation courses HERE
Programme
10.00 – 10.10 am Introduction
10.10 – 10.40 am Alannah Hay
A preliminary investigation into the influence of atmospheric conditions over-time on the colour change of a Copperas (Iron(II) sulphate) lime wash on bath stone. Copperas is a ferrous iron sulphate salt in the form of water-soluble blue-green crystals. In the context of historical buildings, it can be used in a limewash to pigment the finish on exterior limestone facades. The copperas limewash is dark green in appearance initially, after application the copperas oxidises to an orange hue. However, there is a lack of empirical evidence or guidance as to the length of time copperas wash takes to fully develop its colour. This paper details the application of one coat of a copperas limewash to 5cm x 5cm x 5cm blocks of Bath stone, which were monitored and measured over a 21 day period in three separate atmospheric conditions. Through analysis of measurements taken using a colourimeter, and photographic records documenting the surface colour, it was shown that the majority of the colour change happens during the drying phase and that after 24 hours there was no visually perceptible colour change within 21 days of application.
10.40am – 11.10 am Amanda Hutchison
Investigating if non-traditional materials have potential to become practical alternatives for conservators in the replication of highly burnished traditional water gilded surfaces. Since the introduction of acrylic polymers, despite their continued development to date and use in various conservation areas, traditional materials continue to be a preferred choice for water gilded surfaces to achieve the distinctive matte and highly burnished surfaces. Research and case studies available to date concentrate on the replication of matte water gilded surface. This study compares burnish attainable with a small selection of non-traditional materials and technique to traditional water gilding and response to different levels of relative humidity to potentially establish if non-traditional materials could become practical alternatives for conservators to consider. It was shown that nontraditional materials were used at room temperature, straight from the container, ready in 10 minutes, water soluble for cleaning brushes all very convenient. Non-traditional materials can be burnished with good gloss.
11.10 – 11.40 am Rosalyn Penna
Assessing the Importance of Polarity When Cleaning Alabaster with Solvents Alabaster is a fine grained stone form of gypsum with a tight crystalline structure, or calcium sulphate and has a hardness of 1.5 – 2 Mohs. It is soluble in polar solvents and importantly in water. This combine with the stone's softness make it particularly difficult to clean. By removing a film of acrylic paint from the surface of alabaster samples using barely damp swabs, the damage inflicted by the cleaning could be assessed. The before and after effects of five solvents were compared with a digital microscope and gloss meter and the results compared to assess how the polarity of the different solvents affected alabaster damage, however, further conclusions were drawn from the method of cleaning itself.
11.40am – 12.10 pm Camilla Stafford-Deitch
A comparison between three copper chelators to remove corrosion products from brass surfaces and powders used in the decorative arts Brass plates and brass powder were tested with three different chelators to try to understand which may be the best one to remove oxidation and corrosion products from this copper alloy. Three copper chelators have been tested, Ethylenediaminetetraacetic acid (EDTA), Diethylenetriaminepentaacetic Acid (DTPA) and Tetraethylenepentamine (TEPA) a relatively new chelator being used in metals conservation. Results were analysed by gloss meter, microscopy and visual examination to measure the effectiveness of each chelator at removing corrosion products from the brass surface. According to the gloss meter, all three removed metal ions successfully after 30 minutes, only TEPA showed any improvement after a longer dwell time of 120 minutes. Microscopy of both brass sheets and pigment powder showed little changes to the surface after treatment. An interesting observation was the startling change in colour from clear to bright blue of the agar agar used with the TEPA on the brass sheets and in an aqueous solution on brass powder after treatment (in comparison to negligible colour change with DTPA & EDTA) which may signify a higher level of ions chelated from the surface.
12.10 – 12.40 pm Ieva Stradina
A comparative study of solvent-set and thermo-cast acrylic resin Paraloid B72 as a fill material in art conservation. The aim of this research was to evaluate physicochemical properties of acrylic resin Paraloid B72 depending on the preparation method: thermo-cast and solvent-set. Both Paraloid B72 resin sets were subjected to various levels of Relative Humidity (RH) from 10% to 95% and elevated temperature (40 °C). Samples were examined under white reflected and Ultraviolet (UV) light. Measurements of gloss, colour, weight, dimensions and impact strength were taken before, during and after the experiment. The readings were backed up with FTIR analysis to determine whether any molecular change had taken place within the material.Overall the thermo-cast samples were more resistant to the experiment conditions showing less shrinkage and no visual deformations. The solvent-set samples showed a dramatic response to high and fluctuating RH changing colour from clear to opaque white. In contrast to thermo-cast samples, solvent-set samples showed deformation, changing shape at a different rate depending on the conditions they were subjected to throughout the experiment. However, negative changes were observed on both sample types through technical analysis – gloss, colour and impact strength.
12.40 – 01.00 pm Discussion