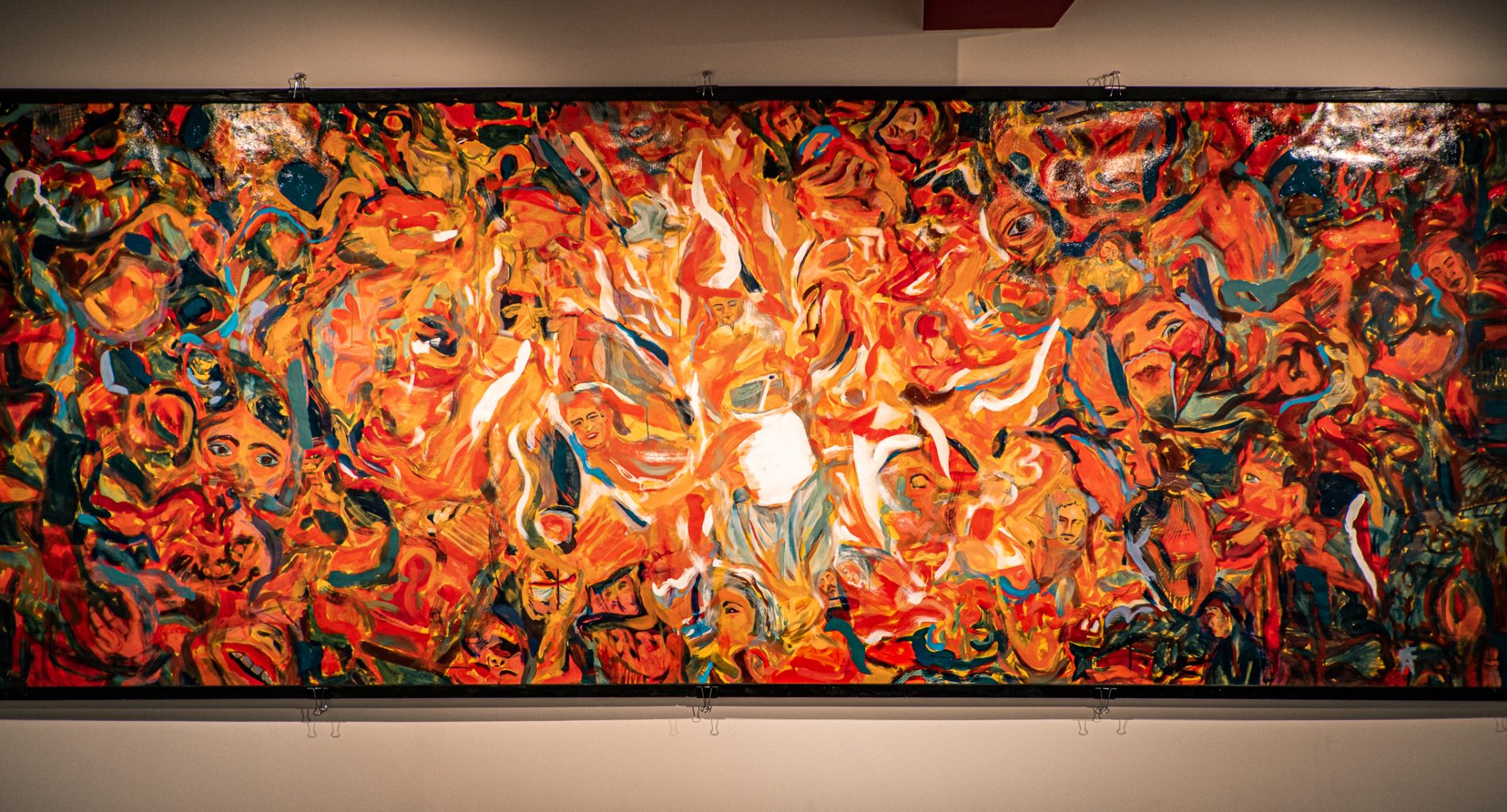 We were delighted when we recently heard that the large scale final piece of 2022 Foundation Diploma graduate Alice Farrall, has been selected by Rich Mix, a major art centre in East London, for exhibition during August 2022 and then to be permanently housed at the venue.
Alice describes her work, 'Afters', as "a picture of a community, a marker of moments shared and gone – moments that I'm continually honoured to be a part of." She goes on to explain, "With the painting I hope to invite the viewer to journey through the many brush strokes – an invitation to experience the same break from usual thought patterns that I experienced while curating and creating it."
The exhibition Afters is open until Sunday 23 August, on the first floor Gallery space at Rich Mix, Shoreditch, and the impressive painted piece can be seen on permanent display in the art centre thereafter.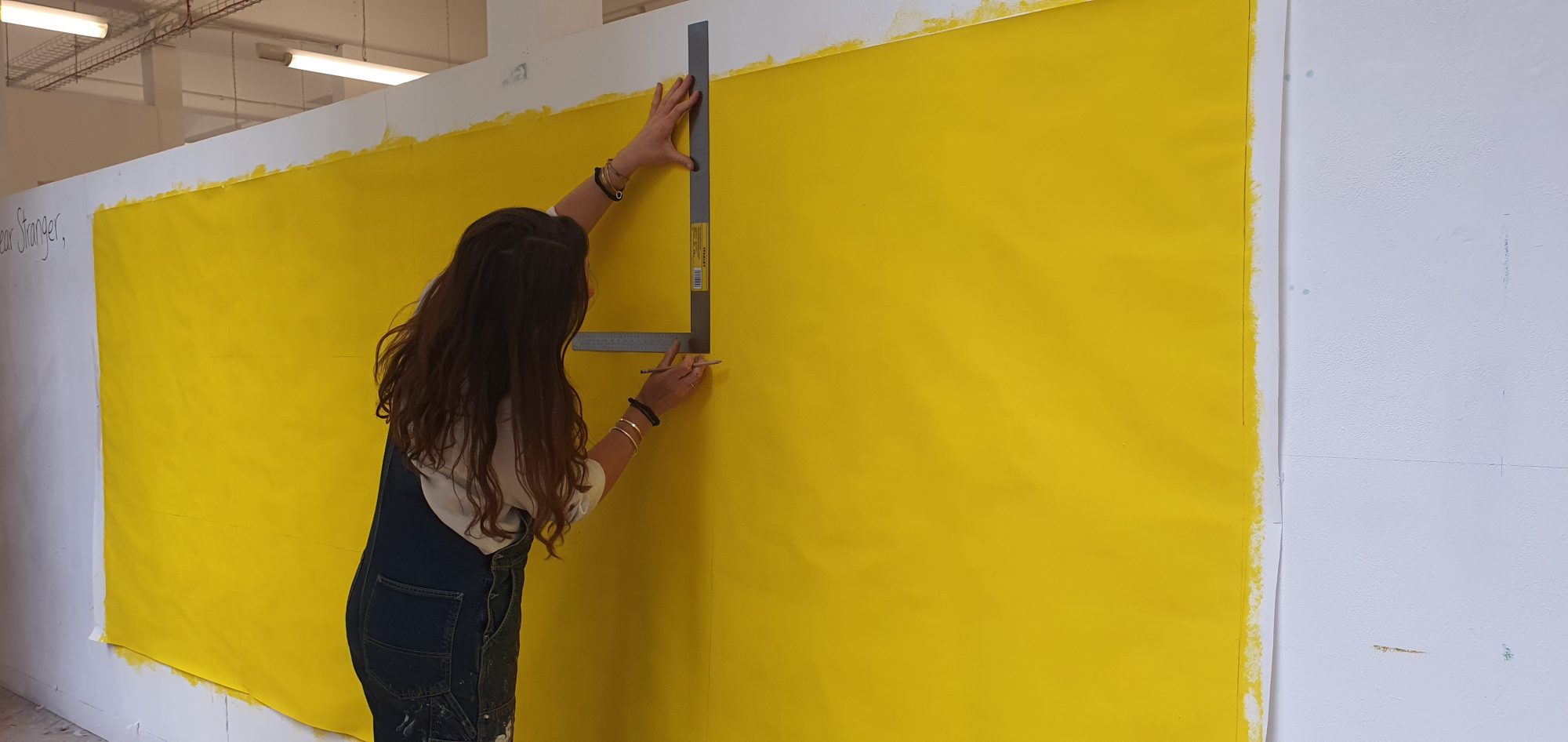 We asked Alice to tell us more about her practice and how she has been able to interrogate and evolve her work whilst studying on the Foundation Diploma at the Art School.
In her own words: "Over the past few years my artistic practice has developed into an exercise integrated into my daily life. After leaving a seven year career in finance I wanted to orchestrate my time to follow pursuits that in no way felt like a chore. Pursuits that provide me with deeper meaning and lasting connection. Through visual art I find myself able to understand and absorb the beauty of my surroundings, I find myself grateful, and I find that time is no longer passing with desire to get from one point to the next. And that I can sit more comfortably in the present through creation.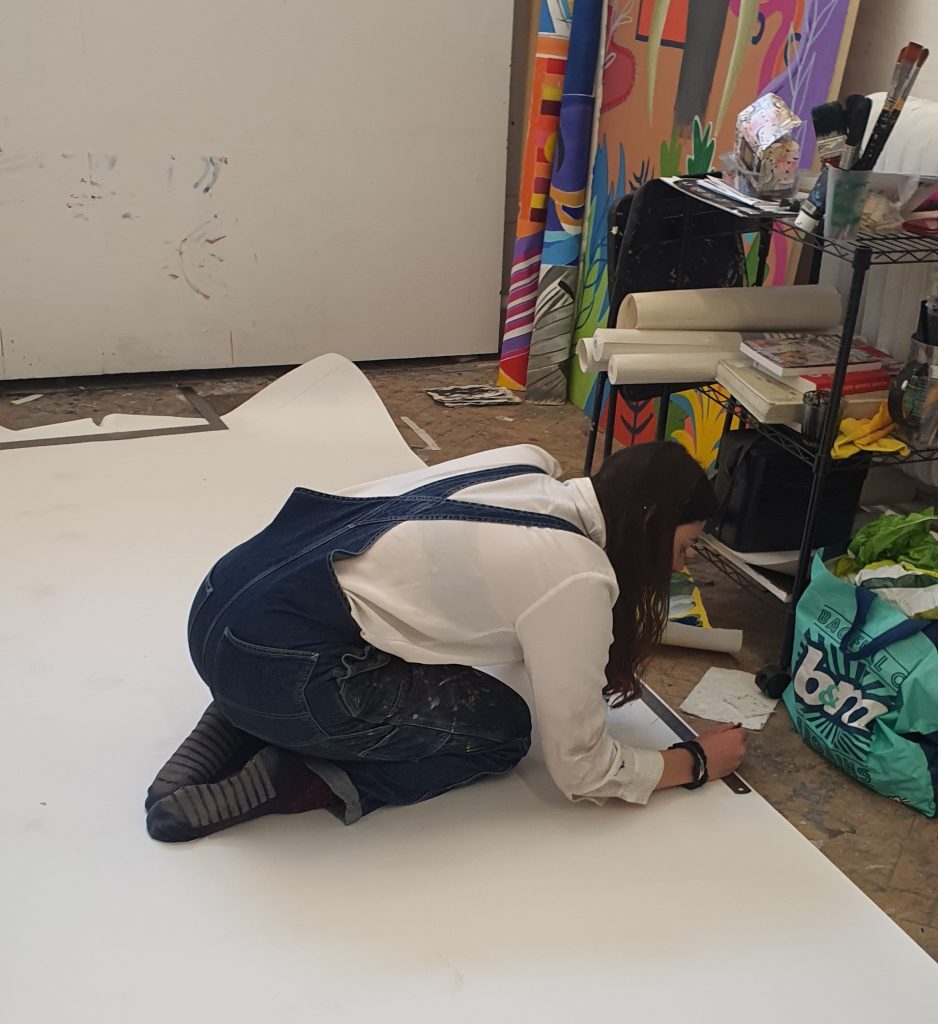 "Most of the work I produce is derived from researching those that surround me. I am always attempting to grasp at snippets of moments that cannot be contained, for example drawing movement from life, or expression through my non-visual senses. The immediacy of my practice is a way of translating my human experience, what I collate and curate is where I find my meaning – the pattern of what stares back at me. Over time I have realised that mark making is a language, and I want to learn how to read and speak it as much as possible. Mark making provides information that images alone cannot, it is that which is happening in the now, and therefore has become precious to me.
"Through this understanding my work has moved from predominantly figurative to a mixture of abstraction and figuration. Sitting somewhere between these two in order to communicate with both narrative and imagery as well as marks and energy.
"My Foundation year at City & Guilds of London Art School was incredibly nurturing and allowed me to flourish in my practice. I feel as if the advice and support that I gleaned from the tutors gave me confidence, and allowed me to see correlations in my work that enabled me to further understand who I am as an artist. I was encouraged to go deeper with everything I created, and the facilities were holistic spaces in which to achieve this."
At the Art School, we are lucky enough to be seeing more of Alice and her wonderful work over the coming years as she embarks on BA (Hons) Fine Art with us.
You can see more of Alice's work on Instagram @alice_farrall_art