"I feel so lucky to be at a school which simultaneously places student wellbeing and respect for Covid rules at the top of their priority list." Roberta Bloomer, Foundation Diploma
Apply to study on this course >
Our Foundation Diploma studios and workshops are housed in the expansive, loft-style studio building on Kennings Way, adjacent to our Cleaver Square building.
Our fast-paced and intensive Foundation course offers a focused, inspiring and memorable year which will thoroughly prepare you for further study or professional practice. Our aim is to help you develop the skills you need to go on to be the leading artists and designers of the future. Whether you intend to make an application for a BA course in these subjects, explore a personal interest or take the first step on a career, with this course you will be making an important investment in your future.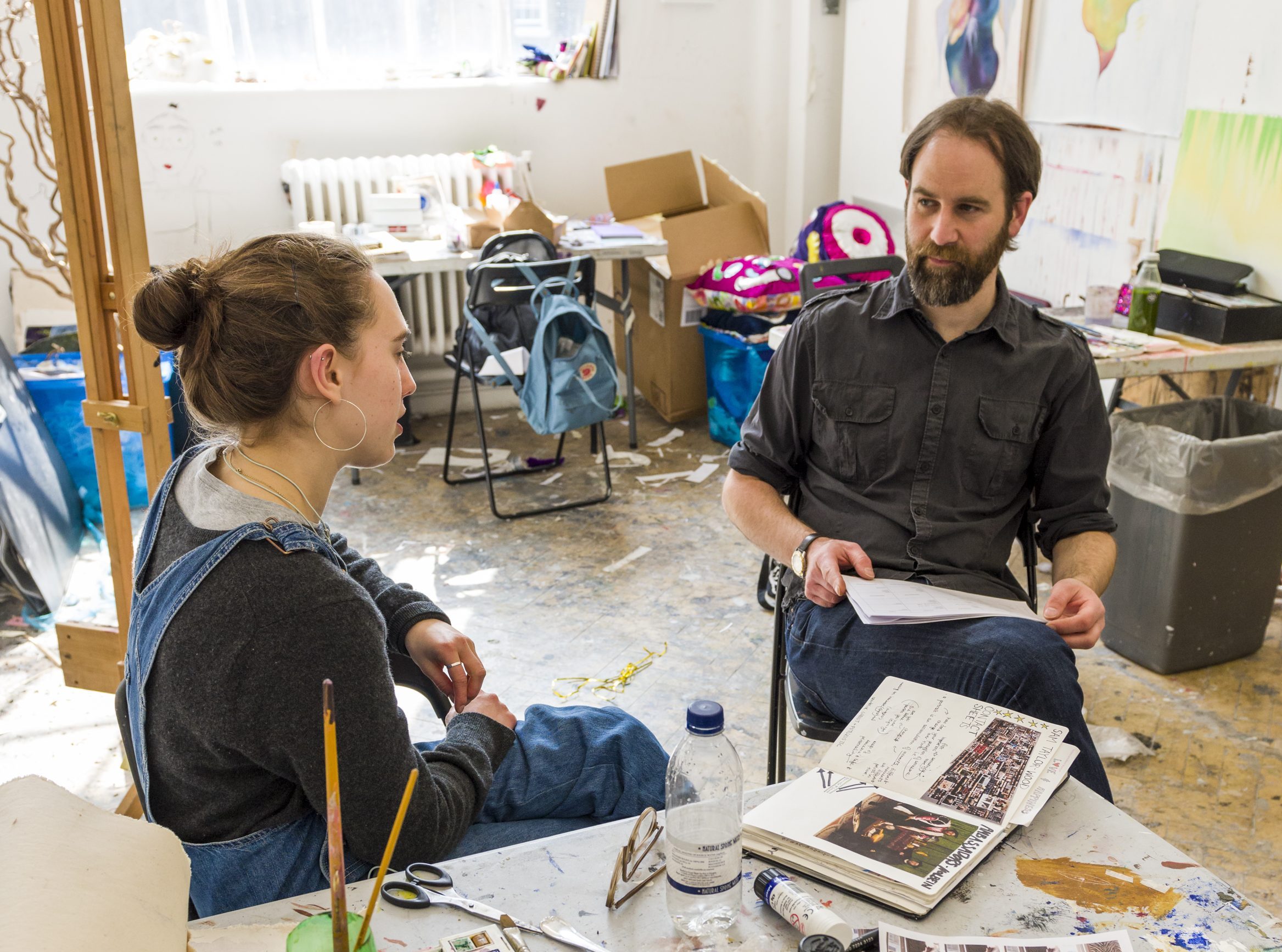 At the Art School, we are committed to an intensive and individual approach to teaching and our Foundation Diploma is rare in offering generous teaching and tutorial support from Monday to Friday with an exceptionally high ratio of staff to students. You will find that there are always tutors on site offering advice and running specialist workshops.
In the initial diagnostic phase of the course, you will rotate around the studios taking part in a series of workshops, tutorials and supported studio practice. We will encourage you to explore a range of art and design disciplines including a variety of approaches to drawing, painting, photography, sculpture, design communication, 3D design, printmaking and art and design history and theory.
Find out more about the Foundation Workshops.
This film gives you a quick tour of our historic print room and the traditional intaglio process we teach.
Once you have identified your chosen specialism with the support of your tutor, you'll be assigned a personal studio space where you will work for the remainder of the course. Workshops and tutorials continue to allow you to test materials and processes and produce a body of work, developing a comprehensive portfolio. You'll also be supported in extending your documenting, application and interview skills.
As you start to work more independently, you'll concentrate on a final project in the last part of the year and you'll exhibit this work in the Foundation Show at the end of course. The brilliant work of our 2019/20 Foundation students is currently exhibiting in our online Foundation Show – enter here to view their work!
Read more about the course content.
Explore the specialist facilities available at the Art School.
The City & Guilds of London Art School is an approved centre for the UAL Awarding Body, Level 4, Foundation Diploma in Art & Design.
To find out more about the course and ask any questions you have, we recommend booking onto an online open day. To register for an online open day, click here.
You are also invited to join one of our weekly student virtual chats, where you can ask current students about the course and student life at the Art School. Register for a student virtual chat here.
Download a pdf of our prospectus here.
Apply to study on this course >
Click on the images below to enlarge them.