Adam Wilson graduated from the BA (Hons) Historic Carving: Woodcarving & Gilding in 2021 and is currently starting MA Carving at the Art School.  When he graduated, he was awarded The Joiners & Ceilers' Prize, in recognition of the development of his woodcarving skills over the three-year course and dedication to his studies.  We asked Adam to tell us about his experience as a carver so far, his plans for his MA and to share some of his impressive work.
I have a deep interest in historic timber buildings and after taking a PgDip in Historic Timber Building Conservation at the Weald and Downland Open Air Museum in West Sussex, I worked as a building conservator, specialising in traditional carpentry and joinery repairs to historic houses in Somerset.
I came to the Art School to advance my woodworking skills and learn historic carving, as I had developed an interest in pierced frieze and wished to explore their manufacture and design theory. During the first three terms at the Art School, I taught myself to make projecting cornice mouldings with wooden hand planes. This lead to an interest in curved work including sprung mouldings and circular joinery, which I combined with carving on projects in the second year.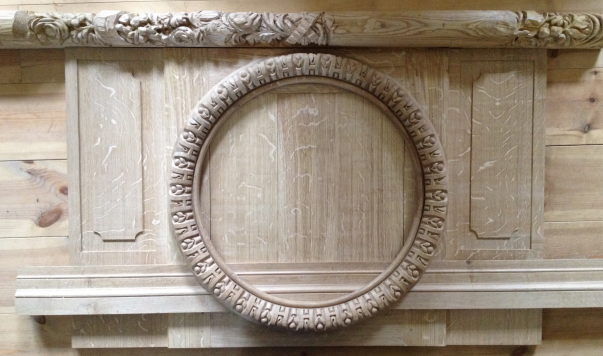 17th century French panelling with applied circular frame, constructed of 12 pieces (Work in progress)
Riven Baltic oak (Quercus petraea), 38" x 27"
As a trained carpenter and joiner, I enjoy combining woodworking disciplines to create complete objects which contextualise the carved work, allowing the viewer to gain a better understanding of its role as part of a culturally significant object.
My work for the final submission of the BA (Hons) Historic Carving: Woodcarving & Gilding at the Art School was based upon detailed research into material culture of the 16th century English and Venetian workshop.
Both projects (shown below) began in the woodland and were constructed of timber which I had self selected and converted, relying on in-depth knowledge of timber as a material learnt over the course of many years.
The picture frame was constructed of air dried sawn stock and the chest from unseasoned riven stock. The timber came from within a 20km radius of my workshop, reducing the environmental impact of each piece considerably, and both objects were constructed entirely by hand using historically correct methods.
The chest was left unfinished to naturally oxidise and darken and the frame was water gilded with 24 karat gold.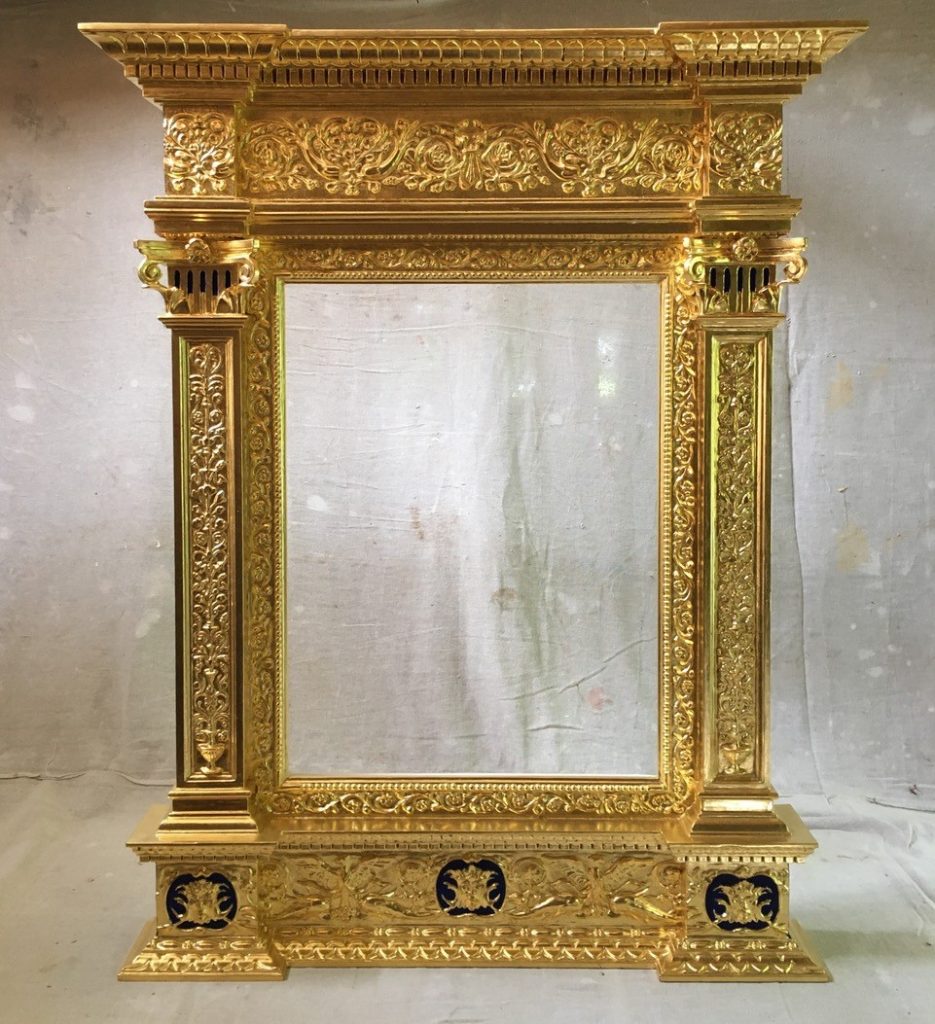 Picture frame, spruce (Picea abies) and oak (Quercus petraea) with gilded applied gesso ornamentation, 800mm x 1000mm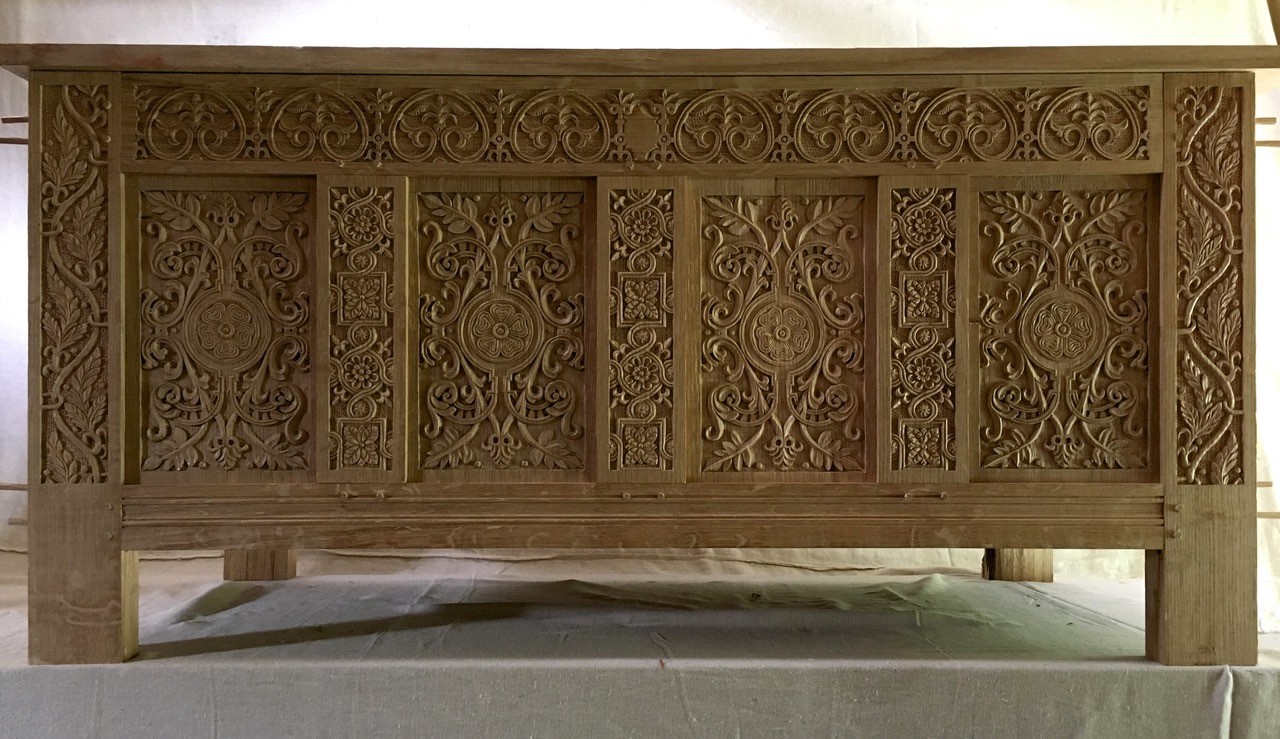 Carved, joined chest, Riven Baltic oak (Quercus petraea), 43" x 26" x 24"
For the MA Carving course, I have been offered a mentorship in fan vault design by John David, master mason at York Minster. Under his tutelage, I will build upon my previous studies in historic carpentry and joinery to realise an ambitious fan vault. This vault brings the three woodworking disciplines that I have been trained in together in one challenging project.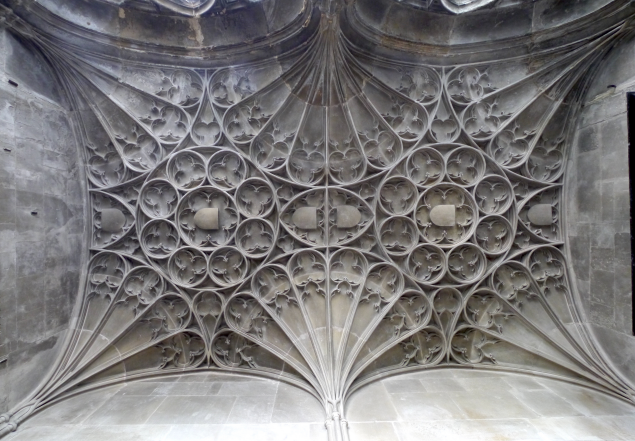 Vaulted ceiling of the Edward the Confessor Chapel Canterbury Cathedral
I have chosen to construct a timber vault based on the vault from the Edward the Confessor Chapel at Canterbury Cathedral to a scale of 1:3, which will be appropriate for the canopy of a medieval tester. This will be eventually decorated with gilded carved gothic vine leaves and polychroming.
This elegant design employs a moulded three centred transverse arch, which divides the two bays and produces two flat central spandrel panels. The sides of the bays incorporate slightly higher four centred arches to accommodate the gothic styling of the windows and is decorated with a geometric design constructed from tangental circles containing cusping and sub-cusping.
The tracery and the deeply moulded ribs will be joined using traditional methods and the shaping of the ribs and construction of the superstructure that supports the fan will be done by hand using historic joinery and carpentry tools and techniques.
The aims of the project are to research the historic construction methods and techniques used to produce these quintessentially English architectural designs, explore the connection between disciplines and contextualise a variety of carved architectural elements which are often carved as stand alone pieces.
The project will challenge my design skills along with my practical skills and is intended to recognise the generous support of the Worshipful Company of Joiners and Ceilers and the Worshipful Company of Carpenters during my BA (Hons) in Historic Carving.
Adam's work will be exhibited at the MA Show, 16-23 October 2021.